If we have to pick the best email service, we would simply pick Gmail. It's no doubt that Gmail is right now the most dominating email service provider out there. But, there's always room for its alternatives.
Compared to Gmail, other service providers offers more features like disappearing emails, no-restrictions on file attachments, etc. So, in this article, we have decided to share a list of best Gmail alternatives to send and receive emails.
Also Read: How to Trace the Sender's IP & Location In Gmail
List of 10 Best Free Gmail Alternatives in 2020
All email services listed in the article were personally tested by us. These are safe email services and offer better features than Gmail. So, let's check out the best Gmail alternatives in 2020.
It is one of the best options who care more about there privacy, as it is a service that is actually created by CERN, hence, the best privacy protection is assured. But, it features two versions, as one is paid and the other one is free, but, the most interesting thing is that in the free version it does not include advertising.
Basically, it provides 1GB of storage in its basic version, which is quite enough to store all your personal and professional emails. However, if you want more storage then you can simply expand it by subscribing one of its premium plans which will simply offer you more personalization options along with the storage.
The GMX Mail is one of the best known and most used alternatives of Gmail and Hotmail the security is one of its main values. For this, it has filters to stop the entry of spam, providing greater reliability only to emails that use SSL encryption.
The most interesting thing is that this well-known mail service simply offers us unlimited space for our emails and not only that even we can send attachments of up to 50 MB, which is not bad as compared to other free services. Moreover, we can also access our account through its mobile application, yes, it means that it also has its own mobile client as well.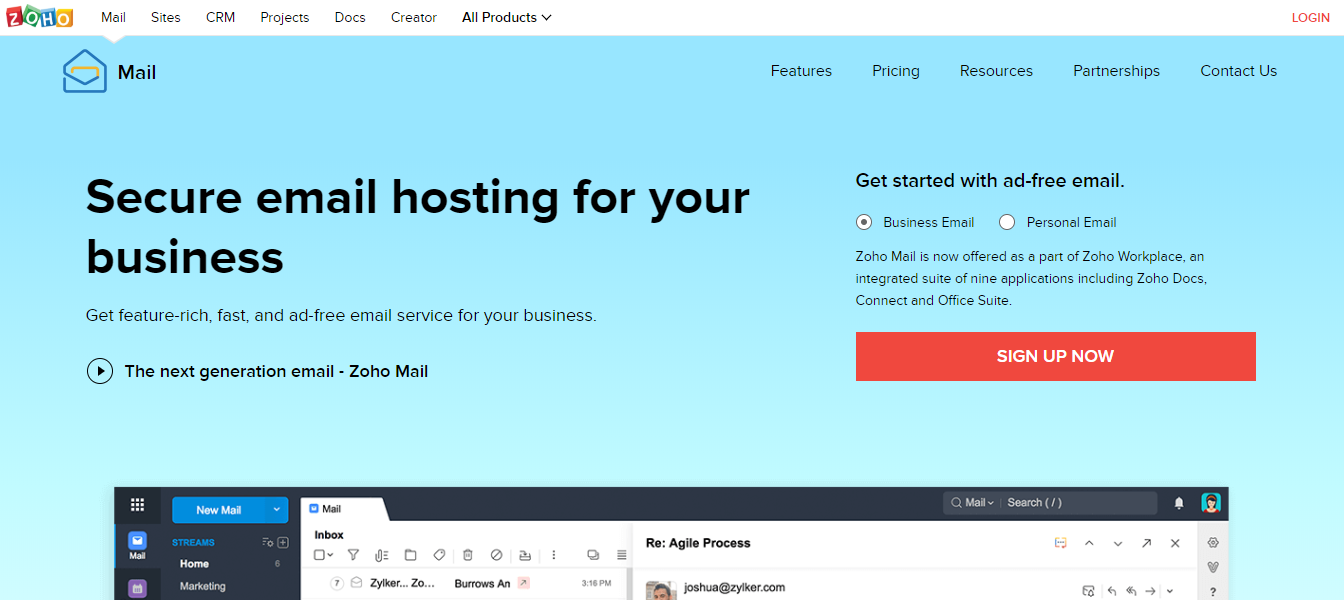 This platform is basically oriented to the work environment, but it doesn't mean that you can't use this service for personal use, of course, you can use it for your personal purpose.
As Zoho Corporation is a pioneer group in online collaborative work, it is basically integrated into office software like a calendar, a task manager or instant messenger, and much more. Despite all this, its use is merely intuitive and it takes good care of its users' privacy.
However, the personal version is the only one that is available for free and simply allows you to configure new emails with free extensions. While now if we talk about its use and its interface then let me clarify that it has a clean and simple UI.
The well-known Newton Mail is a visually appealing and organized option to get and manage your email account professionally. As its improvements are substantial: the possibility of use in multiple platforms and devices, confirmation of reception and reading of what we have sent, the possibility of canceling and deleting made emails or hibernating the reception of messages and much more, so, basically all these extraordinary features simply make this service one of the best option as an alternative of Gmail.
Another advantage is that it offers information about the profile of the sender, which is quite very interesting if you are getting any email from an unknown person. Although Newton is not free but doesn't worry as it simply allows us to try its service without paying for 14 days.
This well-known email service is advertised as a safeguard of security, in fact, its use has been extended especially in the field of health to communicate with patients and medical professionals.
As it offers encryption of messages through OpenPGP open-source standards and secure SSL/TLS connections, which simply ensure the protection of data from strangers, advertising agencies, and spam.
Not only that even this well-known email service, of course, Hushmail also allows alternating alias type email addresses simply to mask the real address, all in the same service. Moreover, it also allows sending messages with sensitive content with password protection even to the users who do not have a Husmail account.
It is one of the best ways to create fake email addresses that simply prevent us from having to give our original email simply to get rid of spam or in case if you want to subscribe to a forum or website that is not completely reliable. As in this service, we can simply create our own email address, or even we can also take those suggested by this service itself.
The drawback of MailDrop is that it only stores a maximum number of 10 messages, but the most interesting thing about this awesome mail service is that to use this service we do not have to do any registration.
7. Yambuumail
This well-known mail service, of course, I am talking about Yambuumail is basically created through collective financing or crowdfunding, and not only that even this well-known mail service simply offers greater security, tracking of messages, blocking the reading to certain recipients and even it also offers the possibility to self-destruct the emails.
However, as a free service, you can simply send and receive emails with encryption guarantee with a single account, but in its paid version it simply offers us all the services, including the synchronization of other email accounts that we have.
The Mail.com is one of the best known and most used alternatives of Gmail and Hotmail and one of the best features of this mail service is that you can select the email domain that you like, this service offers unlimited storage, as you can send attachments of up to 50 MB in each file, and even you can also use the email from your smartphones as well.
Basically, this is a well-known email service which is offered by rediff.com an Indian company which is actually founded in 1996. And not only that even this well-known email service is simply advertised as a safeguard of security, as it has more than 95 million registered users.
Moreover, this well-known mail service offers its service for free in which you can simply send and receive unlimited emails with guaranteed privacy security.
This well-known mail service, of course, 10minutemail is not a normal email service, as it features an extraordinary option that not all the free mail service providers offer.
Yes, this well-known mail service provider simply offers us temporary email addresses that only last for 10 minutes only, and during that time you can simply read, reply, and forward mail messages.
But, what happens after 10 minutes? After those 10 minutes, the account and its messages get permanently deleted. Hence, this service could be very useful in some situations in which users are forced to give an email address to complete the registration of some unreliable web pages.
So, these are the best Gmail alternatives 2020 which you can consider. If you know of any other services like these, then let us know in the comment box below. I hope this article helped you! Share it with your friends also.