If you have been using Android for a while, you might know that the operating system doesn't offer much privacy. For instance, you can't lock or hide images, videos, apps, etc.
Since Android is an open-source operating system, the app availability is relatively high on the platform. Similarly, gallery vault apps are available on the Play Store that can easily hide images and videos.
So, if you want to keep prying eyes away from your stuff, then it's best to use the Gallery vault apps. Gallery vault apps for Android would allow you to hide the images and videos from your Phone's gallery.
Also Read: Best Portrait Mode Apps For Android
List of 10 Best Gallery Vault Apps for Android
This article will share some of the best gallery vault apps for Android smartphones. Most of the apps were free to download and available on the Google Play Store. So, let's check out.
App Lock is relatively new, at least compared to all others listed in the article. In a short period, App Lock managed to gain lots of popularity.
It's a full-fledged app locker app for Android that can help you password protect apps, photos, videos, and every other type of file. The app also got the ability to hide the text of the preview notifications.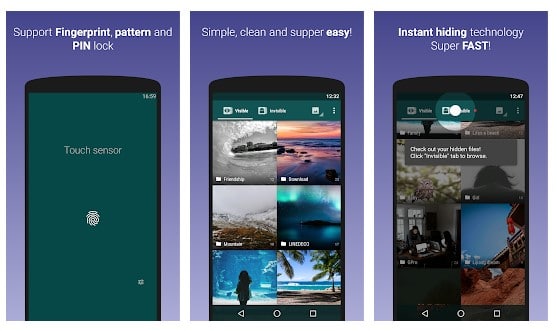 Well, Hide Something is another best gallery vault app on the list, which you can consider. The great thing about hiding Something is that it replaces the default gallery app of your Android smartphone. Once replaced, it allows you to hide any photos & videos from the gallery.
LockMyPix is a full-fledged gallery vault app available on the Google Play Store. It provides an encrypted vault where you can store photos and videos.
It has many other essential features like offline support, fake login, fingerprint scanner support, etc. Not only that, but it also allows you to create a fake vault with a separate PIN code.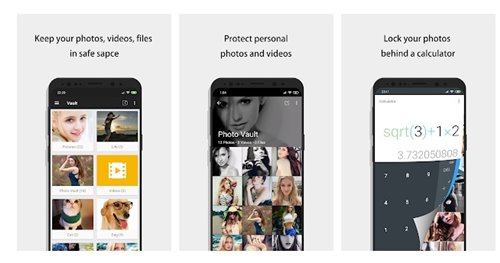 Sgallery is a privacy protection app that lets you hide and encrypt photos, videos, apps, and other file types on your Android smartphone.
You can import not only your private images and videos but also hide the app icon. Sgallery has a beautiful design, and it provides you with smooth and amazing media management features.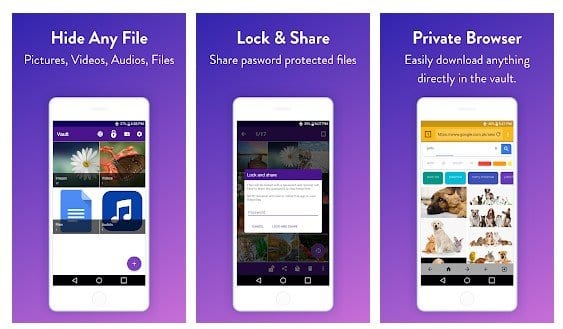 Like every other vault app for Android, Easy Vault also lets you lock and high pictures, videos, gallery, or any other files you use. Other than the vault, it also lets you browse the web with its private password-protected web browser.
It's one of the unique Gallery vault app available on the Google Play Store. The app disguises itself as an Audio Manager app on your Android.
And it has an audio controller that lets you turn the volumes up and down, but the actual vault will launch if you long-press the title.
It's a vault app that shows itself as a Calculator. You can use this app to hide photos, videos, and other files without anyone knowing as a gallery vault installed on your device. The concept works pretty well as per our experience.
All your hidden files can be viewed after entering a Numeric PIN on the app's Calculator panel.
Keepsafe Photo Vault is one of the top-rated gallery vault apps you can use on your Android device. The app would help you secure your photos and videos by locking them down with PIN, fingerprint protection.
Not only that, but Keepsafe Photo Vault also offers you a private cloud space to store files if your phone is running sort of storage.
Well, PRIVARY is a full-fledged gallery app for Android smartphones. It provides you with a photo vault that hides all personal documents with unique-full protection.
PRIVARY is powered by multi-level security to ensure your privacy. You can protect the photo vault with a PIN, Password, or Fingerprint. You can even choose to hide your documents and videos with PRIVARY.
Well, if you are searching for a personal gallery app where you can store your memorable photos/videos and ensure that no one can see the images, then Photo & Video Locker might be the best pick for you.
It allows you to lock down the pictures and videos you want to hide from the gallery. Apart from the photo and videos, the Photo & Video Locker can protect documents.
You can easily hide your photos & videos with these gallery vault apps for Android. If you know of any other such apps, let us know in the comment box below. I hope this article helped you! Please share it with your friends also.