Google has finally released the most required feature for Play Store apps. This feature will make it a lot easier to consider app will work well on your device or not by seeing its rating.
With this confusing feature, Google will only list the reviews from the "verified" Google accounts only and many more, so let's discuss them below.
Google Play Store Get New Device Type Ratings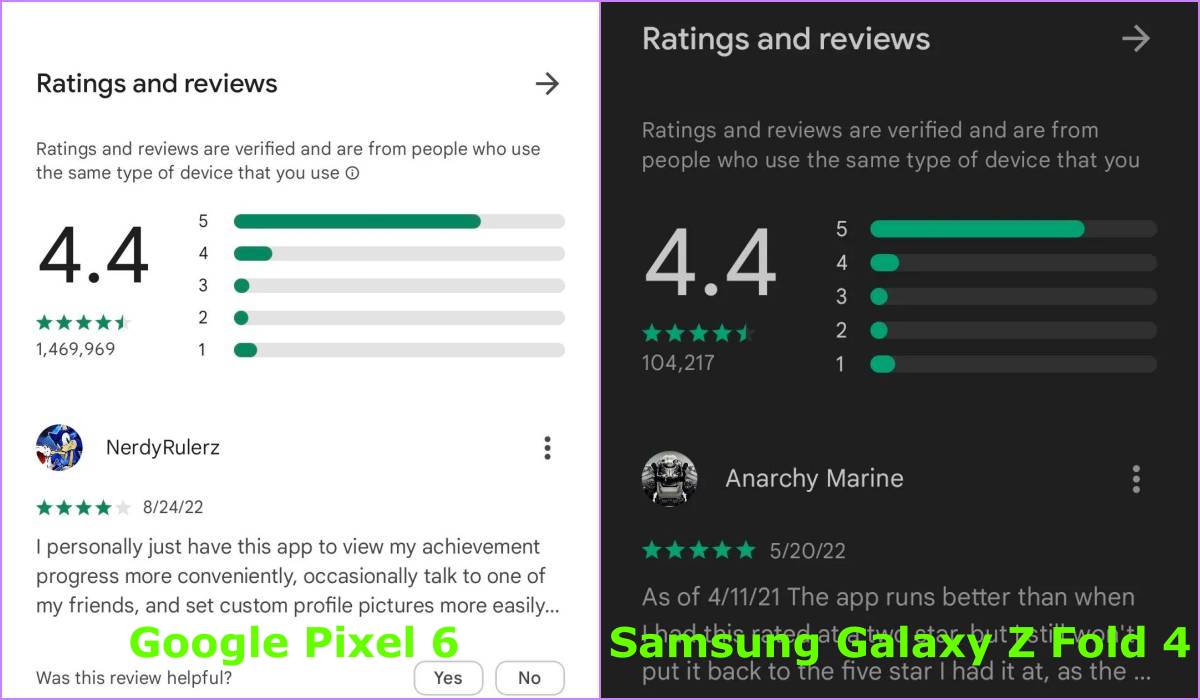 As we all know, Google Play Store is not limited to only smartphones; it also allows other devices to download and review the app, such as tablets, smartwatches, television, and even laptops.
And it is completely unfair to show all the reviews and ratings from different devices, and with this new feature, Google will only show reviews and ratings that are published by the same type of devices.
It also mentioned that rating would also be based on users' region.
For example, you can see the above image, which shows how this new feature works. Both screenshots are of Xbox mobile app, and the left one features the ratings and reviews displayed by Google on Pixel 6.
And the right one is taken by Samsung Galaxy Z Fold 4. Besides, both smartphones' review numbers are different such as the Pixel 6 showing "1,469,969 reviews" and the Fold 4 showing "104,217 reviews" only.
That's because the Samsung Galaxy Z Fold 4 has a bigger square display than average smartphones, which means it is a different type of smartphone than the Pixel 6.
This feature came to the spotlight when a well-known developer Mishaal Rahman shared details about it in a tweet.
In August 2021, Google said that users would start to see ratings specific to the device that they're on (eg. tablet users would see ratings from other tablet users). They said this would start "early in 2022." According to a message on the Play Console, this is now live. pic.twitter.com/ZmzsRwjJIO

— Mishaal Rahman (@MishaalRahman) September 14, 2022
Besides, as I mentioned above, Google will show you a pop-up in the review section that says all the reviews are from verified Google accounts, and here "verify" means actual human users.
While the company actually revealed this feature last year, and now after a year, it is here for every device that supports play services and in almost every region.