Google's Pixel series of devices are indeed a great phone that's why it was sold out at Google Stores. You won't believe how much Amazon is charging for Google's Pixel XL.
Guess How Much Amazon Is Charging For Google's Pixel XL?
Well, Pixel XL is the only Android smartphone that can compete with latest iPhone devices. Google's Pixel series of devices are indeed a great phone, and as such, a lot of people want it.
According to recent estimates, Google store sold out both Pixel and Pixel XL, but Verizon still have the stocks, and the carrier has been selling plenty of them. You will find Google Pixel XL version at $869 plus tax if you can find it at Google or Verizon.
However, Amazon the online retail giant is selling the phone at quite a markup. The Pixel Xl 128GB is being sold and shipped by Amazing at the huge price of more than $1,500, that's too without including sales tax.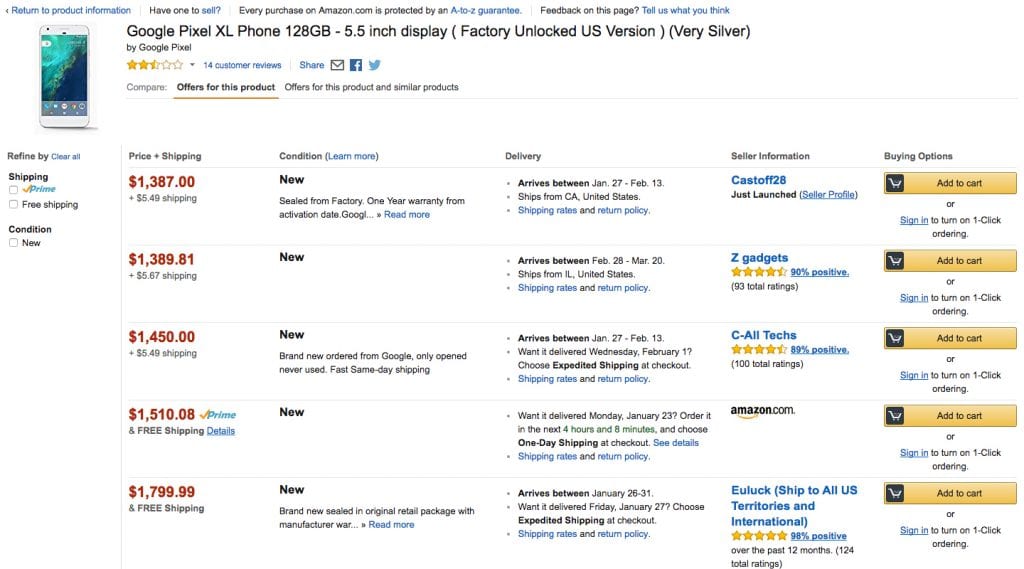 The prices do fluctuate on Amazon and especially when any device has been sold through the third-party seller. The another thing that makes the Amazon listing more shocking is that this time Pixel XL is being sold and shipped by Amazon directly. That means no third-party seller involved.
So, if you are willing to pay over $1500 for the Pixel XL from Amazon, then let me tell you Amazon currently only has stock of Quite Black mode, and the stock was also limited.
However, major Android phone makers are preparing to launch net smartphones this year. Samsung Galaxy S8, LG G6 is about to hit the market soon. By then, pixel prices might drop, and the stock will improve. So, Amazon might lower the price back to what Google is charging for the phone.
So, what do you think about this? Share your views in the comment box below.