Currently, hundreds of web browsers are available for the Windows 10 operating system. However, out of all those, Chrome, Edge, and Firefox stood out.
If we talk about Microsoft's Edge browser the browser is based on the Chromium project and supports all of Google Chrome's extensions and themes.
Although Microsoft's new Edge browser is not as popular as Chrome, it's still more stable and flexible. Recently, Microsoft introduced a new feature to its Edge browser that lets you hide the title bar.
Hiding the Title bar might not be convenient for everyone, but Microsoft Edge can be seen with a visual overhaul.
Hiding just the title bar brings a new look to the web browser. So, in this article, we will share a detailed guide on hiding the title bar in Microsoft Edge.
Steps to Hide the Title Bar in Edge Browser
The option to hide the Title bar is available in the Edge stable version. In addition, users using the Edge Canary can also hide the Title bar on the browser.
Below, we have shared the step-by-step guide on how to hide the title bar in Edge Stable.
1. Open the Microsoft Edge browser on your Windows 10 or 11 computer.
2. On the Address bar, type in edge://flags and enter.
3. On the Experiments page, search for "Vertical tabs hide title bar".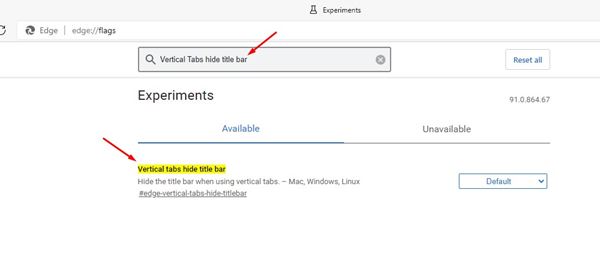 4. Find the flag, and select Enabled from the drop-down menu.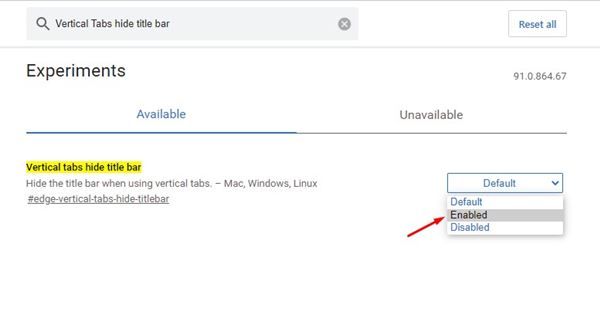 5. Once done, click the Restart button to relaunch the web browser.
6. After the restart, click on the top left icon alongside the tabs and enable vertical tabs.
7. You will no longer see the title bar on the Edge browser.
That's it! You are done. This is how you can hide the title bar in the Microsoft Edge browser (Stable Build)
So, this guide is all about hiding the title bar in the Microsoft Edge browser (Stable Build). I hope this article helped you! Please share it with your friends also. If you have any doubts about this, let us know in the comment box below.