When ChatGPT was first launched in November 2022, it managed to gain around 1 million active user base within five days. While the trend of ChatGPT has declined over the past few weeks, it's still discussed today and makes headlines on news portals.
After the massive success of ChatGPT, the company launched its premium version, ' ChatGPT Plus'. ChatGPT Plus can ue GPT-4 and can accept images as imput. You also get added benefits like increased handling power, quicker responses, etc.
While there are ways to ChatGPT 4 for free, it's limited to September 2021 dataset. This means it can provide information available until only September 2021. And since it can't access the web in real time, it can't provide information on current events.
These things are the major drawback of ChatGPT or ChatGPT Plus. However, the good thing is that you can eliminate such limitations and give ChatGPT internet access for up-to-date answers.
Hence, if you are a ChatGPT user looking for ways to give ChatGPT internet access, continue reading the guide. Below, we have shared an easy tutorial on how to give ChatGPT internet access for up-to-date answers. Let's get started.
Give Internet Access to ChatGPT – Chrome Extension
There's a Chrome extension available that give internet access to ChatGPT. Since the Chrome extension allows ChatGPT to access the web, you can expect up-to-date answers. Here's what you need to do.
WebChatGPT Chrome Extension – Internet access to ChatGPT
WebChatGPT is a free extension available for the Google Chrome web browser that adds relevant web results to your prompts to ChatGPT. In this way, you get more accurate and up-to-date responses. Here's how to use it on Chrome.
1. Open your Google Chrome web browser and visit this webpage. This will take you to the WebChatGPT extension page; click the 'Add to Chrome' button.

2. On the add extension confirmation prompt, tap on the 'Add extension' button.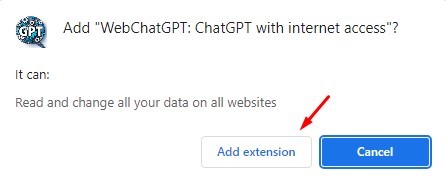 3. Now open a new Chrome tab, and head to the chat.openai.com/chat webpage. Next, log in with your ChatGPT account.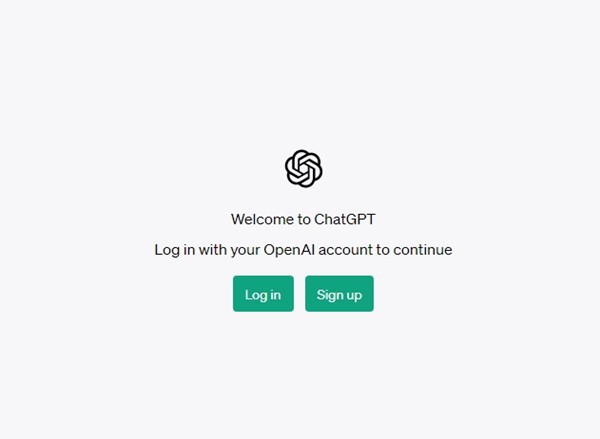 3. On the ChatGPT query field, enable the toggle for 'Web access'
4. This will give internet access to ChatGPT. The extension also adds a few useful web filters. For example, there's an option to set the time, region, etc.
5. Just set everything as per your need and make sure the toggle for 'Web Access' is enabled.
6. Now, ask anything to the ChatGPT; the AI chatbot will provide you the up-to-date responses. For example, you can ask ChatGPT to provide information about the events after 2023.
That's it! That's how easy it is to give ChatGPT internet access for up-to-date answers.
How to Give ChatGPT Internet Access on Other Web Browsers
The WebChatGPT extension is designed for the Google Chrome browser based on Chromium. Hence, it will work on every Chromium-based web browser like Microsoft Edge, Brave, etc.
To enjoy its benefits, you must install the WebChatGPT extension on any Chromium-based web browser.
Other ways to use GPT with Internet Access
ChatGPT may be the most famous AI Chatbot, but it still has some limitations. Some other AI chatbots like ChatSonic, Bing AI Chat, and Google Bard can access the web and provide you with a response.
So, checking a list of the best ChatGPT alternative is recommended. Then, you need to pick the AI chatbot that can access the web and provide you with a response.
Or else, you can use ChatGPT Chrome extensions to increase the feature and eliminate the limitations of the AI chatbot.
Frequently Asked Questions – FAQs
Is WebChatGPT Safe?
Yes, WebChatGPT is safe to use and free from viruses/malware. You can use it on your web browser without any performance or security issues.
The Extension toolbar is not showing?
If the WebChatGPT extension toolbar is not showing, you must look for and rule out compatibility issues. Ensure you're using the latest Chrome or any other Chromium web browser. You also need to disable all other ChatGPT extensions to fix the problem.
Which Search Engine does WebChatGPT use?
WebChatGPT uses the DuckDuckGo search engine to provide you with web results. When you ask queries, the extension searches DuckDuckGo and provides you with up-to-date information.
What are the other extensions to give ChatGPT Internet access?
WebChatGPT is not the only extension. Other extensions like ChatGPT for Google provide you with similar benefits. Similarly, you can explore the Chrome web store extension catalog and find the extension that provides ChatGPT internet access.
Also Read: How to Use ChatGPT on WhatsApp
So, that's all about how to give ChatGPT internet access for up-to-date answers. Our shared method works with ChatGPT free and ChatGPT Plus accounts. Let us know in the comments if you need more help. Also, if the article helped you, make sure to share it with your friends.