If you want to delete your Gmail account, then you can easily do that with the help of step by step guide that is discussed in the below article. Simply follow the below steps to proceed with the method.
[dropcap]G[/dropcap]mail is one of the most popular social media networks on which there are most registered users, and it may be the case that almost every of the person who is on the internet is also on the Gmail. It is easy to make up a new Gmail account; you just have to fill up some blanks with required details choose your ID and password, and that's it! New Gmail account gets created. Now using that ID and password, you can log into your new account and start enjoying the Gmail features and functions. But in case you want to delete your Gmail accounts, it is not that easy; you can only deactivate your account that shall become active again as soon as you log into it and there is no such direct option through which you can delete your Gmail account permanently inside the Gmail. But wait! There can be some other way to delete your Gmail account permanently and this method has been written in detail in the below article. Go and read the article to know about that process.
How to Permanently Delete Gmail Account
Remember that if you are going to delete up to the Gmail account and you are logged into your multiple Gmail accounts then you should log out from every of your multiple Gmail accounts before you can proceed to this step. If you do not log out of the accounts, then you may harm your other Gmail accounts too.
Also Read: How to Extract Email Addresses from your Gmail Messages
Steps To Permanently Delete Gmail Account:
1. Log in to your Gmail account that you want to delete permanently by filling up your credentials on the sign in page of the Gmail. Once you are logged in to your Gmail account go to the Account preferences option from the pull-down menu that you get access by clicking on the downward pointing arrow from the homepage of your account.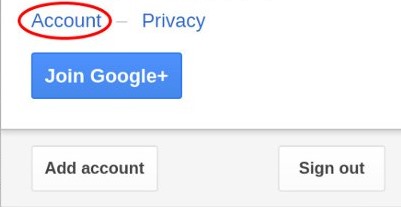 2. Now from the Account preferences page, you will have to click on the Data Tools at the top of the screen. Now you will see the data tools box on the screen, scroll down to te account management tab and then find and click on the "Delete account and data" option.
3. Now you will have to check all the given choices in the form of checkbox so that you can confirm the deletion of your account and get known about the effects of this on your services and data etc. So try to read all these options and then check them all to proceed further.
4. At last, you will be asked to fill up the password of your account, and you will have to check few options again and after all that you will be finally granted access to delete your account. Just press the "Delete Google Account" button and your request shall be processed after that. All the data and related services will be closed automatically within few days or may be hours depending on the quantity of the data stored or used.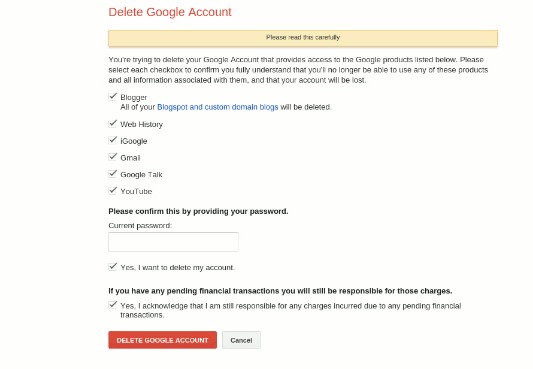 Also Read: How To Sign Out From your Gmail Account Automatically (4 Methods)
So, you have finally got the method by which you can quickly delete up your Gmail account permanently, and hence there shall be no need to wait for too long so as to remove your Gmail account and it's data. All that will happen instantly, and you won't find your account from that instant onwards. And if you were also considering to delete your Gmail account permanently just use up this method and that all you will get the results for sure.