For iphone user we are here with How To Recover Deleted Files From iPhone. Sometimes we removes some important files or data. As many people uses iphone smartphone and keeps their important daily use files or data in it. But what if you deletes data on your android ? In PC you can recover data when you deletes it you can easily restores it from Recycle Bin but sometimes when you permanently deletes files on your iphone. At that time you can use our method to recover up your deleted data. So proceed with below guide.
How To Recover Deleted Files From iPhone
The method is very simple and easy and recover deleted data using the tool that we are going to discuss right here. So proceed with some simple steps below to recover out your deleted files in your ios device.
#1 Method:

Recover Deleted Files From iPhone Using  iMyfone iPhone Data Recovery software
Here you need a tool iMyfone iPhone Data Recovery in your windows PC and then youn restore your deleted data from connecting your iphone to this tool.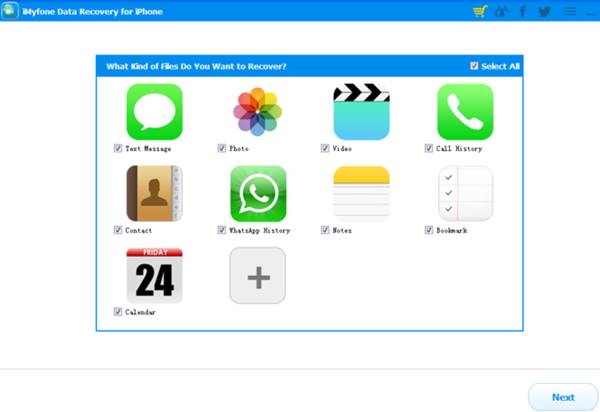 Features of this tool:-
Recover all types of lost data including text message, photo, video, call history, voice, contact, note and more.
Preview lost files before performing recovery.
Recover iPhone data as quickly as 3 minutes.
#2 Method

: Recovering Previous Backup File  Using iCloud
iCloud is a very effective way to restore iphone data. It backup all the data online to icloud server which is a very secure network to keep data. By this we can recover all the deleted data from there whenever needed ,just follow the below steps to proceed.
First of all go to Settings menu and select General and from there, choose Reset and Erase All Content and Settings.
Now after erasing your iPhone, the device should prompt you to either set it up as a new phone or to restore it from a previous backup data. At this screen, select "Restore from iCloud Backup". Note that this will work  only if you hace backup your iphone from iCloud earlier.
Now fill up your apple id and password from your phone and allow the content to download on your phone .And the downloading process will get completed .
Thats it you are done with restoring all the data of your iphone to its previous state.
#3 Method

: Recovering Files Using iTunes
In this method we will recovering all our iphone data from the itunes software of computer. In this app we select the previous backup file to restore all the data.Just follow the below steps to proceed.
First of all open iTunes on your computer and prevent the program from automatically synching with your iPhone by going to the Edit menu, and then Settings of device. And when that window opens, choose Devices and check the box next to the option stating "Prevent iPods, iPhones, and iPads from syncing automatically" there.
Now connect your phone with computer with usb cable and wait for computer to detect your device.
Now in iTunes go to File menu and select devices and from there, choose the "Restore from Back up" option.This will work only if you has previously backup your iPhone with itunes.
Now allow the contents to be download on your device by selecting the Download Only option .
Thats it all your data will be restored to the earlier date of your backup.
SO above are the ways for How To Recover Deleted Files From iPhone. With these you can easily get back your lost data in your iphone using the recovery tools and the methods discussed above. Hope you like this, do share with others too. Leave a comment below if you have any related queries with this.