Secretly record the videos in your android device using Secret Video Recorder app that will not display anything on screen but will record videos secretly. Below we have shared two methods and few best apps to record videos on the background. So, lets have a look at the complete guide discussed below.
In this tech world you can use technology in any way that you want and using android a spy video recorder is quite cool, isn't it, yes for sure. Your Android device can be used a secret video record and there is no need to buy any extra secret video recorder to record something really private at some time really complicated situation. And the method that we are going to discuss right here is very cool and that will help you to have a secret video recorder in your android and that with a cool android app that will let you do this. So have a look at complete guide discussed below to proceed.
Also Read: How To Remotely Turn Off Any Android By Sending SMS
How to Secretly Record Videos on Android Mobile
The method is quite simple and easy and you will be using a simple app that will allow you to record videos secretly. So follow up some simple steps below to proceed.
Also Read: How To Make Your Android Device A Fingerprint Sensor Enabled
Method 1. Using Secret Video Recorder
Secret Video Recorder does background recording so you can use your phone as normal and no one can tell you are recording video. In the free version, there allows you to record the unlimited number of background video recording, and video duration is unlimited too. Secret Video Recorder is a spy camera for professional video recording and is the best app available in the Android market for hidden video recording.
Step 1. First of all, you need to download and install the cool android app that is Secret Video Recorder the app that gonna help you to records video secretly.
Step 2. Launch the app after installing it on your device and you will see the screen below.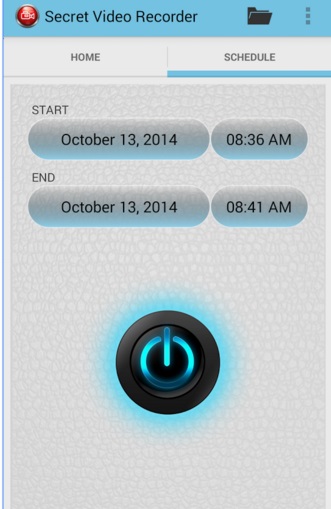 Step 3. Now you need to schedule the video recording and that you will be setting up according to your wish and the time when you want to try secret video recording.
Step 4. Now you need to secure the app with the password to protect from any illegal access.
That's it! you are done, nothing will be displayed on the screen and secret video recording will start at a set time.
Also Read: How To View Saved Wifi Passwords In Android
Method 2. Using Background Video Recorder
Background Video Recorder is a camera app which helps you record video in the background with the option to enable/disable camera shutter sounds and camera previews. Useful functions include continuous recording when your screen is off, scheduled recording, an easy to use one-click Video Recorder shortcut/widget & support for multiple languages.
Step 1. First of all download and install Quick Video Recorder on your Android smartphone.
Step 2. After installing launch the app and it will ask you to accept the terms and conditions. Simply, tap on "Accept" to continue.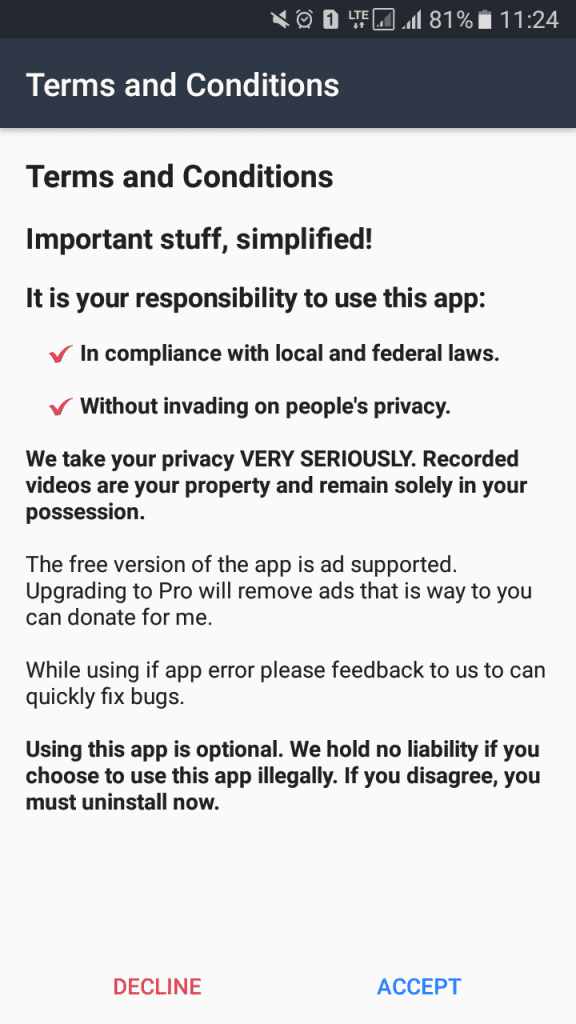 Step 3. Now you need to open up the settings and set the app according to your wish.
Step 4. Now move to custom notification settings. Here you can set all other settings like Notification Bar Title, Bar content, Notification preview and all other things.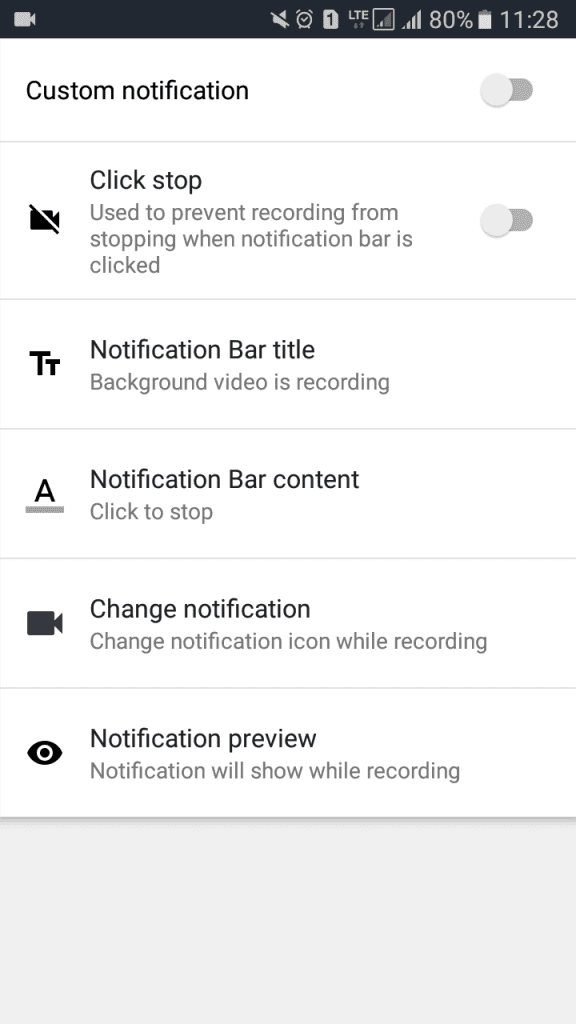 Step 5. Now move to the home page of the app and then tap on record icon. Here you need to allow the app to record audio, video.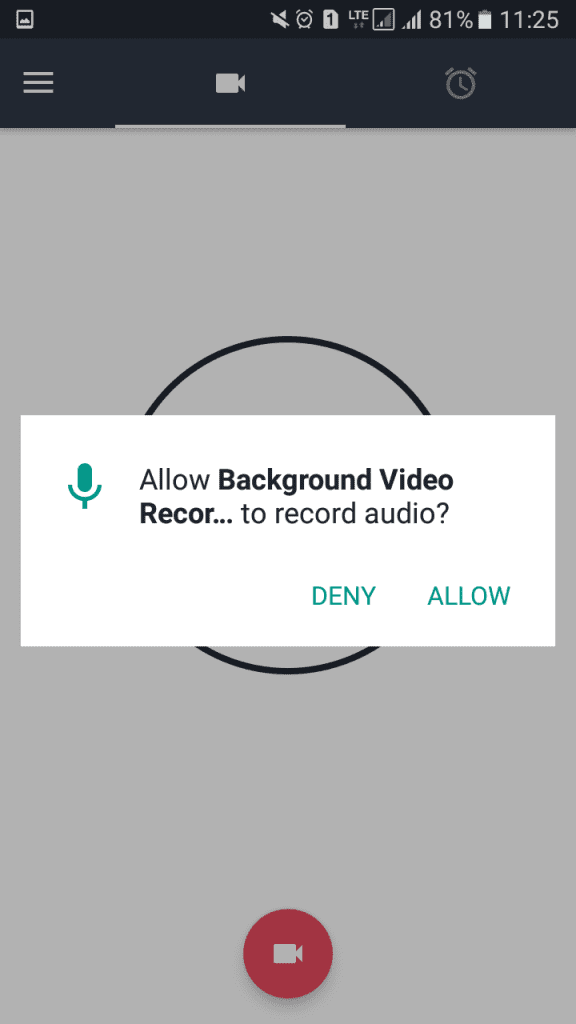 That's it! You are done, your video will be recorded in the background. This app gives lots of customization option which you can use to hide the app notification while recording.
Alternatives
Just like the above two apps, there are plenty of other apps available on the Google Play Store that can record videos in background mode. Here we are going to list down three best apps from the same category.
iRecorder is one of the best and popular Android apps which allows users to record videos in the background mode. Guess what? iRecorder can also record videos even in the locked state. Other feature of iRecorder includes recording with back or front camera, multiple language support, trim videos after recording, etc.
#2 Secret video recorder
The Secret video recorder is another best Android video recording app on the list which allows users to record videos in the background. The app allows users to control the video recorder with physical buttons. Users just need to press the volume button three times within two seconds to start recording. Users need to do the same with the volume low button to stop the recording.
As the name of the app says, Hidden Screen Recorder is another best Android background video recording app available on the Google Play Store which you can use right now. The great thing is that it can record videos from the background without asking for root access. Apart from that, Hidden Screen Recorder provides users one-tap actions to start and stop video recording. So, Hidden Screen Recorder is another best background video recorder which you can use today.
If you are searching for an Android app that can turn your smartphone and PC into a connected IP camera with GPS locator, then you need to give Surveillance & Monitoring – TrackView a try. Guess what? offers lots of useful features for parental control and home security. The app provides users a Family locator, IP camera, Event detection features, Remote Video, and Audio recording. The remote video recording feature turns on the video recording in the background silently.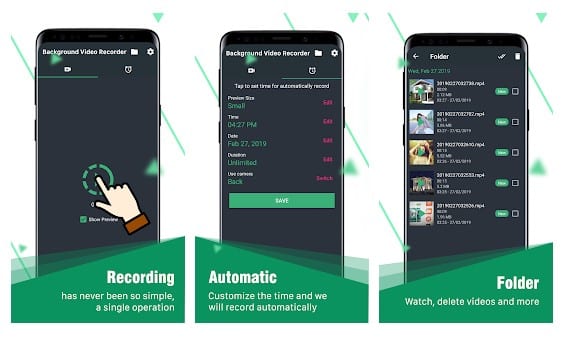 background video recorder is one of the popular and top-rated Android app available on the Google Play Store that can be used to secretly record videos. background video recorder basically mutes the recording and shutter sound by default. Apart from that, the app doesn't even show the preview of the recordings. Users can also disable notification messages, screen messages while recording the videos.
So above is all about How to Secretly Record Videos on Android Mobile. With this method, you can easily make your Android device a secret video record that will secretly record videos at the scheduled time. So try this out and have fun with this. Hope you like this, Keep on sharing with others too. Leave a comment below if you have any related queries with this.