Secretly record the videos in your android device using Secret Video Recorder app that will not display anything on screen but will record videos secretly
I
n this tech world you can use technology in any way that you want and using android a spy video recorder is quite cool, isn't it, yes for sure. Your android device can be used a secret video record and there is no need to buy any extra secret video recorder to record something really private at sometime really complicated situation. And the method that we are going to discuss right here is very cool and that will help you to have a secret video recorder in your android and that with a cool android app that will let you to do this. So have a look on complete guide discussed below to proceed.
Also Read: How To Remotely Turn Off Any Android By Sending SMS
How to Secretly Record Videos in Android Mobile
The method is quite simple and easy and you will be using a simple app that will allow you to record videos secretly. So follow up some simple steps below to proceed.
Also Read: How To Make Your Android Device A Fingerprint Sensor Enabled
Features:
• Unlimited number video recording
• Unlimited video duration
• No camera shutter sound.
• No preview.
• Support night vision
• Support zoom
• Can record during phone call.
• Turn screen off and continue recording
• One touch operation for recording start and stop
• One touch operation for schedule recording
• Supports front and back camera
• Full HD video (1920×1080) recording
• Support full video quality
• Silent recording
• Enable/disable sound & vibration method while start/stop video recording by application.
• Hide video from Gallery
• Custom icon for launcher so the app is completely discreet
• Enable/disable flash light during recording
• Enable/disable preview
• Disable Notification icon so there is no screen indication that video is recording
• Password protected for full security
• Very few permissions needed so privacy is assured
Additional Features:
• Turn screen off and continue recording. That saves battery and allows long recording
• Reduce video quality enough to use to increase usage time and storage
Steps To Use Secret Video Recorder To Secretly Record Videos:
1. First of all you need to download and install the cool android app that is Secret Video Recorder the app that gonna help you to records video secretly.
2. Launch the app after installing it in your device and you will see screen below.
3. Now you need to schedule the video recording and that you will be setting up according to your wish and the time when you want to try secret video recording.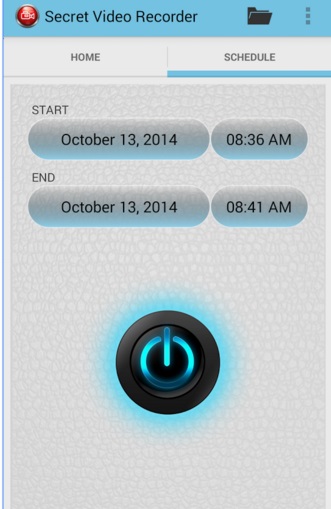 4. Now you need to secure the app with password to protect from any illegal access.
5. Thats it you are done, nothing will be displayed on the screen and secret video recording will start at a set time.
Also Read: How To View Saved Wifi Passwords In Android
So above is all about How to Secretly Record Videos in Android Mobile. With this method you can easily make your android device a secret video record that will secretly record videos at the scheduled time. So try this out and have fun with this. Hope you like this, Keep on sharing with others too. Leave a comment below if you have any related queries with this.
COMMENTS
AUTHOR