Well, Facebook is right now the most used social networking site. The site allows you to exchange text messages, post status, share videos, etc. Also, it has a messenger app that allows message exchange.
Sometimes, we log into our Facebook account from our friend's PC/laptop, and later we think about whether we have logged out from that device or not.
So, if you have recently logged into your Facebook account from your friend's computer and are unable to decide whether you have logged out or not, this post might help you.
Also Read: How to Share Your Location With Facebook Messenger
Check & End Your Active Sessions on Facebook
In this article, we will share a step-by-step guide on how to see the last login location on Facebook.
Not only that, but we will also tell you how to log out from Facebook on other devices remotely. Let's check out.
1. First of all, log in to your Facebook account from your favorite web browser.
2. Now click on the drop-down arrow as shown in the screenshot below.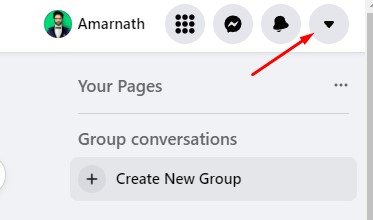 3. Now click on the Settings & Privacy option.
4. On the Settings & Privacy option, click on the Activity Log.
5. On the left pane, expand the logged actions and other activity and select Active Sessions.
6. The right pane will display all Facebook login activity.
7. To end an active session, click on the three dots as shown below and click on the Log out option.
That's it! You are done. This is how you can check and end active sessions on Facebook.
So, this guide is all about how to check and end active sessions on Facebook. I hope this article helped you! Please share it with your friends also. If you have any doubts related to this, let us know in the comment box below.