We are going to share an interesting trick on using Cool fonts on your Whatsapp, Facebook Status, or messages. Follow the full post below to know about it.
Today we all are involved in the virtual world than the real world. As we keep on sharing WhatsApp messages, Facebook status, and lots more. Their use is developing day by day. And the person is only smart when he/she is bright in this virtual world.
So we are here with the trick which can show your smartness in WhatsApp messages and in facebook status etc.
You can Write WhatsApp Messages & Facebook statuses using Cool & Funky Fonts on your Android smartphone, you can easily implement cool and funky fonts. And the method is very manageable and you just have to follow it below.
WhatsApp Messages & Facebook Status In Cool & Funky Fonts
This method works in android and with a cool application that will give you awesome fonts that you can share on Whatsapp messages and can share facebook status in that fonts. Just follow some simple steps below to proceed.
Step 1. First of all on your android device download and install the app Cool Fonts Application. Now launch the application on your android device.
Step 2. Now you will see the list of cool fonts that are available in the app, select any of your favorite fonts.
Step 3. Now write your desired message or status that you want to share on Whatsapp or Facebook.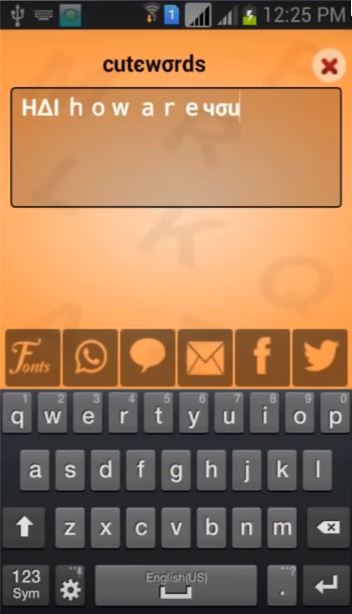 Step 4. Now you will see a direct import button for Facebook and Whatsapp, just tap on it wherever you want to share.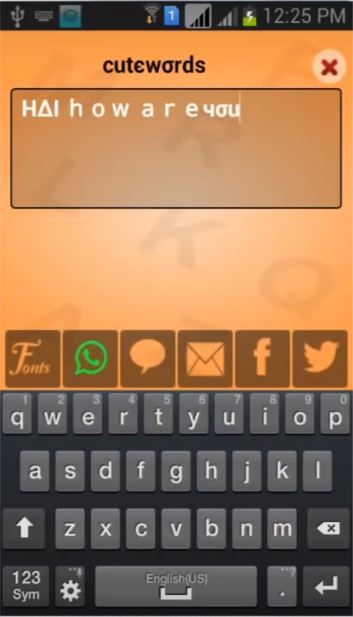 Step 5. Now the cool text with cool font gets posted on your WhatsApp or Facebook and you can share it with your friends.
That's it! you are done, now you can practice this method every time you want to share some cool messages in fashionable attractive fonts.
[alert-announce]Also Read: Trace Location Of A Person By Chatting on Facebook & WhatsApp[/alert-announce]
Utilize this method to make your friends startle watching your messages and status in attractive fonts that you will select in the app discussed below. Also, you can copy a message, choose a font, and then paste on a keypad to save the time of typing the message. Hope you like this cool article, share it with others too, and Leave a comment below if you have any related queries.