Instagram to Allow Everyone to Pin Comments on Posts. The new feature was being tested back in May of 2020 and now it is live for all users on Instagram. The new feature aims towards positivity in the comments thread.
Instagram Adds new Pin Comments Feature!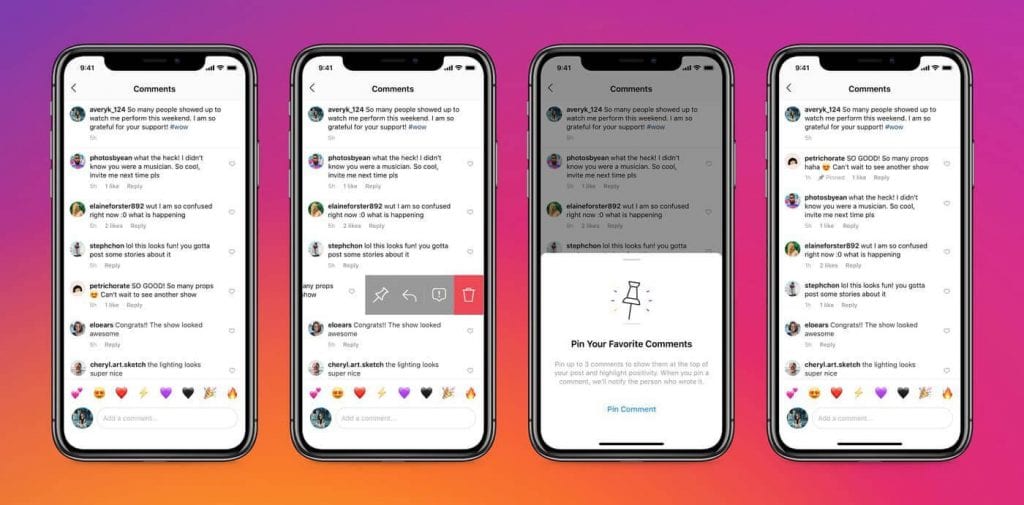 After testing the feature back in May, Instagram has made the feature live for all users on the Instagram platform. The new feature is being touted for maintaining positivity on the Comments Thread and a feature to deal with Cyber Bullying. The feature was announced with a tweet.
Today we're rolling out pinned comments everywhere. 📌

That means you can a pin a few comments to the top of your feed post and better manage the conversation. pic.twitter.com/iPCMJVLxMh

— Instagram (@instagram) July 7, 2020
The feature of pinned comments is fairly easy to use. All you need to do is swipe the desired comment to the left and you'll see the choices like replying, posting, or deleting the message. A new pushpin icon appears to pin the comment to the top of the thread on the far left.
With this feature, Instagram has also added a Bulk Delete option which is useful in moderating hate comments that are frequently popping up at this time. The feature has also debuted with the Pin comments option. The addition of these features looks like the Facebook-owned platform is taking the issue of Cyberbullying and negativity seriously.
Earlier the app had introduced a feature capable of removing up to 25 Comments in one go. For iOS users, the choice on the top right corner can be accessed from the dotted icon. Upon selecting the option Manage Comments, the user can select the comments they wish to remove. More Options also allow users to block or restrict accounts in bulk. All users need to do on Android is tap and hold on a comment and then tap on the dotted icon to either block or restrict it.
The new feature has been welcomed by many as its a great tool to moderate and Spread Positivity and Hide Negativity in the comments section.