Install applications & move obb Files to external SD card with the Xposed module. So have a look on complete guide discussed below to proceed.
In Android, there are lots of apps like large games that need additional files to be download after downloading the app from Google Play store. Like some games of size around 1GB provides the only setup around 20-50 Mb and then after that you need to get the other file download in the app itself. And the files eat obb files of that apps. Now if you want to share the games with other device and if you share only the apk then the addition file will again need to get downloaded and if you go for manually moving the obb files then the most files don't work. So to overcome this, we have a great solution that we are we'll discuss here that is moving obb files to SD card to import export any of the game data easily. Yes, it's possible and that too very easily. So have a look on complete guide discussed below to proceed.
Also Read: How To Change Working Of Hardware Buttons In Android
How to Install Apps & Move OBB Files to External SD card
The method is quite simple and you just need a rooted Android device that will allow a Xposed installer to run on a device. And after having the Xposed installer, you will be using a Xposed module app to move the obb files from your device storage to your external Sd card. For this, follow the guide below.
Steps To Transfer obb Files Of Apps To Sd Card:
Step 1. First of all, you need a rooted Android as Xposed installer can only be installed on a rooted Android, so Root your android to proceed.
Step 2. After rooting your Android device, you have to install the Xposed installer on your Android and that's quite the lengthy process and for that, you can proceed with our Guide to Install Xposed Installer On Android.
Step 3. Now you need to download and install the cool app Obb on SD the only app that will allow you to send games obb files to External Sd card.
Step 4. Enable this module in the Xposed installer.
Step 5. Now locate to any obb files using any file explorer, we suggest you to use ES file explorer because it's more user-friendly. Just choose the options to move app data to your external SD card.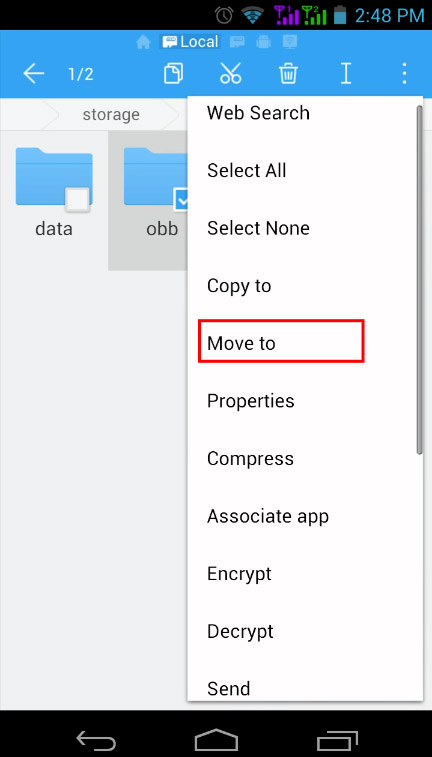 That's it! you are done, now you have large portable games with obb files to get installed on any of Android device.
Also Read: How To Play Your Favorite PC Games On Your Smartphone
So above is all about How to Install apps & Move obb Files to External SD card. With this cool method, you can enjoy large games in any of your Android by moving obb files through SD card and easily installation of games without any need of downloading additional packages again. Hope you like this, do share with others too. Leave a comment below if you have any related queries with this.
COMMENTS
AUTHOR