Apple released iPadOS 16 first Beta after its Worldwide Developers Conference, and now some developers notice a secret debug menu that enables a custom lock screen on iPad.
Recently, Apple has also revealed its upcoming iOS 16, which contains many new features such as a new lock screen look & capabilities, iCloud sharing, a new visual look-up features, and enhanced iMessages.
Apple Planning Custom Lock Screen with iPadOS 16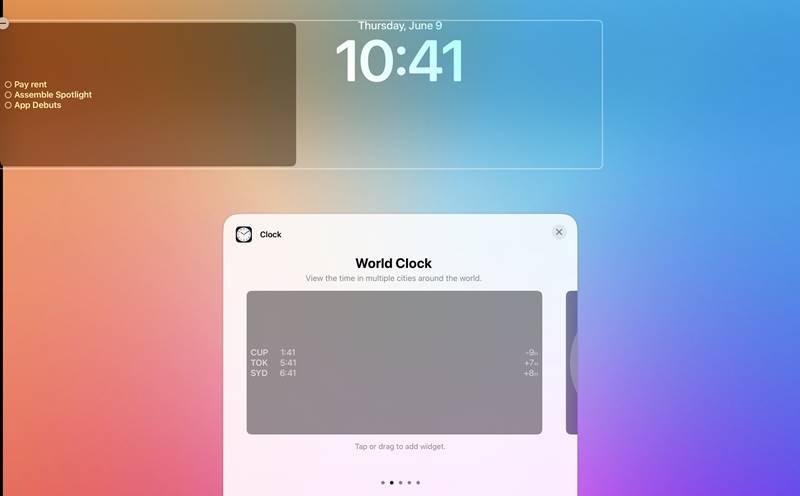 We all know that new lock screen features are the most significant upgrades for iPhones that come with iOS 16, and for iPad users, there is no such lock screen feature announced, but a little spark is seen in iPadOS 16 Beta 1.
According to Filipe Esposito's tweet, iPadOS 16 Beta 1 introduced a secret debug menu that allows you to create or customize the new lock screen for your supported iPads.
There's a debug menu in iPadOS 16 beta 1 that lets you interact with the new Lock Screen on the iPad. Some things are broken (specially widgets), but they could have at least released this for basic customization like new wallpapers and fonts. Maybe next year. https://t.co/HC4hrfvAzA pic.twitter.com/2raAIi9QWI

— Filipe Espósito (@filipeesposito) June 10, 2022
While this lock screen customization doesn't support some key features like widget support, it allows some basic customization such as quickly changing wallpaper or fonts in an enhanced way.
And this is noteworthy that for the first time, Apple cut out any prominent features of iOS from iPadOS. Besides, it always keeps some similarities in their operating systems upgrades.
Also, as 9to5Mac suggested, the company has built a new internal app called "PosterBoard" that shifts users to the lock screen customization options. This iPadOS tool is hidden like others but can be accessed by some methods.
As noted by Federico Viticci, Apple forgot an open portal for access via a shortcut of PosterBoard from the list of available apps. So iPad users can also use similar functionality as a custom lock screen.
Keep in mind this is not a complete feature. There might be a chance that Apple is holding the feature for iPadOS 17, and we will see it next year, but for now, we will get more information when the further beta is released.