Live wallpapers for iPhone (iOS 16 and 15) have come a long way. Live Wallpapers were introduced in 2015 with the iPhone 6s and 6s Plus and have been a rage among iPhone users since then.
The older versions of iPhones, such as the iPhone 6s and 6s Plus, relied on 3D Touch technology to animate an image. Because of 3D Touch technology, the wallpapers moved when long-pressed. Now in 2022, you can enjoy the animations of live wallpapers without long pressing on the wallpaper.
Live wallpaper is one such thing that can transform the look of any mobile device. And if you have an iPhone, it can breathe life into your lock screen. Many live wallpaper apps for iPhone are available on the App store that can make your stunning iPhone even more appealing.
Also read: 5 Best Live Wallpaper Apps for Windows 11
10 Best Live Wallpaper Apps for iPhone (2022)
Hence, if you are interested in discovering such apps, you have landed on the right page. Below, we have shared some of the best iPhone live wallpaper apps that will bring your iPhone screen to life. Let's get started.
Live Wallpapers is one such app that can make your iPhone look inimitable. It's a great app to impress your friends as it makes your lock screen come alive.
It's a simple live wallpaper app with some added features. You can either use the unique collection of interactive wallpaper the app brings or make a live wallpaper from your videos with the Live photo maker.
Other than the live wallpapers, Live Wallpapers also brings some widgets you can add to your home screen. The app works on every iPhone with 3D touch functionality.
Live Wallpapers Forever is a live wallpaper app for ios 16 with fewer features than the previous one. The app brings a collection of live wallpapers that can make your iPhone look cool.
Each of the live wallpapers on the app has its own unique animations. You just need to touch the live wallpaper to liven up the wallpaper.
What we like the most about the app is its live wallpaper categories; it provides you with different categories for finding live wallpapers.
Apart from the live wallpaper categories such as abstract, nature, mountains, science, space, etc., there's a dedicated section for popular wallpapers. The live wallpaper app for iOS is compatible with devices with a 3D touch.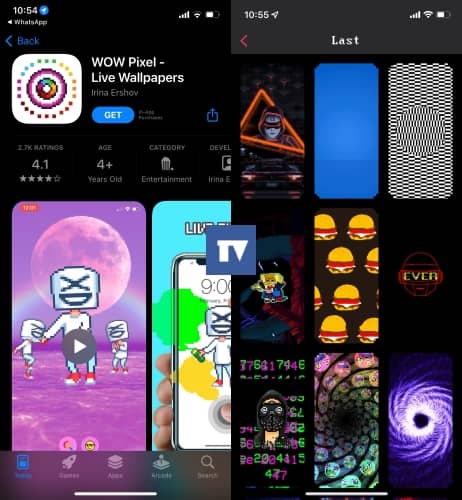 You will surely love WOW Pixel if you are a hugely fan of retro images. It's a simple app that offers you many unique live wallpapers for iPhone.
To immerse you in the colorful world of 8-bit adventure, the app makers created heroes and animated stories for them. The short animated stories were played on your lock screen when you touched the wallpaper.
The animated stories on the lock screen also depict some emotions – Funny, love, cute, or angry; you can choose whatever fits your mind.
Apart from that, the app developer also invites users to share their own stories about their characters. So, if you find this app unique and want to share your story, you can send it to the developer.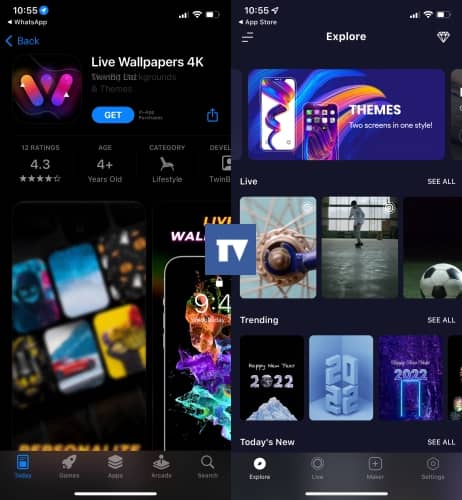 Live Wallpaper 3D is one of the best and leading iPhone customization apps you can use today. The app brings hundreds of cool live wallpapers to bring your iPhone's screen to life.
Compared to other live photo apps for iPhone, Live Wallpaper 3D has more wallpaper categories. You have the option to find live wallpapers ranging from 3D to Christmas.
Apart from that, Live Wallpaper 3D also has an option to create personalized live wallpapers from videos, view the trending wallpapers, and more. Live Wallpaper 3D is a great live wallpaper app for iPhone that you shouldn't miss.
intoLive is very different from all other apps listed in the article. It's a live wallpaper maker for iPhone that can turn your photos and videos into Live photos.
Not only photos & videos, but the latest version of intoLive also supports GIFs, allowing you to convert GIFs into Live photos on iPhone.
Being a live wallpaper maker, intoLive doesn't provide any wallpaper on its own. So, use this app only if you want to turn your existing photos, videos, and GIFs into Live wallpaper.
Well, Zedgei s a personalization app available for both Android and iPhone. Zedge brings a unique collection of both wallpapers and live wallpapers for iOS.
Verified creators designed the live wallpapers hosted on Zedge; hence they look amazing. Apart from the wallpapers and live wallpapers, Zedge can be used to download icons and ringtones for iPhone as well.
The only downside of Zedge is that most of the app's wallpapers are paid. You need to purchase Zedge credits to download the premium live wallpapers for iPhone.
The free account of Zedge offers you 10 credits which you can use to purchase items from the Zedge store, but that isn't enough to satisfy the hunger for live wallpapers.
Everpix is not as popular as other live wallpaper apps for iPhone, but it still brings many high-quality wallpapers.
The app has limited live wallpapers, but they all look unique and can breathe new life on your iPhone.
The live wallpapers the app brings work on all iPhone models except iPhone 4, 5, 6, and iPhone SE. If you are unsatisfied with the free version of Everpix, you can subscribe to the Everpix premium version.
With an Everpix subscription, you can access the library of carefully chosen live wallpapers. Overall, Everpix is the best live wallpapers for iPhone-free that you shouldn't miss at any cost.
Kappboom is one of the oldest live wallpaper apps on the list, which can help you get the best free live wallpapers. The app brings more than 200,000 beautiful wallpapers to your phone – most of them are static.
The app has live wallpapers, but you need to find them manually. To locate the wallpapers you need, it offers you image sorting options. You can sort images with tags, colors, categories, and more.
While the app is free to download and use, you can subscribe to it to unlock all wallpapers. Also, the subscription removes the ads shown between the wallpapers.
Live Wallpapers for Me is a great live wallpaper and dynamic themes app for iPhone. The app offers you everything you would need to personalize your iPhone. You can have it all free, from cool live wallpapers to dynamic themes.
Apart from the high-quality live wallpapers, Live Wallpapers for Me also brings a live wallpaper maker tool that can turn your videos into live wallpaper in just a few seconds.
The premium version of Live Wallpapers for Me unlocks all premium wallpapers and removes the ads from the app. So, to use this app to its full potential, you need to purchase its premium version.
Wallcraft is probably the most popular live wallpaper app on the list that brings parallax wallpaper and live wallpaper for your iPhone. The app is fully compatible with all iPhones with an iPhone 3D touch and haptic.
Whether it's the beautiful collection of fantasy wallpaper or the cool catalog of abstract wallpapers, you will find wallpapers for every different category in Wallcraft.
Apart from the static and live wallpapers, Wallcraft also has a decent collection of video wallpapers for iPhone. Overall, Wallcraft is a great live wallpaper app that you should have on your iPhone.
Also read: 20 Best Hidden iPhone Secret Codes
The live wallpapers on these apps can bring your iPhone screen to life. So, these are probably the best live wallpaper apps for iPhone that you should use. If you want to suggest any other iPhone live wallpaper apps, let us know in the comments below.