[dropcap]H[/dropcap]ave you ever thought about change the Android wallpaper automatically? Now you can give your Android screen a new look by changing its wallpaper automatically after a particular interval of time using the Wallpaper changer app to make your Android user interface more interactive.
In Android phone, users usually keep on trying lots of apps to make their Android UI look better, and the most of the thing that user keep on trying is setting up amazing wallpapers that make Android look better while using it. But after a particular time interval, we get bored with the same screen wallpaper, and for this, we have a great solution. What about automatically changing the Android wallpaper after a fixed interval of time. Yes, it's possible, and in this guide, we will be discussing the same. And with this, you can choose out the list of the wallpapers to randomize it on your screen. So have a look at the complete guide discussed below to proceed.
Also Read: Top 10 Best Android Apps To Train Your Brain
Make your Android Wallpaper Change After A Particular Time Interval
The method is quite straightforward and easy, and you just need an Android app that will automatically change your screen wallpaper after a fixed interval of time. So follow the steps below to set up the looping wallpapers on your Android.
Also Read: Best Android Apps To Transfer Files Over Wifi With High Speed
Steps To Set Automatically Changing Wallpaper on your Android:
Step 1. First of all in your Android mobile, download and install the app Wallpaper Changer, the app that will allow you to set the automatically changing the wallpaper.
Step 2. After installing the app, launch it on your device. Now you need to enable the app's live wallpaper feature by clicking on the red bar displayed there.
Step 3. Now there you will have two options change wallpaper every particular interval and other the change wallpaper on lock screen unlock, configure these two options according to your wish.
Step 4. Now swipe from left to right and under the album section, choose out the photos that you want to change and set automatically to your Android wallpaper.
Step 5. Now the last thing you need to do is the amend the settings according to your wish under the settings section.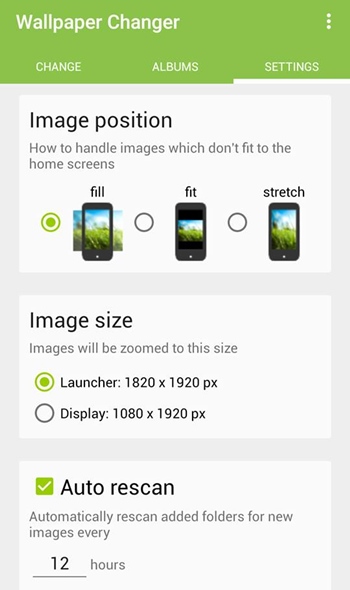 Also Read: How to View Call Statistics for Each Contact On Your Android
Method 2: Using SB Wallpaper Changer
Step 1. First of all, download and install SB Wallpaper Changer on your Android device.
Step 2. Now open the app and then you will see the screen like below. Tap on "Settings"
Step 3. Now you need to enable the checker and then select the directory where you have the wallpapers.
Step 4. Now move to the home screen where you need to tap on "Set This App To Live Wallpaper"
That's it! You are done and now you can set the timer interval which will be used to set the time interval for changing the wallpaper automatically.
Also Read: Top 10 Best Ways To Make Android Apps Easily Without Coding
Using Smart Wallpaper
Smart Wallpaper is one of the best apps which can help you to change your Android's wallpaper based on time, day, location and more. The app comes with many benefits and it also houses some good pictures that you can use.
Step 1. First of all, download Smart Wallpaper on your Android smartphone from the given download link below.
Step 2. Once downloaded, open the app & after granting all the permissions and you will see the screen like below.
Step 3. For example, I want to change the wallpaper whenever my phone connects to a WiFi network. In this case, select 'WiFi network' and then add the image which you want as a wallpaper.
Step 4. Now move to the main page of the app and then tap on 'Activate'
That's it, you are done! Now your wallpaper will change automatically when it detects the WiFi network. Similarly, you can set a custom wallpaper for different presets.
Some Other Apps:
Muzei is a live wallpaper that smoothly renews your home screen each day with outstanding works of art. It also subsides into the background, shading and dimming artwork to keep your icons and widgets in the light.
500 Firepaper provides a live wallpaper and a daydream giving you the latest images from 500px during the day. You never need to look at that dull old wallpaper again or search for hours for a delightful new one. This app will show you quality photographs from all over the world – different ones each day!
Tapet which is another word for Wallpaper. The app generates high-quality background automatically. You can even select a random wallpaper or let the app automatically generate a different background hourly or daily.
Wallpapers from Google is an awesome app which you need to have on your Android device. The best thing about this app is, it lets you access images from Google Earth. You can even set the app to automatically change the wallpaper for you.
Also Read: Best Android Apps for Beginners 2019
Casualis is another best wallpaper changer app for your Android smartphone The great thing about Casualis is that it sets a random wallpaper once in every 1/3/6/12 hours. You can even set the app to change wallpapers once in 1/3/7 days. Another thing is that the app houses over 3000 HD wallpapers and the interface of Casualis is also quite amazing. So, Casualis is another best app that you can use today.
Zedge is another best app on the list which you can use to change wallpapers every day. Not just wallpaper, but on Zedge, you can also get lots of free ringtones, notification sounds, apps, games, etc. The app also got the option to change the wallpaper automatically. So, Zedge is another best wallpaper changer app that you can use right now.
As the name of the app says, Everyday Wallpaper Changer is a simple, fast and lightweight app that can change wallpapers automatically. The great thing about Everyday Wallpaper Changer is that it adds a widget on the home screen which can be used to change wallpapers. So, the app can change your home screen and lock screen wallpaper in just one tap.
So the above guide is all about Make Your Android Wallpaper Change After A Particular Time Interval. Use the simple and straight guide discussed above and you can quickly set up the changing wallpaper on your Android that will change automatically as you had established in the app settings. Hope you like the guide, keep on sharing with others too. Leave a comment below if you have any related queries with this.