Well, if we look around, we will find that Microsoft's Windows operating system has been transformed a lot. From Windows XP to Windows 10, Microsoft is busy pushing updates and upgrades all these days. While some users use Windows XP, Windows 7, or Windows 8, but the latest one is Windows 10.
While upgrading to the latest version of Windows operating system, that's Windows 10, users often have questions like 'do i need to upgrade my hardware to run Windows 10', 'is my computer powerful enough to handle Windows 10', etc.
Well, if you are using Windows 7 or Windows 8, then there are good chances that your computer can run Windows 10 at ease. Still, if you have doubts, then you should check out our guide on how to make sure your computer can run Windows 10.
How to Make Sure Your Computer Can Run Windows 10
Now you all might be thinking, isn't this topic is too late to cover? Well, the facts say that as of September 2019, Windows 10 is running on 70.7 percent computer, while Windows 7 is running on 29.3 percent computer. So, there are lots of users who haven't yet installed the latest upgrade. So, this article is for those who were confused about whether their computer will run Windows 10 or not.
This article will answer every question of yours regarding whether you need to upgrade to Windows 10 or not, whether you need to upgrade your PC's hardware, etc. So, let's check out how to make sure your computer can run Windows 10 or not.
1. Know Your Current Hardware
Well, before installing Windows 10, make sure you are well aware of the current hardware of your PC. To check the current system information, click on the Start button and then type in 'Sys'. Open System Information option from there. This will give you a detailed summary of your system.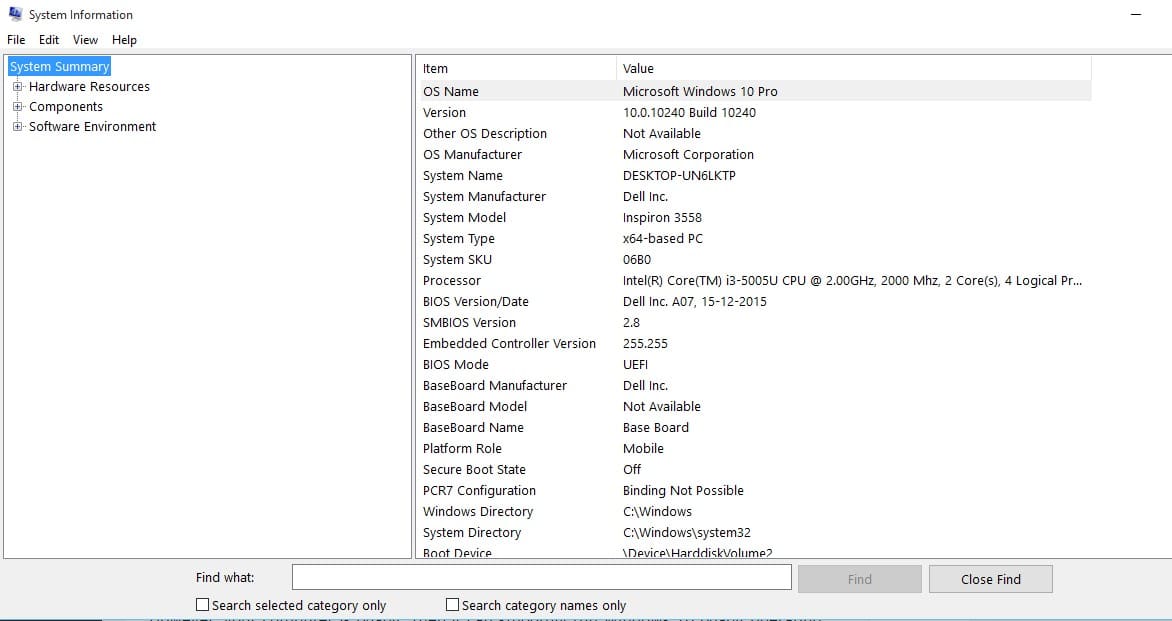 You can also know about your system information through the System Properties. Right-click on the My Computer, and select 'Properties'. This will also tell you about the RAM and Processor.
2. System Requirements – Windows 10
Below, we are going to share minimum system requirements to run Windows 10. If your PC's hardware matches with the below requirements, then you could go ahead and install Windows 10 without any confusion
Processor: 1 gigahertz (GHz) or faster processor or SoC
RAM: 1 gigabyte (GB) for 32-bit or 2GB for 64-bit
Hard disk space: 16GB for 32-bit OS 20GB for 64-bit OS
Graphics card: DirectX 9 or later with WDDM 1.0 driver
Display: 800×600
3. Using Virtual Machine
Another best method to check if your computer will run Windows 10 or not is to run the later operating system in a virtual machine. Look, we know it's a complicated process, but it's a free one. We have shared a detailed guide on how to install Windows 10 on Virtual Machine.
If your Windows 10 runs on Virtual machine, then most probably, your computer will run the Windows 10 operating system.
4. Check Wether your computer can run Windows 10 64-Bit
Well, if your computer is too old, then it's unlikely to be able to run any 64-bit operating system. Some pre-2007 computers do have 64-bit hardware, but they can't run a 64-bit operating system. So, in that case, you can opt for a Windows 10 32-bit version.
However, your computer is 64-bit, then it can smoothly run Windows 10 64-bit operating system. But, make sure that your system meets the requirement given above.
5. Can't Run Windows 10, what to do?
Well, if your computer doesn't match the minimum requirements, then you can try a different operating system. We have shared lots of articles on an operating system which runs on an old computer.
You can also give Linux distros a try, which are less resource-demanding than Windows OS. For the list of best lightweight Linux distro, check out our article – 15 Best Linux Distros for Windows Users
So, this is all about how to make sure your computer can run Windows 10. If you have any other doubts related to this, let us know in the comment box below.