This will be really helpful like if you had a meeting at morning and your device remind it with voice like "Wake up Karan, you have a meeting today" this will be really effective to remind at the time of alarm and you must wake up. So to implement this you have to follow the complete guide discussed below to proceed.
[dropcap]T[/dropcap]ill now we had discussed lots of cool stuff with you mainly the tricks that make you smart in this tech world. And today we again come up with a cool android trick that will allow you to Make your device speak custom text when you snooze or dimiss an alarm. While you get up in the morning and feel very sleepy then you look up here there to stop that shitty alarm and i know many of us again go for sleep after dismissing or snoozing the alarm. And what if a custom text is spoken by your device while you do this.
Also read: How To Hide SMS On Android to Keep Your Messages Private
Make Your Android Speak Custom Text On Snooze or Dismiss Of Alarm
The method is quite simple and just need a rooted android device that will allow Xposed installer to run on device. And after having Xposed installer you will be using a Xposed module app to make your device speak a text when you dismiss or snooze alarm in your android. For this follow the guide below.
Also Read: How To Send And Receive All Your Android SMS On PC
Steps To Make Your Android Speak custom text On Snooze or Dismiss Of Alarm:
1. First of all you need a rooted android as Xposed installer can only be installed on a rooted android, so Root your android to proceed to get admin access of your android device.
2. After rooting your android device you have to install the Xposed installer on your android and thats quite lengthy process and for that you can proceed with our Guide to Install Xposed Installer On Android.
3. Now you need to download and install the cool Xposed module Alarm Clock Plus.
4. Now after installing the app in your device you need to enable this in the Xposed module and for that just tick on the app in the Xposed installer.
5. Now simply reboot your device to make this xposed module to work properly in your device.
6. Now after reboot you just need to open this app and you will see interface like below.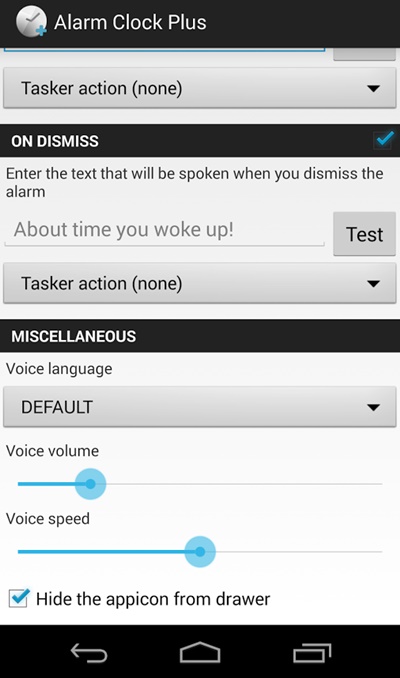 7. Now edit the settings according to your wish there. And you are done the alarm voice wake up will work for you to be on time.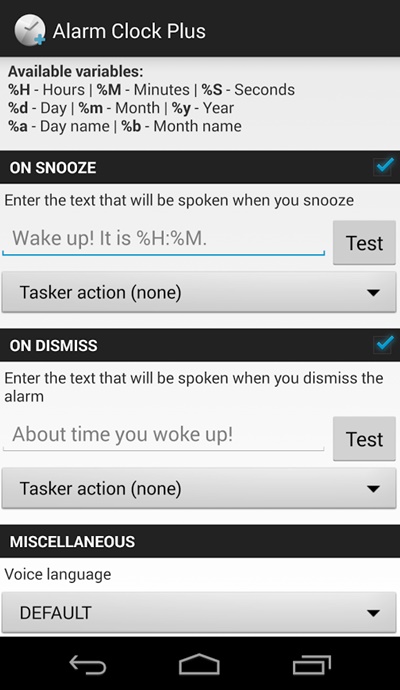 Also Read: How To Find/Recover IMEI Number Of Lost Android Device
So above is all about Make Your Android Speak custom text On Snooze or Dismiss Of Alarm. Use this method and this will help you a lots to wake at the time as your android will now remind the things that you will miss up if you are late. So try this out. Hope you like our work, keep on sharing with others too. Leave a comment below if you have any related queries with this.