We all know very well that in recent times, we have seen a trend of growth in the price of smartphones, becoming more expensive to acquire one of these devices. Hence, now according to the latest reports and the well known Taiwanese fabless semiconductor company, of course, MediaTek stated that we are paying too much for our smartphone.
MediaTek: You Are Paying Too Much For Your Smartphone
In recent times, we have seen a trend of growth in the price of smartphones, becoming more expensive to acquire one of these devices.
MediaTek, in the words of its general sales director, highlights this evolution and states that we are paying too much for our smartphones.
Whoever accompanies the smartphone market has certainly noticed the upward trend in prices. Gamma tops are getting more expensive, however, the mid-range models have also suffered an increase. Although there are some brands that try to counter this trend, as is the case of Xiaomi, the truth is that few are the ones that follow this model.
Speaking to TechRadar, Finbarr Moynihan, general manager of sales for Mediatek, says that we are paying too much for smartphones and for functions we will never use. In addition, it considers that we are reaching a point where consumers are increasingly aware of the user experience and the value for money.
According to Finbarr, MediaTek has seen a growing demand for devices with good performance overall, but without extras that raise its price. The mid-range smartphones have grown in recent times and already accompany the top of the range in some technologies such as 18:9 aspect ratio and dual cameras. However, the official of the Chinese brand says there is scope to make the devices of this range even better.
It is in this market that fits the new Helio P60, a processor that was designed to offer the user what they need, without unnecessary extras and at a competitive price. That is, the Chinese brand has bet on a processor that promises better autonomy, better performance, better camera behaviour, but without support for virtual reality technology, QuadHD screen or modems that support 5G.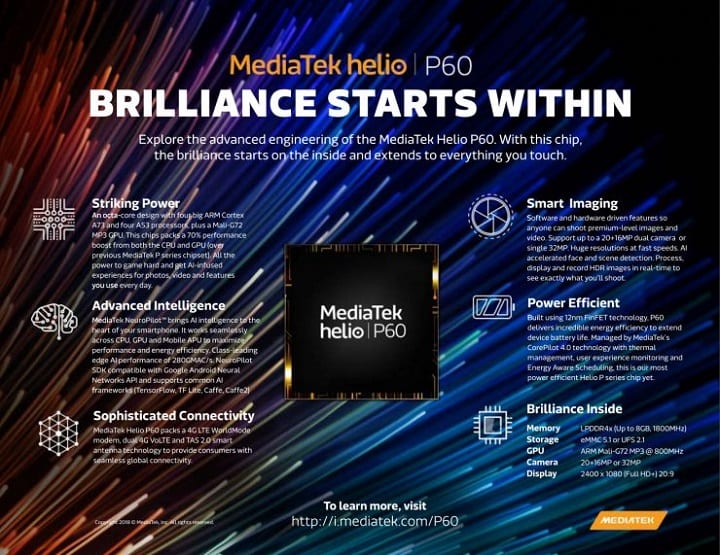 This new SoC promises to equip mid-range smartphones, priced between $200 and $400, but that gives the user everything they need for their day-to-day life without paying an exaggerated amount. MediaTek is already supported by brands like Xiaomi, Lenovo, Oppo, Gionee and Meizu that will use this SoC in one or more devices.
Although MediaTek sees an opportunity in this segment, given its growth, Finbarr says that there will continue to be room for all types of equipment, since there will always be consumers for both $100 smartphones and flagship smartphones with the latest technology.
So, what do you think about this? Simply share all your views and thoughts in the comment section below.