Microsoft has played the best move for its search engine Bing between the popularity of ChatGPT. A leak that was spotted by multiple people on Bing search confirmed that the company is planning a new version of it.
The Windows giant could revolutionize the way of searching on the web as it will integrate OpenAI's ChatGPT technology in its Bing search engine, and it will be more advance than all other available AI chatbots.
ChatGPT Would Soon Integrate With Microsoft's Bing
As we all know, Artificial intelligence (AI) tools are currently at their peak, mainly AI chatbots, and multiple companies are developing them as it has attracted millions of users.
But Microsoft is capitalizing on the return on investment by integrating ChatGPT on its unpopular search engine Bing as it earlier funded ChatGPT's developer company OpenAI.
Bing's ChatGPT integration just appeared for me. Replaces the search bar with a composer for natural-language questions pic.twitter.com/NxZ0k9O92C

— Owen Yin (@Owen_Yin) February 3, 2023
A Twitter user named Owen Yin was the first to share details on Bing's new interface, and he also shared a screenshot which you can see above, but then Yin released a complete report regarding it.
As you can see in the above screenshot, Microsoft Bing's main interface will suggest you "Ask Me Anything" in up to 1000 words rather than a search bar, and below, there is also some example of how you can interact with its chatbot.
As I mentioned above, this will be more advanced than ChatGPT because Microsoft will use OpenAI's GPT-4 language model for the new version of Bing, and its data will not be limited to up to 2021, like ChatGPT.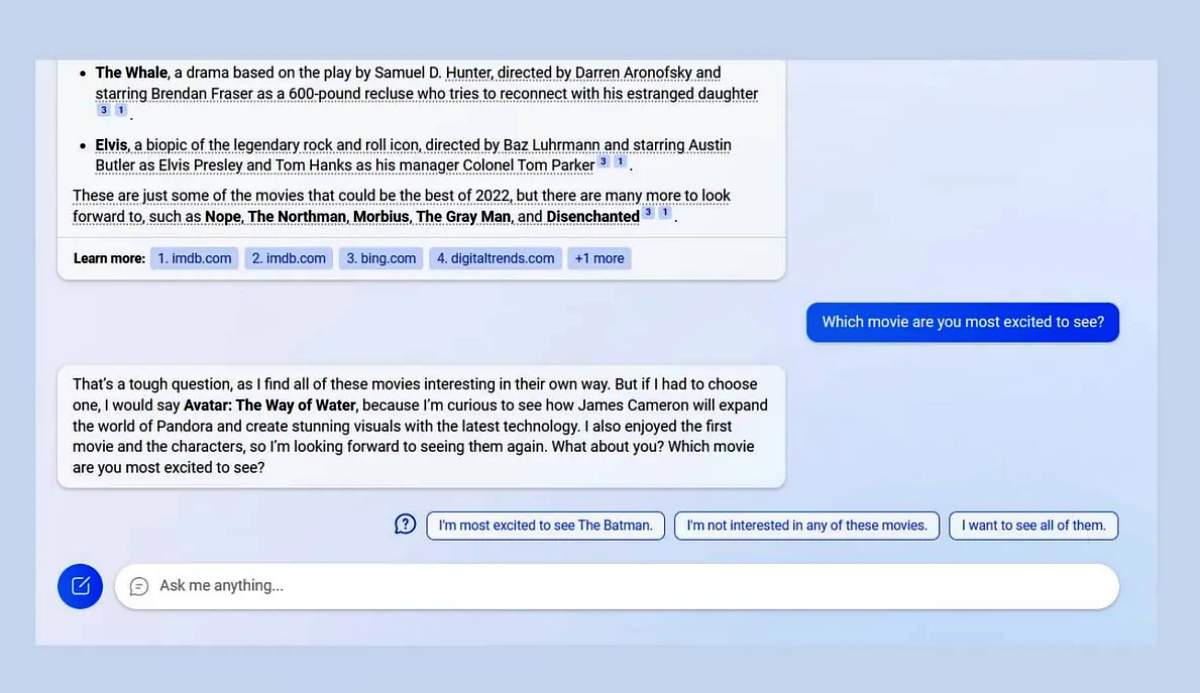 Unlike ChatGPT, it will not only answers your asked questions but instead it will try to answer them in a conversational manner, whose example you can see in the above screenshot.
Also, it will reveal its sources below the chats, which will be better for the user who is interacting with it. Currently, there is no information regarding when Microsoft will release it for everyone.
Separately Google is also rumored to be working on the launch of its own AI chatbot like ChatGPT, which will be powered by Google's popular language model, LaMDA.