If you have ever used an iPhone, you might know about the AirDrop. AirDrop is a file-sharing utility used to share and receive photos, documents, and more with other Apple devices nearby.
Android also has a similar feature which is called Nearby Share. Like the AirDrop, Nearby Share on Android allows you to send and receive files or apps with Android devices. The nearby share feature is available on every smartphone running Android 6.0 and above.
Google introduced nearby Share way back in June 2020, but many users still don't know about it. Even the one who knows about Nearby Share doesn't know how to use it.
Also Read: How To Directly Download APK from Google Play Store
So, if you aren't sure how to use the Nearby Share function on Android, you are reading the right guide. Below, we have explained how to use Nearby Share on an Android device.
1. First, pull down the notification shutter on your Android and turn on Nearby Share.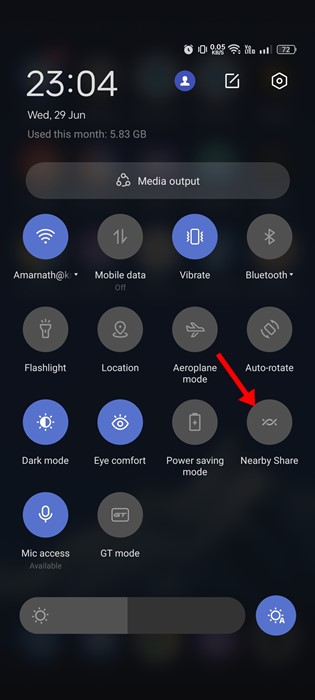 2. On the Turn on Nearby Share Prompt, tap on the Turn on button.
3. You will be asked to turn on BlueTooth and GPS on your smartphone to use the feature. Simply tap on the Turn on button to enable both.
4. On the next prompt, select with whom you want to share files. Once done, tap on the Done button.
5. Select the photo you want to share and tap on the Share/Send button.
6. On the Share menu, tap on the Share via 'Nearby Share' option.
7. Now, your Android device will look for nearby devices.
8. On the device where you want to receive files, pull down the notification panel and tap on the Device nearby is sharing notification.
9. Now, the receiving device name will appear on the device which is sharing the file. Tap on the device name to share the file.
9. A device is sharing prompt will appear on the receiving device, tap on the Accept button.
10. Now, the receiving device will receive the file. Once done, you will see a success prompt like the one below.
That's it! This is how you can use the Nearby Share feature on an Android device.
10 Best Photo & Video Locker Apps for Android
So, that's all about using the Nearby Share feature on Android devices. The feature is great and eliminates the need for third-party file-sharing applications. If you are stuck anywhere in the steps and need help, let us know in the comments.