If we talk about the operating system that can compete with Android in terms of features and customization, then without any doubt, it will be iOS. iOS is the second-best mobile operating system after Android, and just like Android, users can enjoy different types of apps on the platform.
You won't believe it, but billions of people use ios. Apple devices like iPhones, iPad, etc., help us become more productive. On Apple's App store, you will find various apps for different purposes, including note-taking apps.
Sometimes, we tend to forget little things. I have met people who still keep a small diary to note whatever they want to remember in my everyday life. But, since we have such a capable device in our pocket, carrying a journal and pen doesn't make sense.
Also Read: Best Flash Supported Web Browsers for iPhone
List of 10 Best Note Taking Apps For iPhone
Plenty of note-taking apps are available on the iOS app store to help you jot down your essential stuff. So, in this article, we will explore a list of the best iOS notes apps.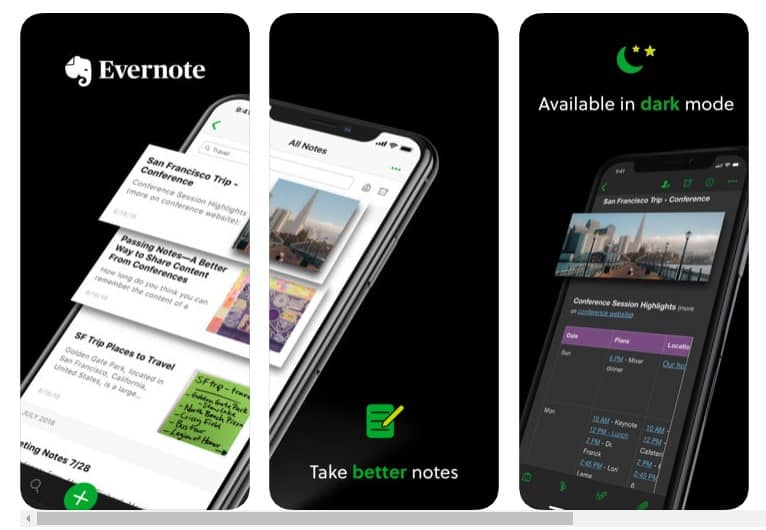 When it comes to creating notes, nothing seems to beat Evernote. Evernote is the leading note-taking app for Android, iOS, and the web.
The good thing about Evernote is its cross-platform support. That means you can also access the notes saved on your Evernote account from other devices.
Bear is a top-rated and best note-taking app on the iOS App Store. The app was launched in 2016, but within a few months, the app has managed to make a top spot.
Millions of users now use the app, which offers every note-taking feature. Like all other note-taking apps, Bear also allows users to record notes in the text, videos, images, and sketches.
If you like to use Microsoft products, you will love OneNote. It's one of the top-rated note-taking apps for iPhone available on the app store.
With OneNote, you can easily save notes in text, video, audio, etc. However, you would need to have a Microsoft account to use OneNote.
Google Keep is one of the iPhone's lightweight and straightforward note-taking apps. The app combines both note-taking features and reminders.
You can add notes, lists, photos, and audio to Keep with this app. You can even record a voice memo with Google Keep.
As the app's name says, NoteBook – Take Notes, Sync is another best iOS app that allow users to take notes. The app is made by Zoho incorporating, bringing in many amazing features.
The app allows users to organize text, images, videos, audio, and hand-drawn sketches. Not just that, but the notes that you take can be synced across devices.
Dropbox Paper is another top-rated iPhone note-taking app you can use now. The app allows users to create notes in text, videos, images, audio, and link formats like all other note-taking apps.
Not just that, but Dropbox Paper is also available for Android, which means you can sync notes to other devices.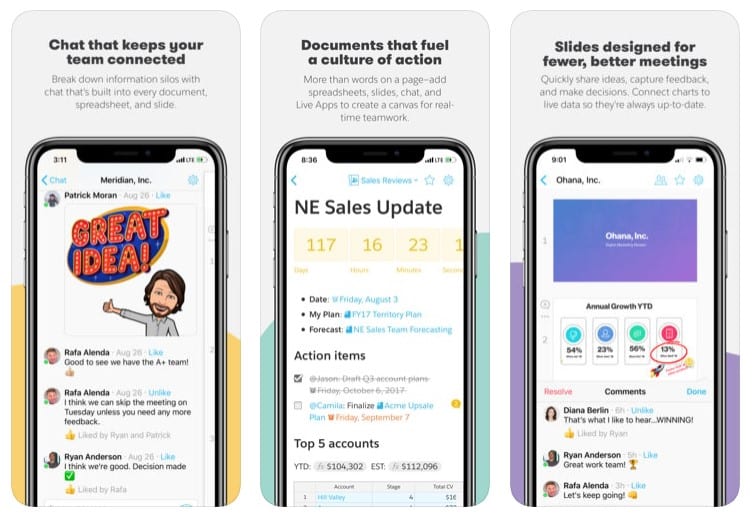 Quip is one of the newest note-taking apps available on the iOS app store. The best thing about Quip is that it combines chat, docs, slides, and spreadsheets in one app.
Guess what? With Quip, you can take notes, share grocery lists, organize the to-do list, etc. Not just that, but the app also offers real-time chat and messaging features.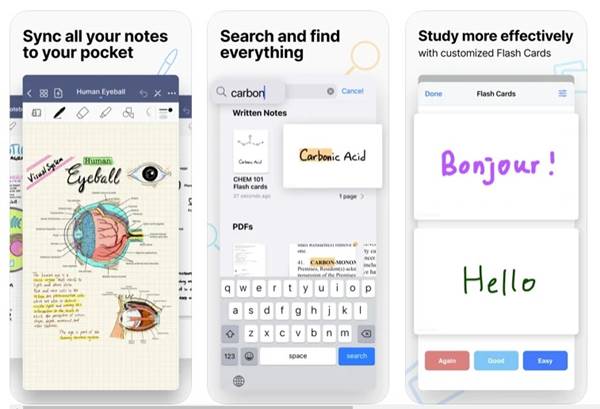 GoodNotes 5 is a note-taking app available only for Apple devices. With GoodNotes 5, you can easily create and back up your important notes. It's a document management app that lets you create folders and add notes.
You can create unlimited folders and subfolders, mark folders as favorites, and more with GoodNotes 5. Apart from that, GoodNotes 5 also allows you to back up all your important notes to iCloud, Google Drive, Dropbox, or OneDrive and sync across all devices.
Drafts is one of the most awesome iPhone note taking apps you can ever use. This notes app for iPhone can quickly capture texts and send it almost anywhere.
You can use this to create notes, but the fun begins after creating the notes. Once you create a note, tap on the Draft icon to see a list of apps to which you can forward your notes.
For example, you can send a note to the messages app, use the text on the mail draft, etc.
Notability is probably the best notes app for iPhone, available on the Apple App Store. It's a feature-rich yet simple note-taking and PDF annotation app.
You can use this app for creating notes, journaling, drawing objects, etc. It provides you with all sorts of note taking features you can think of.
Also, after creating notes, you can import them as PDF, DOC, PPT, etc. Overall, Notability is a great note app for iPhone you shouldn't miss.
So, these are the best free note-taking apps for iPhone. You can download & install these note-taking apps on your iPhone to note important notes. Let us know if you want to add your favorite apps in the comments.