WhatsApp is undoubtedly the most popular instant messaging app at the moment. With its variety of communication options & unique features, WhatsApp has really transformed the way people communicate. Shortly after its launch, WhatsApp has become a go-to chatting app for many users.
If you are an active WhatsApp user, it's likely that you receive many messages each day. Some of them could be valuable, whereas some could be irritating. Regardless, you always have the option to block a contact. However, what if you don't want to block anyone, neither you want to see the chat history?
Also, apart from the regular chats in WhatsApp, you may have private chats that you never wish to be seen by anyone. And, if you often lend your smartphone to your family members, you may want to hide those chats.
Fortunately, WhatsApp provides you an option to permanently hide chats by archiving them. Recently, WhatsApp rolled out a new update to the Archived chats feature that keeps the chats archived regardless of whether new messages are received or not.
Steps to Permanently Hide Chats in WhatsApp
Hence, in this article, we will share a step-by-step guide on how to hide chats in WhatsApp permanently. Let's check out.
How to Archive Chats on WhatsApp
In this method, we will learn how to archive chats on WhatsApp. The process will be straightforward; just follow some of the simple steps as shared below.
1. First of all, open the WhatsApp app on your Android smartphone.
2. Now, you need to long-press on the chat you want to hide. You can select an individual contact or group as well.
3. Now, you will get to see three different options on the top – Pin, Mute, and Archive. Simply tap on the Archive button.
4. The chat will be archived. You will find the Archived section at the bottom of your chat feed.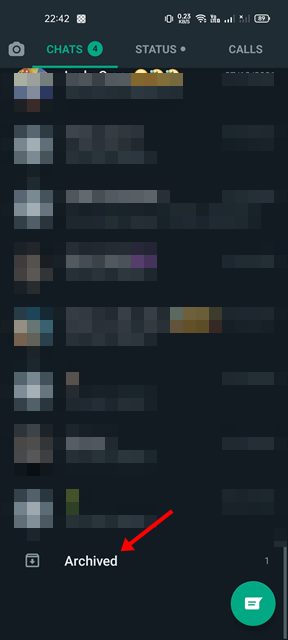 5. If you wish to unhide the chats, you need to open the Archived section, long press on the chat, and select the Unarchive option.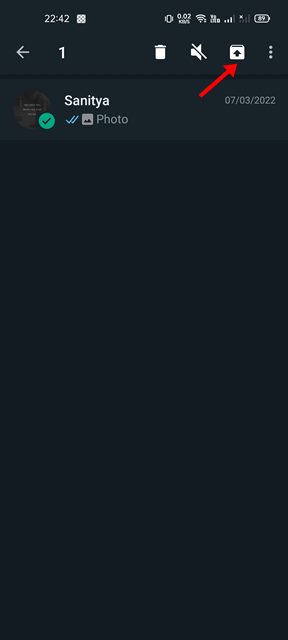 6. If you wish to hide all chats, you need to head to the Chats tab and select More > Settings. Then, on the Settings page, tap on the Chats > Chat History > Archive all chats.
That's it! You are done. This is how you can hide chats on WhatsApp for Android.
How to Always Keep chats archived?
Although the Archive chats option hides the chat from your WhatsApp Chat section, as soon as the archived chat receives a new message, the chat would unarchive and go back to the very top on the chat screen.
Hence, if you always want to keep chats archived or hidden, you need to make an additional charge. Here's what you need to do.
1. First of all, open the WhatsApp app on your Android smartphone.
2. On the WhatsApp chat screen, tap on the three dots as shown below.
3. From the list of options, tap on the Settings.
4. On the Settings page, tap on the Chats option.
5. Under the Chats, scroll down and find the Archived chats section. Now, enable to toggle for Keep chats archived.
That's it! You are done. From now on, the archived chats will remain archived when you receive a new message.
Also Read: How To Customize WhatsApp Notifications
This is a detailed guide on permanently hiding chats in WhatsApp for Android. I hope this article helped you! Please share it with your friends also. If you have any doubts related to this, let us know in the comments box below.