Instagram is undoubtedly the best photo-sharing site out there. Over millions of users right now use it, and it's available for free.
Anyone can create an account on Instagram and connect with others. You will find many celebrities on the platform as well. If you run your business on Instagram and drive traffic, you should do market research anonymously.
However, the problem is that you can only gather information on potential customers if you send them a follow request. To deal with this issue, Instagram viewers exist. Instagram viewer apps allow you to check photos and posts without sending follow requests.
One popular Instagram viewer is Picuki, which lets you edit and browse Instagram content without logging in. Picuki is very popular, and millions of users already use it; however, it's not the only one. Many Instagram viewers like Picuki available on the web provide better features.
List of 10 Best Picuki Alternatives
Hence, this article will share a list of the best Picuki alternatives. These alternatives allow you to edit and browse Instagram content without logging in. Let's get started.
1. Inflact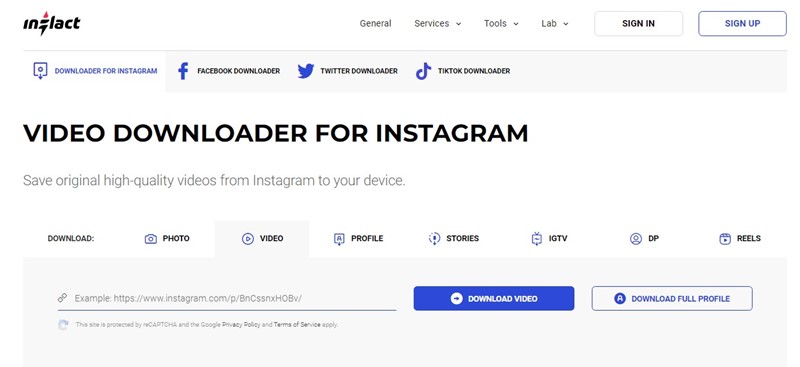 Inflact is probably the best Picuki alternative on the list. It's basically a marketing tool designed for social media platforms. The site provides downloaders for Instagram, Facebook, Twitter, and Tiktok.
You can use this site to download videos from Instagram in high quality. Since it's a full-fledged marketing tool, you also get features like analyzing public profiles, watching Instagram stories anonymously, finding customers based on interest, etc.
Some other features of Inflact include scheduling content and posts for organized auto uploads, using the hashtag generator to target Instagram users, using of chatbot to reply to clients, etc.
However, the problem is that Inflact is not free, and its monthly plans are also pretty expensive. You also get limited features in the entry-level plan of Inflact. Overall, Inflact is one of the best Instagram viewers you can use today.
2. SmiHub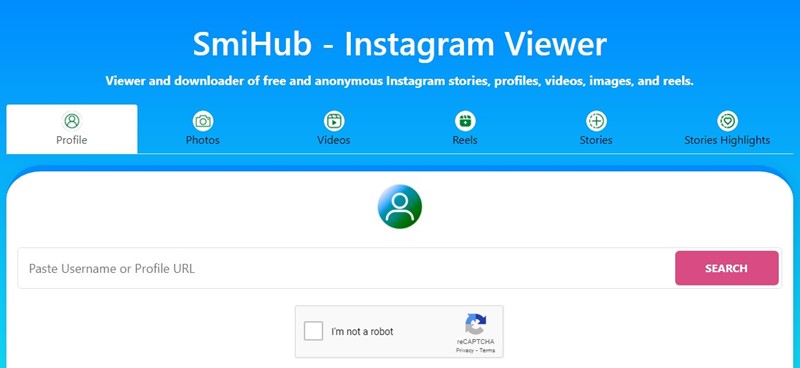 If you are searching for the best service like Picuki to view Instagram stories, profiles, videos, images, and reels while being anonymous, then look no other than SmiHub.
SmiHub is an Instagram viewer and downloader that lets you anonymously surf Instagram. The video downloader of SmiHub is also of high quality as it downloads videos from the image-sharing site in original quality.
SmiHub provides users not one but many useful features like stalking Instagram profiles without revealing identity, zooming or downloading the profile picture, downloading Instagram images without limitations, etc.
What makes SmiHub more useful is its free nature. All tools on SmiHub are 100% free and fully compatible with all types of web browsers and operating systems.
3. Storiesdown.io

Storiesdown is another great Instagram story viewer on the list that's fast, anonymous, and free. With Storiesdown, you can easily stalk any Instagram profile without creating any account.
You also get the option to download photos, videos, reels, and stories of any Instagram user in high quality. Storiesdown works only with public Instagram profiles like every other Instagram viewer app.
Storiesdown could be a great choice, especially if you want to avoid marketing features but want to check profiles without creating any account. For additional benefits, you also get an Instagram downloader with Storiesdown.
4. Glassagram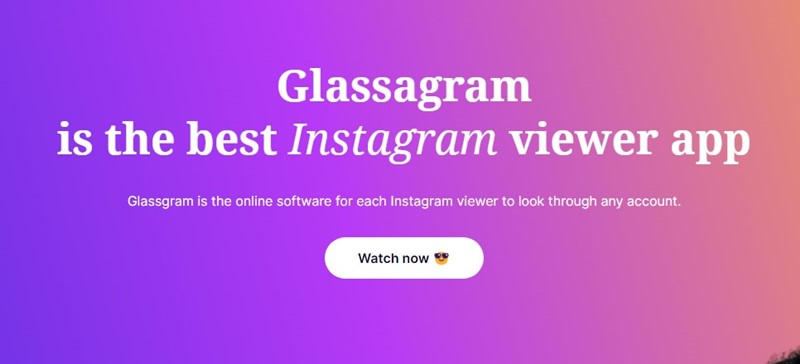 If you are searching for online software to look through any Instagram account, then Glassagram might be the best pick for you. It's the best Instagram viewer app you can use for free.
Glassagram is similar to Picuki when it comes to features. With Glassagram, you can monitor multiple accounts, grab profile information, watch Instagram stories anonymously, track when a user uploads a video, and more.
However, to get the most out of Glassagram, you need to purchase a subscription plan. The subscription plan will unlock all features that Glassagram offers. If you can't purchase a subscription plan, you can request a demo version with all features but some limitations.
5. Gramhir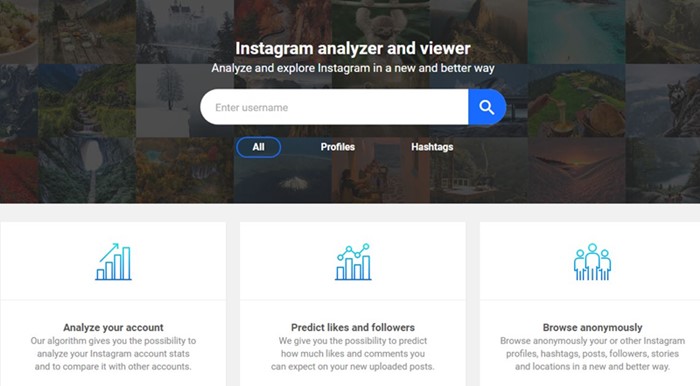 Gramhir is a web tool that lets you analyze and explore Instagram in a new and better way. With Gramhir, you can easily analyze your account and compare it with other accounts, predict likes and followers, and more.
Like every other Instagram viewer, Gramhir allows you to browse the Instagram site anonymously. You can anonymously browse Instagram profiles, hashtags, posts, followers, stories, and locations in a new and better way.
The most interesting part of Gramhir is that it's completely free. On the downside, Gramhir just lets you browse the platform anonymously. It doesn't include other features like profile picture zooming, video downloading, etc.
6. Instaxyz
Instaxyz is very similar to Picuki when it comes to functionality. The only thing is that it doesn't provide you with a downloader.
You can use Instaxyz as an Instagram web viewer to check all public Instagram accounts and hashtags and view all media, stats, and comments without limitations.
Just like Picuki, Instaxyz also works only with public Instagram profiles. The site's user interface is clean, and it shows you a search field along with a few popular Instagram profiles on the home page.
You can search for popular Instagram hashtags or usernames in the search field. Overall, Instaxyz is a great Picuki alternative that you can use today.
7. FullInstaDP
FullInstaDP is a bit different than all other Picuki Alternatives listed in the article. It's basically an Instagram Profile Picture viewer that lets you stalk profiles.
You can take FullInstaDP as a platform that allows you to view Instagram profiles anonymously. All you need to do is; grab the profile URL and paste it on the FullInstaDP.
FullInstaDP will immediately fetch the URL and load the profile. You can then stalk the account without leaving any footprint.
While the site is safe to use, it can only fetch public Instagram profiles. You can't view Private Instagram profiles with FullInstaDP.
8. Instalooker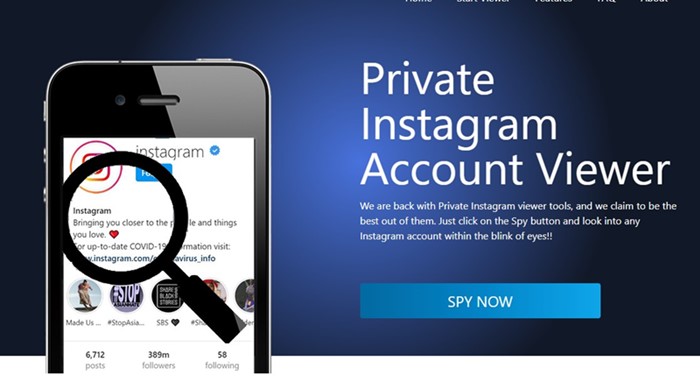 Let's admit it while using Instagram on mobile or desktop, we often come across provides that are set to private. You can only see the profile picture of Private accounts. To view those profiles, you can use Instalooker.
Instalooker is one of the best Picuki alternatives for viewing Instagram profiles. A private Instagram profile viewer tool lets you check any account without following them.
The web tool is super easy to use and doesn't require downloading any software. The service is also 100% safe, and your anonymity is taken very seriously. It also has a feature that bypasses the double human verification process on Instagram.
However, don't expect advanced features with Instalooker, as it's offered for free. Also, there's no option to download photos, videos, and stories from Instagram profiles.
9. Privateinsta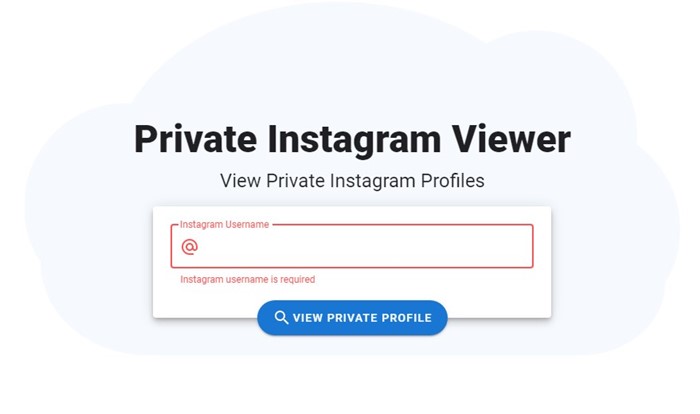 As the name suggests, Privateinsta is a web tool designed to access private Instagram profiles while maintaining anonymity.
It's a very popular web tool on the list that lets you access photos and videos shared from a private Instagram profile. The good thing is that you don't need to install any software or specialized web browser to use it.
You need to open your regular web browser and visit the website. On the website, you need to enter the Instagram username that you want to stalk and click on View Private Profile.
The tool will return all information it can grab from the Instagram username you've entered. Overall, Privateinsta is a great Picuki alternative that you shouldn't miss.
10. InstaDP
InstaDP is very similar to the Storiesdown website that we have listed above. It's a full-fledged public Instagram profile viewer and downloader available for free.
You can use this tool to download Instagram profile pictures, photos, videos, reels videos, stories, and stories highlights. The user interface of the site is pretty clean and looks organized.,
According to the site, InstaDP has over 2 billion monthly active users, and many artists, celebrities, and idols already use it. Regarding compatibility, InstaDP is compatible with every major web browser and operating system.
Also read: How to Recover Deleted Instagram Messages
FAQs
You can have a few important questions that you may seek clearance. Below, we have answered your mmost-askedquestions related to sites like Picuki.
---
Is Picuki Safe?
Well, Picuki is safe, but it often face downtime. You can use Picuki without worrying about security issues because it doesn't nneedany extension or program installation.
---
Which is the best Picuki alternative?
Almost all sites we have listed are free and without any security issues. However, some sites may ask you to register or create an account to view Private Instagram profiles.
---
Picuki Instagram stories not working?
Well, Picuki Instagram Stories not working is a taletell sign of server issues. Also, you need to check if the servers of Instagram are running because Picuki or other similar sites relies on Instagram to serve you the content.
---
Is Picuki really anonymous?
Yes, Picuki is fully anonymous, and there's no risk of leaking your real identity. The site is free, and it doesn't require account creation. You just need to open the site and paste the URL you want to view.
---
So, these are some of the best Picuki alternatives you can use today. If you want to suggest other sites like Picuki, let us know in the comments below. Also, if the article helped you, share it with your friends.