Music is something without which our world could feel very dull. Almost everyone in this world likes music and it can't be ignored. Let's admit, there are few songs which we love so much that we can't resist ourselves from singing along.
But, while singing, there are few parts of the song which we are unable to understand. This is a common thing and it happens with everyone. To deal with such things, Lyrics apps exist. In this article, we are going to share some of the best methods that could help you to play music with Lyrics on the iPhone.
How to Automatically Play Music with Lyrics on iPhone
To automatically play music with Lyrics on the iPhone, users need to use the app Musixmatch. For those who don't know, Musixmatch is one of the best music player and lyrics apps that identifies the music and shows you the lyrics. Let's check out how to use Musixmatch on iPhone.
Steps to Automatically Play Music with Lyrics in iPhone
Step 1. First of all, you need to download and install the cool iOS app Musixmatch – Lyrics & Music in your device.
Step 2. Now you will see the screen which will ask you to Enable the lyrics feature on the Musixmatch app. You simply need to tap on "Enable Now".
Step 3. Now you will be asked to give permission to access your Music library. Simply tap on "Allow". Now you will see all the Music tracks listed on your Musixmatch app.
Step 4: Now every time you play the music, the lyrics will get displayed automatically by identifying the lyrics of that song with the help of this app.
That's it! now you simply need to tap on your desired song. You will see your song is playing with Lyrics.
Alternative Apps
Just like the MusixMatch, there are plenty of other apps available on the iOS app store that can show you lyrics of the playing song. Below, we have shared five best apps like Musixmatch to paly music with Lyrics on the iPhone.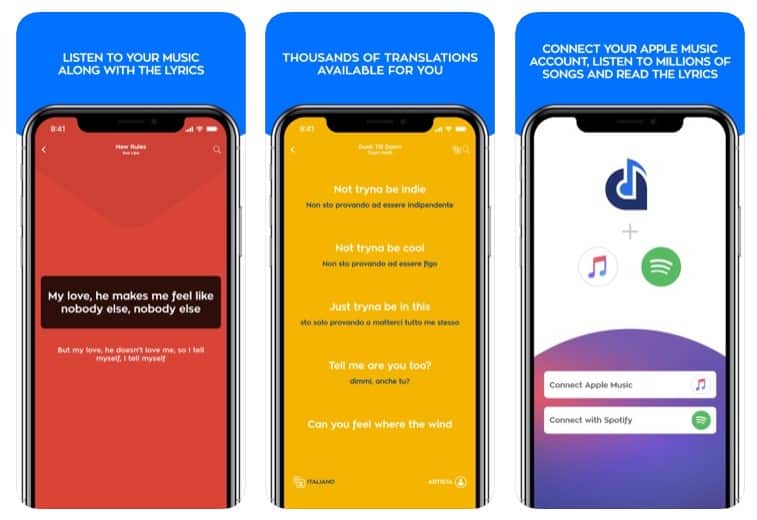 This app is pretty much similar to the Musixmatch app that had been listed above. The great thing about Lyrics Mania is that it uses the MusicID functionality to identify songs in just a few seconds. After identifying the songs, it provides you everything related to the music like artist name, title, full lyrics, etc. The app works with Apple Music and Spotify as of now.
Unlike Musixmatch, Genius doesn't have a built-in music player, but it got the ability to detect songs playing on other music players and displays the lyrics for it. To find the lyrics for the songs playing around you, just play the music and tap on the soundwave button. The annotated lyrics will automatically appear.
It is basically an iPhone app that's used to identify the music playing around you. It's much like a music identification app, much like Shazam for Android and iOS. After recognizing the music playing around you, SoundHound shows you everything about the song like title, artist, album, lyrics, etc. What's more interesting is that SoundHound now supports Apple Music, Spotify, Google Play Music, and Youtube.
It's not exactly a lyrics app, but it can be used to play songs with lyrics. Shazam is an ultimate song identifier app available on the iOS app store. It got the ability to identify any song in just a few seconds. Once identified, it shows several informations like artist names, playlists, videos, and lyrics. It has a specific lyrics section that shows the lyrics of the playing song.
It's a music streaming app for the iOS device available on the iOS app store. With this app, you can discover, stream, and download from a library of millions of songs for free. With the Anghami Plus subscription, you can sing along with the right lyrics. The Lyrics feature is present only on the Anghami plus account.
So above is all about How to Play Music with Lyrics in iPhone with Musixmatch. I hope this article helped you! Share it with your friend also.