THigh-quality Bluetooth speakers will allow you to enjoy your favorite music at any time. If you are an active traveller, then these portable wireless speakers are ideal for you. You are enjoying your music whenever you are even by the pool or enjoying a weekend camping trip.
10 Portable Bluetooth Speakers In 2020
After the comprehensive research of 72 hours, our team of technical professionals shortlisted these top 10 portable Bluetooth speakers based on the sound quality & user reviews. All the below features portable Bluetooth speakers are feature-rich, has extended Bluetooth range, long-lasting battery life.
boAt Stone 170 Portable Bluetooth speakers offer you up to 6 hours of playback thanks to its powerful 1800mAh Lithium Battery. You can directly connect these Bluetooth speakers with your smartphone or laptop with the help of its inbuilt Bluetooth v4.2.
Not just with the laptop, you can use it solo, you can insert SD card in it with your favorite songs. This boAt Stone 170 speaker is entirely water-resistant; you can easily carry it on your trip thanks to its compact design. You will get a memorable listening experience on the power output of 5W's, get the party started anywhere, anytime.
boAt Stone 200 portable Bluetooth speakers are perfect for the outdoor lifestyle and active travellers; you will get 6 hours of extended battery like with its 1500mAh battery, you can charge it with the Micro USB cable which is included in the box.
For heavy-duty, this speaker is constructed from a durable rubber matte finish that makes it shockproof. It's entirely dust and waterproof. You can take it with you anywhere, while swimming, camping, hiking. The range of boAt Stone 200 speakers is 11 M, offers you well-balanced crystal clear sound quality and robust bass, the frequency response is about 180Hz-20KHz.
This Fuze Pint Deep Bass Dual EQ speaker is a perfect choice for the active traveller, thanks to its pocket size, you can carry it with you on your trip. It also has features of wireless Bluetooth streaming, has dual equalizer modes for standard & deep bass output, in one-time charging, you can enjoy your favourite music up to 5 hours under optimum audio settings.
It comes with integrated voice assistant integration & you can also use it for speakerphone. Like all the standard devices, this Fuze Pint Deep Bass Dual EQ speaker comes with one year of warranty.
JBL GO, portable wireless Bluetooth speaker offers you crystal clear, JBL signature sound quality that you have never experienced before, you can connect it with any smart device with the help of in build Bluetooth, the frequency response of the speaker is 180Hz – 20kHz.
Talking about the playtime, this JBL speaker offers you 5 hours of playtime under optimum audio settings; it also supports Google Assistant & Siri; you have to long-press the play button to activate. This JBL GO speaker equipped with noise-canceling speakerphone & comes with one year of manufacture warranty.
boAt Stone 1000 speakers are the perfect choice for the outdoor lifestyle & active lifestyle; these speakers are entirely IPX5 waterproof and shockproof. boAt Stone 1000 offers you incredibly outstanding sound quality; its 14-watt dual speakers produce louder bass.
The range of the speakers is about 11 meters, comes with a 3000mAh rechargeable battery that offers you 8 hours of extended playback and 20 hours of taking the time. It takes 4 hours to charge this 3000mAh rechargeable battery fully. For heavy-duty, its constructed of durable silicon, rubber matte finish that makes is ultimately shock resistant.
Philips BT50W/00 portable wireless Bluetooth speaker comes with anti clipping function that offers you loud, distortion-free music, advanced audio performance with a compact design.
You can connect it any almost any Bluetooth device thanks to audio-in for a secure connection. In one time charging, you can enjoy your favourite music up to 5-6 hrs when the volume level is at a moderate level.
This speaker has a 4.9-star rating on Amazon & all the leading shopping websites across the globe from hundreds of happy customers. Available in 4 different colors.
JBL Flip 3 Stealth waterproof portable Bluetooth speaker offers you JBL signature sound & features of BlueTooth streaming. This JBL audio device is always famous because of its outstanding sound quality; this speaker comes with dual external passive bass radiators.
It is entirely crafted from IPX7 Waterproof with durable fabric material & offers you 10 hours of long playtime under optimum audio settings. JBL also offers you one year of manufacture warranty, in terms of any problem, you can visit their service center. This speaker does not have any mic; that's the only disadvantage of using it. If you are an active traveler, this will be the best option for you.
Must Read: How To Remove Audio From Video?
This Mi Compact Bluetooth speaker is one of the best wireless portable speakers from active travelers, in one-time charging, it offers you 6 hours of playback time at 80% volume. The audio frequency range is about 200 Hz to 18kHz. Mi Compact Bluetooth speaker effectively works at a distance is up to 10m, It has clear and natural sound and parametric mesh design.
The speakers feature very easy to carry, easy to store design with a hand strap; the device is highly portable and easy to carry one-handed or in a bag. It comes with an integrated microphone for phone calls; now you can quickly answer phone calls, now there is no need to switch devices while answering calls.
9. Zebronics Zeb-County Bluetooth Speaker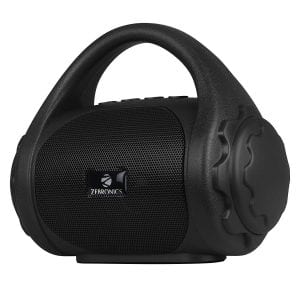 This is one of the most prefered portable wireless speakers by the active travellers; it comes with call function along with built-in FM radio too. It features very compactly and handly design, you can connect it with all smart devices with wireless BT/USB/micro SD and AUX.
Zebronics Zeb-County BlueTooth speaker works at 4Ω impedance & frequency response of 120hz-15khz. In one time charging, you can enjoy up 10 hours of playback, but it takes 4 hours of fully charge it.
In terms of any problem, the brand also offers you one year of manufacture warranty from the date of purchase; this Bluetooth speaker has five start rating on Amazon and hundreds of shopping website from consumer across the globe.
This Philips BT60BK Bluetooth wireless portable speaker is straightforward to carry thanks to its finely knitted strip; you can take it anywhere conveniently. You can also pick up and answer the calls without changing audio output with its built-in microphone that allows you easily switch from music listening to taking phone calls.
This speakers work with audio-in for easy connection to almost any electronic device. Philips BT60BK works on Bluetooth version: 5.0, the frequency is about 2.4 GHz to 2.48 GHz. The speakers also feature all necessary buttons on it for easy controls.
You can purchase any of the above featured portable Bluetooth speakers from any leading shopping website and offline stores also; we have also placed the best buy link over there. We hope this article on top 10 portable Bluetooth speakers is helpful for you, If you are satisfied with the information we have provided, do share it on social media, Stay connected with for all the latest updates and tech news.