If you are a security or privacy conscious person like me, you might know about Proxy servers. A proxy server is just another computer that sits between you and your ISP. Proxy servers were often used by businesses to block access to certain websites or provide network users with more anonymity.
Individuals often setup proxy servers on their computers to hide their public network addresses. Also, it has a lot to do with privacy, speed, and traffic monitoring. However, few apps, especially the malicious ones, attempt to modify the proxy settings you have set up on your system.
To avoid such situations, Windows 10 allows users to disable the proxy settings modifications. So, if you don't want your proxy settings to be modified, it's best to disable the proxy changing feature. In this article, we will share a detailed guide on how to prevent users from configuring proxy servers.
Also Read: How to Optimize Storage Drives For Better Performance in Windows 10
Steps to Prevent Users from Changing Proxy Settings on Windows 10
To disable proxy changing, we are going to use the Local Group Policy editor. The process might look complicated, but it's super easy if you follow it step-by-step. So, let's check out.
Step 1. First of all, click on the Start button and search for 'gpedit.msc'
Step 2. Now click on the Edit Group Policy from the list options.
Step 3. On the Local Group Policy Editor, head to the following path:
User Configuration > Administrative Templates > Windows Components > Internet Explorer
Step 4. On the right pane, double click on the 'Prevent Changing Proxy settings'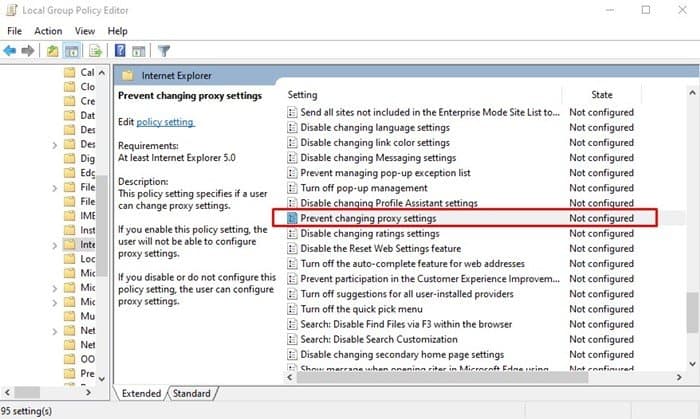 Step 5. In the new Window that opens, select the 'Enabled' option. Once done, click on the 'Ok' button to apply the changes.
That's it! You are done. Now the option to change the proxy settings will no longer be available for users.
So, this article is all about how to block users from changing proxy settings in Windows 10. I hope this article helped you! Please share it with your friends also. If you have any doubts related to this, let us know in the comment box below.