While installing apps, we sometimes grant permission, which the apps don't need. For example, camera apps don't need your contact information. But, in the past, we have seen a few camera apps asking for contact access. There are millions of apps available on the Google Play Store that you can install for free.
So, if you don't pay close attention to what you download from the Play Store, you could get into serious trouble. A security app like antivirus, internet security, etc., can't protect your smartphone alone, especially if there's a threat to privacy.
Also Read: 10 Best Android Apps To Automate Tasks
List of 10 Best Privacy Apps For Android
Therefore, in this article, we will share some of the best Android privacy apps you can use to keep your data safe and protected. So, let's explore the list of the ten best privacy apps for your Android.
Android 12 introduced a new privacy dashboard that allows users to manage all app permissions from a single page. This app brings the same feature to older Android versions. It's basically a privacy manager app that brings a dashboard showing the past 24-hour app usage.
Privacy Dashboard provides you with a detailed view of the app's permission & usage. Besides that, the Privacy Dashboard app also brings privacy indicators, a feature that adds a permission icon at the top-right corner of the screen whenever an app uses your microphone and camera.
This one is the official Tor Browser for Android devices supported by the Tor Project. The web browser allows you to access the vast Tor network and attain privacy and online freedom.
The web browser makes you anonymous, blocks trackers, defend against surveillance and employs multi-layered encryption on your traffic. So, if you want to protect your privacy, you should start using the Tor Browser for Android.
With Private Zone, you get a password-protected vault to hide photos, videos, and every other type of file.
It also got an App locker that lets you lock your most-used apps like Facebook, WhatsApp, Snapchat, etc., with a password. Additionally, there's a private browsing mode that automatically cleans up the search history.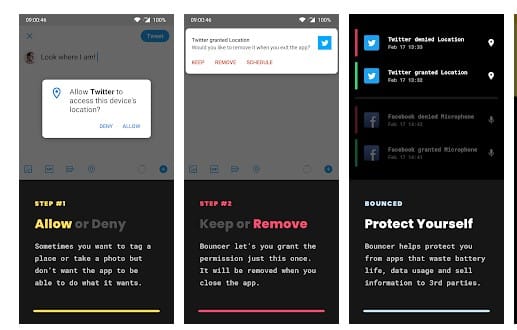 Bouncer plays an essential role in improving your smartphone's privacy. Sometimes, we don't want to grant permissions to a few apps, but we have to allow them for specific reasons. This is where Bouncer plays its role.
It provides users the ability to grant permissions temporarily. For example, you can grant the location permission and set Bouncer to revoke the permission after 15 minutes.
If you are searching for an Android firewall app, you must try GlassWire Data Usage Monitor. You can use a firewall app to allow or deny new app connections instantly.
Not only that, but GlassWire Data Usage Monitor can also block app wifi and mobile connections. Other GlassWire Data Usage Monitor features include monitoring data usage, setting data limits, checking the speed in real-time, etc.
Do you know that you leave footprints on every website that you visit? Footprints include which search engine you use, what browser you are using, what internet you are using, your IP Address, etc.
The website owners track these things to push targeted ads. If you want to avoid these things, you need to use a VPN App. ExpressVPN is one of the best and top-rated VPN apps available, which can hide your IP address from the sites and apps you use.
Kyms is one of the most unique apps you can ever use on your Android. Kyms is a calculator app on the surface, but from the inside, it's a vault.
The Vault of Kyms can store multimedia and text files. Also, the vault is encrypted with military-grade security – AES Encryption.
If you are searching for a privacy-focused web browser for your Android smartphone, you need to give Firefox Focus a try.
Guess what? Firefox Focus automatically blocks a wide range of web trackers and ads as you browse the web. By blocking advertisements and web trackers, it improves browsing and downloading speed.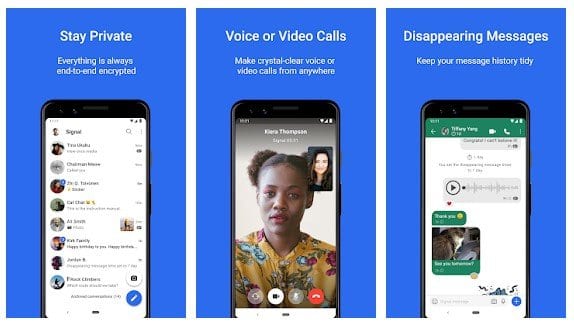 When it comes to security & privacy, no other instant messaging app can compete with Signal Private Messenger.
It uses the open-source Signal Protocol to implement end-to-end encryption on every form of communication available within the app. It also encrypts the metadata to prevent authorities from knowing whom and when you have sent the messages.
You may know that search engines like Bing and Google collect and share your browsing habits with third parties. These data help third parties to show you relevant ads & promote their services.
So, to avoid such things, one needs to use DuckDuckGo. DuckDuckGo is a search engine that doesn't track your browsing habits. It's also ad-free and is compatible with tor apps.
So, these are some of the best privacy apps available for Android. You should start using these apps if you care for your Privacy. If you know of other such apps, let us know in the comment box below.