To know how you can also set or configure that Quiet Hours on your Windows 10 devices just read up the article given below as the method is described in it.
[dropcap]I[/dropcap]f you are a Windows 10 user then you might be familiar with the Action center that can be accessed through the bottom right corner options on the taskbar. This action center is usually made to work in such a way that the users could get all the notifications within it and without even getting much hassle the users can get updated about the important things about the different apps or the system tasks etc. Although the notifications when arrive on the action center panel these do not affect the other processes that much and the user also doesn't get's disturbed a lot, but in case if the users still wants that these notifications should not come out while working then there is a feature in Windows 10 called Quiet Hours through which the notifications can be disabled for a period of time. The Quiet hours option can be also disabled if you wish it not to run every time for that same period. So have a look on complete guide discussed below to proceed.
What is Quiet Hours Feature in Windows 10 & How To Configure It
The method is quite simple and easy and you just need to follow the simple steps that we have mentioned below.
Steps To Configure Quiet Hours in Windows 10:
1. Click on the Notifications Icon on the bottom right corner on the taskbar of your Windows 10 screen. This will open up the Action center on the screen and if you have collapsed the Actions just expand these by clicking on the "Expand" link.
2. Now you would be able to see up the multiple icons above the notification icon only and from there only you will have to find and click on the Quiet Hours icon. This will enable the Quiet Hours feature on your Windows if it is not enabled before and if it was pre-enabled then it will shift it to disable.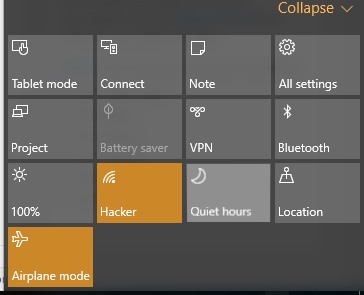 3. You can check whether your Quiet Hours function is running or not by checking for the half moon image on the Notification Icon of the taskbar that describes it to be enabled. And if it is not present then this feature is still not turned on.
4. Now You can easily set the Quiet Hours option to be On or Off by just some clicks only and at any time you wish your notifications to not disturb you then you can use this feature right without bothering your working on the projects or work etc.
Also Read: How to Add, Remove and Change Language In Windows 10
So above discussion was all about How To Configure Quiet Hours in Windows 10. And hence after reading this article you might have got the whole idea of how you can also configure up the Quiet Hours option on your Windows 10. Using up the instructions from this article, you can easily set that up on your Windows and after that you can enjoy to work on your projects etc without even disturbed by the new notifications in the Action center.