Let's admit it, sometimes, when we are alone and feel very low, we all wish to have someone to talk with. We all have gone through situations where we desperately want to speak with someone to feel light.
In such situations, you can use stranger chat apps for Android. Stranger chat apps for Android without login can help you beat your loneliness. And it will also help you open up your mind & heart and feel relaxed.
10 Best Random Chat Apps for Android
Hence, in this article, we have compiled a list of the best stranger chats for Android that you can use today. These are free stranger chat apps for Android that require no login. So, let's check out.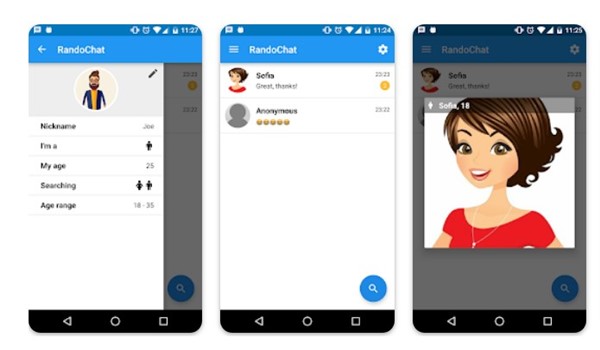 RandoChat is one of Android's best anonymous chat apps to help you beat loneliness. It's a simple stranger chat app for Android that allows you to meet and talk with new people.
You don't need to create an account on RandoChat to chat with strangers. Just download & install the app from the Google Play Store, set your name & gender, and start chatting immediately.
What's more useful is that RandoChat automatically deletes your messages once it's sent to the other person. It neither collects your IP Address nor connection data.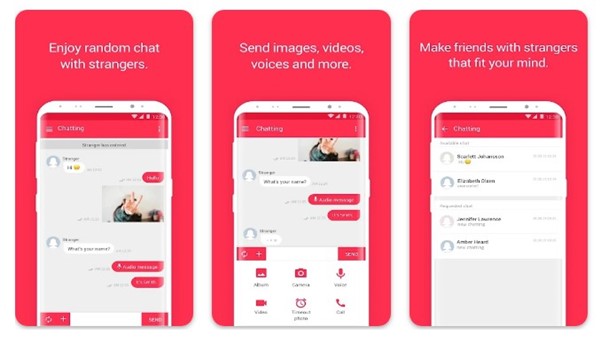 Random Chat is still new, but it's one of the most unique stranger chat application one can use on an Android smartphone. Guess what? Random Chat for Android lets you chat with 1000s of people worldwide.
The application is free to download and use, and you can get it directly from the Google Play Store. After installing the app on Android, you can start chatting with strangers immediately.
You neither need to log in nor fill out any registration form; install the app, enter your username and password and start chatting with random users.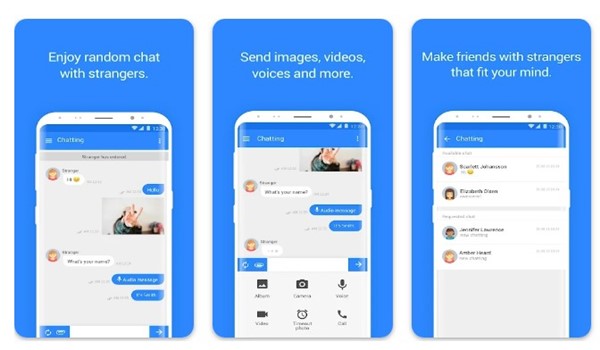 Random Talk is a random stranger chat app for Android mainly used to make boyfriends and girlfriends. While Random Talk has fewer active users, all are real, and there are few bots in the app.
The app has the option to create an account. This is because it lets you send images, videos, and voice messages in a chat panel with strangers.
With Random Talk, you even get an option to select the gender of the person you want to talk to and then connect. Overall, Random Talk is the best app for chatting with strangers on Android.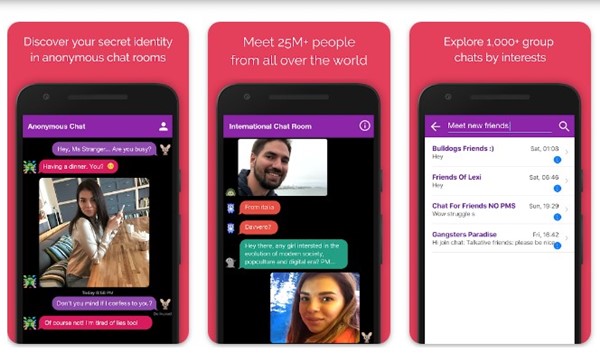 Anonymous Chat Rooms is a very popular Android stranger chat app on the list. The app is now used by over 25M+ users worldwide, and you can also connect with users in a group chat.
Anonymous Chat Rooms are great for those who want to reveal themselves to the world in the way they want. This is because it connects you with a random person with whom you can connect and share feelings.
You can use this application to make true friends, find soulmates or fall in love. Overall, Anonymous Chat Rooms is a great anonymous chat app for Android.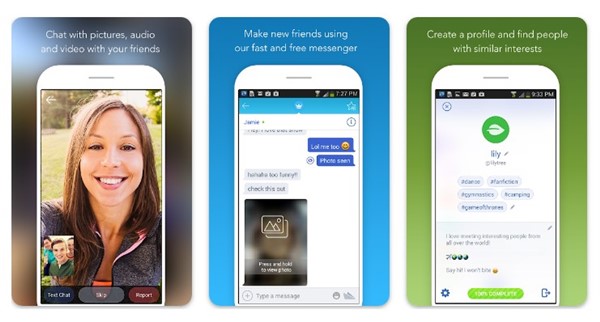 Chatous is slightly different from all other chat applications listed in the article. It's an application used by millions of users worldwide and is completely free to download and use.
With Chatous, you can chat with people worldwide about the topics you care about. You can explore your true self with others with the help of Chatous.
The app also offers useful features like using #hashtags to find and connect with random users with similar interests, protecting your identity, and more.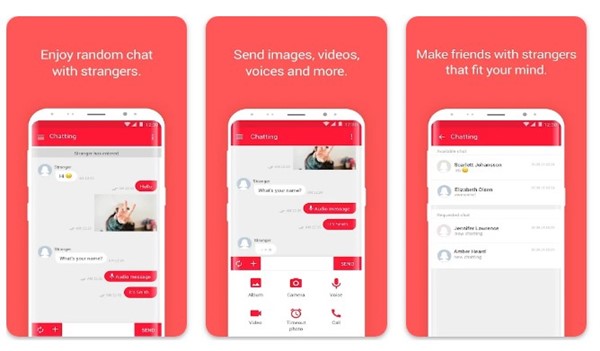 Talk Talk – Random Chatting is not as popular as the other options on the list; you can still use this app as it has fewer bots and a growing user base.
It's a random chat app for anyone who wants to share their feelings with a stranger. Talk Talk – Random Chatting lets you talk with strangers and provides various chat features.
During a random chat session, you get an option to transfer images, audio, and videos. The files you sent were not collected and were automatically deleted after a specific time.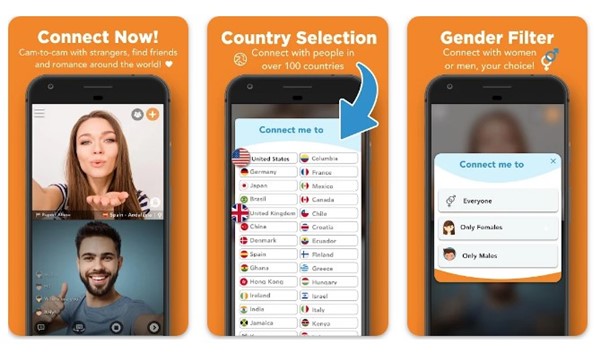 Camsurf is very different from all other apps listed in the article. It's a video chat messenger app that is very similar to Omegle. Here you can talk to people from over 200+ countries.
The application lets you video chat anonymously with strangers without logging in. The good thing about Camsurf is that it has a pretty strict moderation system. The strict moderators often ban spammers and users using bots to keep their platforms in a good state.
Camsurf is available in more than 200+ countries, and thousands of users are usually online. So, if you are looking for a stranger chat app for Android like Omegle, then Camsurf could be the best pick.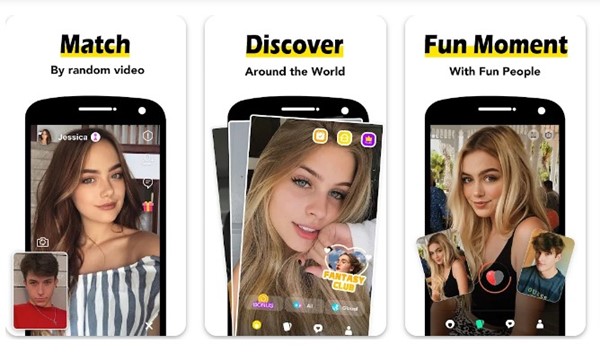 Omega is probably the best Omegle alternative for Android, specializing in free live video chats. The application allows you to chat live with new people all over the world.
You can use this application to connect with strangers, start a video chat and make friends. Besides the video chats, Omega offers you voice calls and in-person messages.
The random video chat app for Android also provides you with region & gender filters to make new friends you prefer. Overall, Omega is a great stranger video chat app free for Android.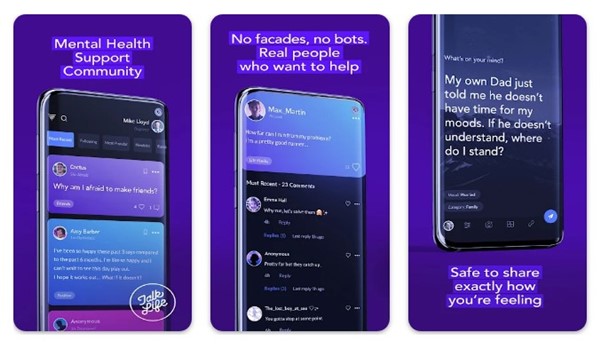 Talklife is a stranger chat app for Android, but it's very different. First, it's more popular than all other apps listed in the article, and the platform is free from bots and spammers.
Talklife is a social platform for strangers; where you write your feelings on your wall, and others can share their opinion. After spending a fair bit of time on the platform, you can unlock the messaging feature.
Talklife messaging allows you to connect with strangers worldwide, and you can exchange images, videos, etc, on the chat.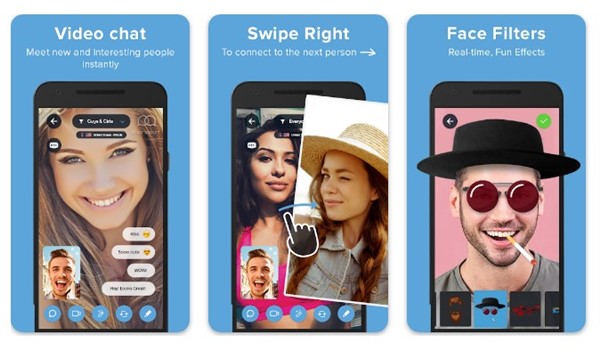 Chatrandom is the last one on the list, and it's a very popular random chat app for Android. Free video chat apps for strangers have revolutionized how people meet strangers online.
Chatrandom was launched way back in 2011, and today it's used by millions of people every month. You can use this app to meet new people for video chatting instantly.
You can connect with new people, video chat, flirt, or date them. The application also limits matches by location, allowing you to connect with people only from a certain region.
Also read: 20 Best WiFi Hacking Apps For Android
So, these are some of the best random chat apps for Android smartphones. You can use this app to stay anonymous and chat with strangers. If you want to suggest any other free anonymous chat apps for Android, let us know in the comments below.