Almost 60-70% of the people in the world are now using a smartphone and long lasting battery life was always an important factor for buyers to consider before purchasing any phone. Here are the reasons why your smartphone battery is draining quickly.
10+ Reasons Why Your Smartphone Battery Is Draining Fast
Almost 60-70% of the people in the world are now using a smartphone. Everyone encounters a problem with battery reinforcement. A mobile operating system like Android consumes much battery compared to others.
On the average, Android battery lasts about 6-7 hours. Long lasting battery life was always an important factor for buyers to consider before purchasing any phone.
Well, smartphone battery life will degrade with the usage but if your phone is getting power hungry, then you need to figure out what's wrong. Here we will discuss some possible reasons why your smartphone battery is draining quickly.
#Bright Screen
This is the top most reason why smartphone's battery nowadays doesn't last long. If you set your screen brightness too high, then you are actually killing your smartphone's battery unknowingly.
Turn your screen brightness to the minimum or set it to automatic mode. This will probably help you save some precious battery power.
#Wi-Fi
Wifi might the best way to reduce your mobile bill. However, it will increase your electricity bill significantly. If your phone is constantly searching for available WiFi network then it can burn through a lot of power. If you don't need a WiFi network then simply turn it off.
#Background Apps
Apps running in the background can drain your battery in no time. Especially, if you are having an Android smartphone, most of the apps in Android stays active in the background thereby consuming a lot of battery power. So, make sure to check the settings menu and disable all the running apps.
#Battery Management Apps
You might have already installed a battery or power management app on your smartphone. There are many applications available in Google Play Store that claims to increase the battery life of Android. However, these apps will not do any good to your battery because it increases the load on the smartphone and forces the device to use more battery power.
#Outdated Operating System
As we all know, every new OS released by smartphone manufacturers bring new fixes to our smartphone. Sometimes, updates bring bug fixes that can resolve the battery drain issue. For example, if you are running Android Kitkat, then there are high chances that your Android battery will drain much faster compared to Lollipop. Therefore, if you are running an older version of an Operating system, make sure to update it as soon as possible.
#Notifications
As we utilize our smartphone all the day. We receive constant notifications from the variety of apps installed on our device. Our phone constantly vibrates or plays notification sounds and this is what drains our battery.
The best choice is to avoid this by limiting the apps to push notifications. Make sure you've only enabled notifications on the apps you really care about.
#Overusing GPS apps
Well, if you check the weather dozen of times or constantly looking things up in the Google Maps, then let me tell you that you're actually giving an app permission to track your location.
We all need GPS service on our smartphone, but make sure that you aren't overusing them. Make sure to close the GPS service when you don't need them.
#Heavy Gaming
We must admit that we all love to play games on our smartphones. However, if you choose to play those resource hogging games all the time, you may end up draining your phone's battery life a lot more quickly.
The best option is to avoid playing games for long periods of time. Not only games, there are several apps which consume lots of battery resource.
#Sync
Automatic Sync feature is something which is really helpful. However, your smartphone constantly checks for backup files which cause battery drain. The best option is to turn on the Sync option to "Manual" mode.
#Hardware problem
Well, if you have already checked all the above-mentioned steps and still struggling to fix the battery drain problem. Then your phone might have a hardware issue.
The best thing to do here is to get to the customer care service and have a professional opinion regarding your issue.
#Google Play Services Battery Drain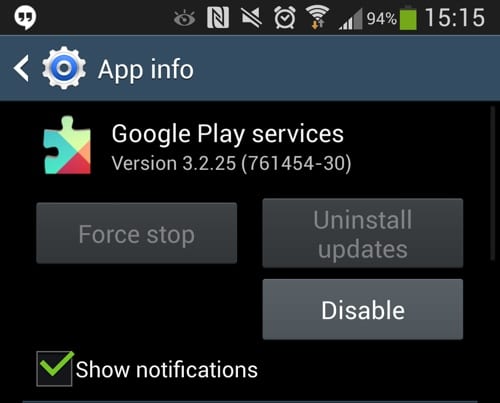 Well, Google Play Services is another service which is used very often and it consumes lots of battery. However, Google Play Services is something which you can't stop because it's a crucial Android feature which lets your apps communicate with each other on your phone.
Still, you can control Google Play Services by going through Settings > Applications > All > Google Play Services. There you need to tap on the Clear Cache button to refresh Google Play Service and stop it draining your battery.
#Damaged Battery
If your Android device is a couple of years old or more, then the most obvious reason behind battery draining was a damaged battery. Well, it's a sad truth that your phone's battery might be simply dying a natural death.
So, if you don't have lots of background process running and keeping your screen brightness down still your battery doesn't last for more hours, then there are high chances that the battery of the phone might be damaged.
Well, smartphone manufacturers often say that a battery should perform well for up to 1000 charges, however, it depends on many factors. So, the best option is to visit the nearest service center for physical inspection of the battery.
So, these are the 10 Reasons why your smartphone Battery is draining fast. What do you think about this? Share your views in the comments section below.