If you have been using an Android smartphone for a while, you might know there's no option to record calls automatically. Although some smartphones have the call recording feature, they still need to be manually activated to record calls.
Now you all might be wondering what the need for a call recorder is? Well, let me tell you that there could be multiple reasons behind why you would want to have a call recorder or record phone calls.
Maybe you want to record calls for evidence, want it for legal reasons, etc. The latest version of Truecaller does have the call recording feature, which works in automated mode.
Also Read: 10 Best Truecaller Alternatives For Android
Steps to Record Audio Calls Automatically In Android
Below, we have shared a step-by-step guide on using Truecaller to record incoming and outgoing calls on Android smartphones. So, let's check out how to record audio calls automatically on Android by using the Truecaller Android app.
1. First of all, you need to download & install the Truecaller app on your android phone.
2. Next, open the app and click on the hamburger sign at the top left corner. Next, tap on the Settings button.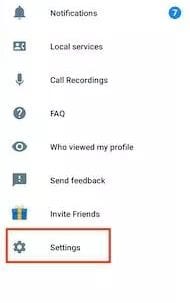 3. From the options, tap on the settings to explore the more in the app. And now you will see the Call recording option at the right bottom. Tap on that.
4. You will see that the feature is paid but is available for a free 14 days trial that you can use. You will also need to provide certain permissions to the true caller app.
5. Once you enable that, you will see the two options to record the call automatically or manually. Select 'Auto' to record calls automatically.
6. Now the feature will be activated on your Android. Now, whenever you will connect the call, the recording will start automatically. The recorded calls will be displayed in the call recording section.
That's it! You are done. This is how you can record calls automatically on Android.
2. Setup Automatic Call Recording on TrueCaller Free
The latest update of TrueCaller allows users to enable call recording even on the free account. That means, if you are using the free version of TrueCaller, you will be able to set up and use Automatic call recording.
We have shared a detailed guide on how to Setup & use the call recording feature on TrueCaller. Go through the post to know the steps.
TrueCaller is indeed a great app to identify callers. You can now use it to record your calls automatically on Android. I hope this article helped you! Please share it with your friends also.