You might be using Windows 10 for a while, but that doesn't mean that you have discovered everything it has to offer. Actually, Windows 10 offers users lots of features, but most of them remain undiscovered. In this article, we are going to talk about a hidden feature of Windows 10 that would allow you to record your screen.
To record screen on Windows 10, users generally need to install third-party software. However, what if I tell you that you can record the Windows 10 screen without installing any additional software? Windows 10 has a hidden screen recording tool that's built into the Game Bar.
The screen recording tool is specially designed for gamers who want to record their gameplay videos. So, in this article, we are going to share a working method that would help you to record Windows 10 screens easily. So, let's check out how to Record screen in Windows 10 without using any software.
Also Read: 10 Best Encryption Software For Windows
How To Record Screen In Windows 10 Without Any Software
The method is very simple and you just need to use some shortcut keys of your keyboard. Windows 10 will display the game bar that you will be used to record the screen. So follow the complete steps below.
Step 1. First of all in your Windows 10, click on start and then type "Xbox app" and then simply open the Xbox app.
Step 2. Now in the Xbox app, you have to press a keys combination of your keyboard that is "win+G" this can be done on the screen which you want to record. Now as soon as you will press this combination, the popup will appear asking you for that is it a game? simple click on Yes, it is a game.
Step 3. Now you will see few options that are "Screenshot", "Start Recording" and "Settings".
Step 4. Now select the Start recording button and the recording will get started and you can stop recording when you are done.
By default, all your recordings get saved to the folder
"C/Users/Videos/Captures".
That's it! You are done, now you can easily record screen with this cool trick that will not need any third-party tool, also you can choose out screenshot feature too in this game bar tool.
Using VLC Media Player
Well, VLC Media Player is a software, and the reason why I had mentioned VLC Media player is that almost everyone uses it. With the help of VLC Media player, you can record screen without any external third-party recording software. You can use this method in Windows 7,8 and 10. Let's know how to record screen using the VLC media player.
Step 1. First of all, download and install VLC Media Player on your Windows computer if you don't have.
Step 2. Now launch VLC media player and click on "Media" and then select "Open Capture Device."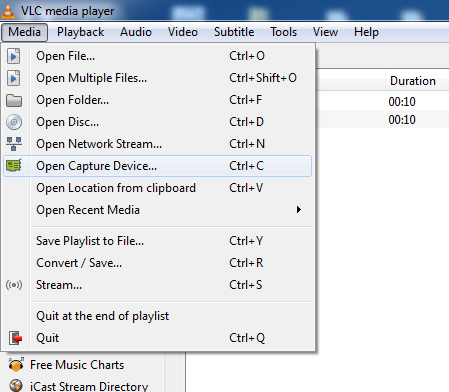 Step 3. Now under Capture mode, you need to click on the drop down and then select desktop.
Step 4. Set all other options according to your wish and then click on "Play" button.
Step 5. Now you need to click on "Stop" button.
Step 6. Now you will see the screen like below. Here you need to right click on your recording and select the option "Save" and save it to your desired location.
That's it! You are done. This VLC media player method works with every Windows version. You don't need any additional software to record your desktop screen.
So, this is all about Windows 10 screen recording. We have shared two best methods in this article to record Windows 10 screen. If you don't want to go through all hassle and want a straightforward way to record Windows 10 screen, then you need to visit our article Best Screen Recording Software For Windows. Hope this article helped you! Share it with others also.