Ever wanted to remove the background from any image? Well, you can easily do that on the computer by using Adobe Photoshop. However, Adobe Photoshop is not a child's play and it takes lots of effort to remove background from an image.
Things become much difficult when it comes to removing the background from the image on Android. Although there are lots of Android Photo editing apps available on the Google Play Store, none of them has a background eraser feature.
So, if you have been finding a way to remove the background from any image on Android, then you are in the right place. Below, we have shared the best method and few apps that could easily remove background from any image on Android.
Steps To Remove Background from Any Image in Android
The method is quite simple and easy and you will have to use a simple Android app to remove the background from your desired images. For that follow the simple steps discussed below.
Step 1. First of all on your Android mobile, download and install the app Background Eraser.
Step 2. After installing, open the app and you will see the options like below. Simply click on the option Load a photo,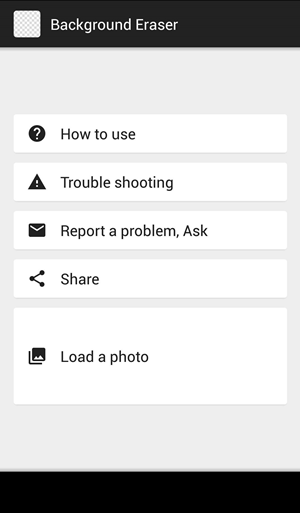 Step 2. Now choose out any photo whose background you want to remove and then crop out the focused part as much possible.
Now simply click on the done option.
Step 3. Now you have three options to remove the background that is Manual, Auto, and eraser, we suggest you choose the Auto with zoom-in into the picture.
Step 4. If you find any mistake in the removal of background then you can simply revert the change and can also use the eraser to fix it out. With a little practice, you can easily remove out all the background from the image.
Step 5. Now simply click on the done option and then put the smooth level up to maximum to get the smooth background.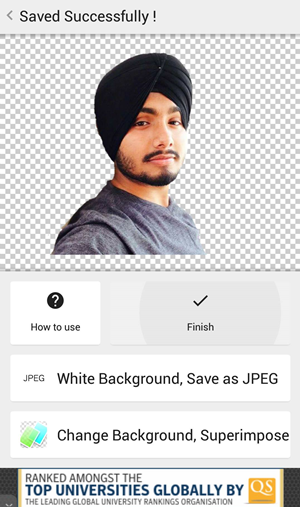 Step 6. Now click on the Finish option there, and after a little processing you are done, you have the image with the removed background.
Similar Alternatives Apps:
Just like the background eraser, there are lots of Android apps from a similar category available on the Play Store. Check out the best apps to remove background from any image on Android,
Background Remover – Not just an ordinary photo editor app, it's a smart photo background eraser app for your Android devices. With our photo background Remover app, you can smartly erase background color or object easily. Instead of downloading many photo background remover apps, download our photo Background Remover app and easily remove or add the background to your image.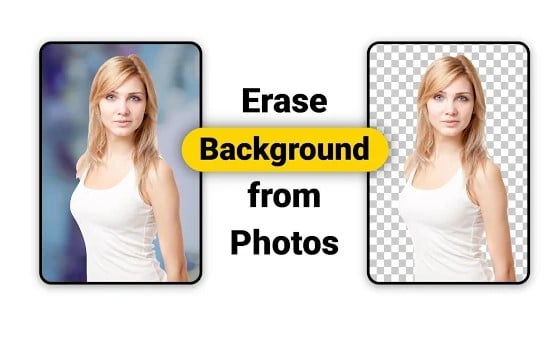 With Background Eraser, you can easily remove the background from your photos & save the transparent image in Png or Jpg format. The resulting images can be used with other photo apps.
This is another app that provides similar features, you can even combine more than 10 pictures at the same time in order to create a photomontage. This app even has some good ratings at the Google Play store.
TouchRetouch is an app that offers you all the tools you need to efficiently remove unwanted content from your photos. Make unwanted objects vanish right before your eyes by just marking them. With Blemish Remover, you can touch any minor blemish once to remove it forever.
This is another Android app that lets you erase the background of any image. This app actually provides an easy way to change photos' backgrounds. You can also set your favorite new image in the background
Change Photo Background is a powerful tool that lets you change the background of your photos with ease. This amazing app lets you erase your photo or its background or both, making it transparent.
Ultimate Background Eraser provides a fast and easy way to change photos' backgrounds. Just touch the area you want to erase and the auto eraser tool will do the rest of the work for you. You can also erase the background of your photo manually by finger touch or with Lasso (Image Cutting) tool.
Image Cutter is an application that can easily cut out objects from your images or photos and makes backgrounds transparent. Draw a line with your finger or a touch pen outside of the part to be cut in the image, and then click the Cut button to complete the operation.
Adobe Photoshop Express is one of the best photo editing and collage maker tools for easy, quick, and powerful editing on mobile devices. Adobe Photoshop Express Collage maker gives you flexibility and control of images ranging from layouts, border size, color, individual pan, and zoom.
LightX is all in one free picture editor to make photo collages, add photo frames to your pictures, add stickers, make cutout and photo background changer, blur photos, create cartoons and caricatures, create sweet selfies and portrait photos, change hair color, add color splash effects, merge photos for double & multiple exposure effects and apply many other tools to edit pictures
So, this is how you can remove the background of an image in Android. We have listed the best apps that will help you to remove the background easily. Try out all the apps. I hope you like the post, share it with your friends too!