[dropcap]I[/dropcap]f you want to get rid of the Windows 10 Pre-installed apps and App suggestions from the Start Menu, then you have landed to the right page. Here we are going to discuss few best methods to remove any of system pre-installed applications of your Windows 10 by the simple guide here
[dropcap]W[/dropcap]hile working in your windows 10 PC memory gets loaded up with so many media files like Images, videos, Music file, others files and also the memory consumed by the apps of Windows. In many cases your Disk space gets full and your computer starts lagging and also start hanging up at the time of multiple tasking. So better is to free up this space to make your PC faster to work perfectly to perform your task. So for that, we have a cool way that can be really helpful for you to free up filled Disk space and that by removing the pre-installed and suggested apps that consume up lots of memory and sometimes do less work according to it. And there are good alternatives that are available. So here we will guide you, how to remove these pre-installed applications from your Windows 10 PC. So have a look on complete guide discussed below to proceed.
Also Read: How To Record Screen In Windows 10 Without Any Software
How To Remove Pre-installed And Suggested Apps In Windows 10
The method is quite simple and straight and you just need is navigate to some of the settings by following the steps that we had discussed below and you will remove any of the apps that you want to remove.
Also Read: How to Add, Remove and Change Language in Windows 10
Remove Pre-installed And Suggested Apps
Step 1. First of all in your Windows 10 head towards settings by pressing Windows + I command of keyboard.
Step 2. Now there click on the very first option that is System.
Step 3. Now on the System Settings page click on Apps & features on the left side panel.
Step 4. Now you will see all the apps that are currently being installed on your operating system that will include the apps that are pre-installed from Microsoft and also the third party apps that you later on installed on your OS.
Step 5. Now click on the app that you want to remove from your Windows 10 and click on the option Uninstall button also you can move any of these apps to your external storage device by following the guide Free Up Disk Space by Moving Windows 10 Apps to External Media.
With this you can easily remove out any of the app that you won't want to be there in your Windows 10 that just consuming up your system memory.
Also Read: Windows 10 Tips, Tricks and Hacks
Disable App Suggestions
The great thing is that the app suggestions that you see on the Start menu can be disabled by going through Windows 10's Settings. You just need to follow some of the simple steps given below to disable App suggestions on Windows 10 computer.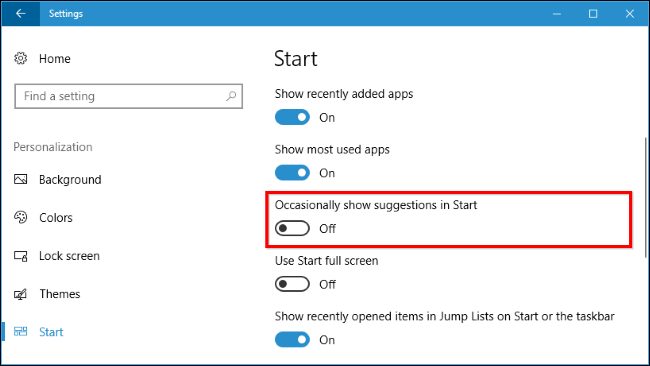 First of all, head to the Settings > Personalizations > Start. Now, under the Start, find and disable the 'Occasionally show suggestions in Start'. That's it, you are done! This will remove the app suggestions completely from the Windows 10 Start Menu.
Disable Microsoft Consumer Experience
Well, the apps and suggestions that you see on the Windows 10 Start menu are the part of 'Microsoft Consumer Experience'. You can disable the option to get rid of apps and app suggestions. However, you can disable the Microsoft Consumer Experience only if you have Enterprise edition of Windows.
Simply open the RUN dialog box and then enter 'gpedit.msc'. Now, on the Group Policy editor, head to the Computer Configuration > Administrative Templates > Windows Components > Cloud Content. Now from the right corner, you need to enable the 'Turn off Microsoft Consumer Experiences'
That's it, you are done! This is how you can disable Microsoft Consumer Experience to get rid of App suggestions and app automatic installations.
So above is all about How To Remove Pre-installed And Suggested Apps In Windows 10. With this method, you can easily remove out any of the pre-installed apps and suggested apps like Cortana or any other that you think not working good for your work. Just use this guise and uninstall the apps or move them to your external storage device. hope you like this tutorial, do share with others too. Leave a comment below if you have any related queries with this.