We are going to discuss four ways to remove write protection from your USB Or SD card. Follow the whole post to know about it.
Write protection in any media is a security in a media by which it doesn't let a user edit any content in it that means we can't delete, Also copy paste or cut any content of that media Also, our media say our USB Pendrive will not even get formatted.
Also Read: 12 Must Have Essential Softwares For Your Windows Computer
It will display the error message like "Disk is Write Protected" or "Remove The Write Protection or Use another USB". These all errors are because of write protection on our Pendrive or SD cards. There are many ways to fix this but in this post, I will tell you the best methods to remove write protection 2017 without any software.
How To Remove Write Protection From Your USB Or SD Card
#1 Method: Check Device For Virus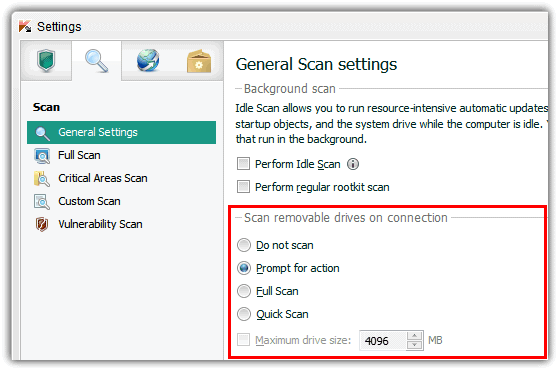 Sometimes there is the possibility that writes protection error can be because of some viruses which can easily harm your USB device. To remove this, scan your media with the best antivirus and then remove a virus from it. By this, your write protection will get easily removed.
#2 Method: Checking Write Protection Button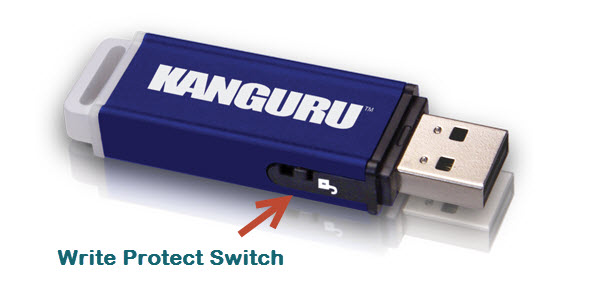 Many USB devices come with a write protection button. Sometimes when this button remains on the write protection, an error will get displayed on copying, pasting and deleting any file from the media device. To remove the error, check the button on the side of the SD card if the button is on then put it off and by this Write Protection of USB will get removed.
Also Read: How To Detect Keylogger & Remove It From Computer
#3 Method: Check To Ensure The USB Drive Isn't Full
Sometimes, our USB flash drive shows us Write protect error due to insufficient storage. To check out if your drive is full or not, open Windows Explorer and right-click on your USB drive and select "Properties".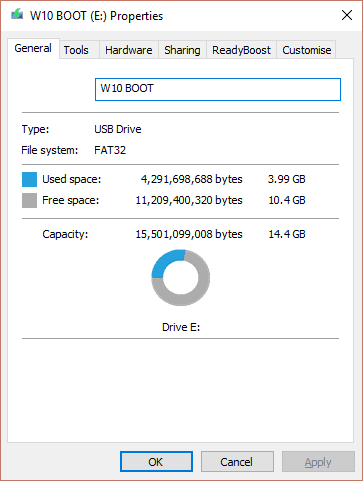 The properties section will show you the File system along with Storage capacity. If your disk space is full, you need to remove some files to avoid the Write Protect error.
#4 Method: Check For Individual Files
Mostly the write protect error occurs because of a single file that is marked as "read-only". That single file can upset you. If any of your files are set to read-only mode, then you can't just delete that file. On return, the single file can restrict you to format your USB drive.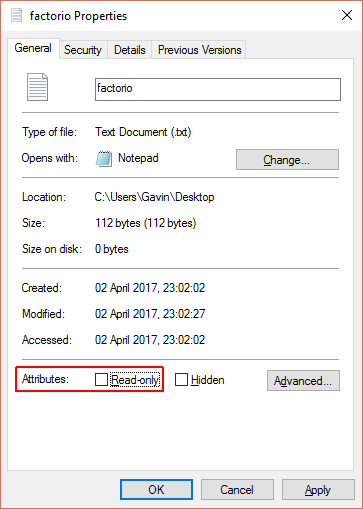 Locate the file that is undeletable and then right click on it and select 'Properties'. At the bottom of the panel, under attributes, you will find the Read-only option, make sure to uncheck the "Read Only" box.
#5 Method: Using Command Prompt
In this method, we will remove write protection from Pendrive using commands in Cmd. This will fully clean the write protection of the Pendrive.
Step 1. Click on Start->Cmd. Type Diskpart and press enter.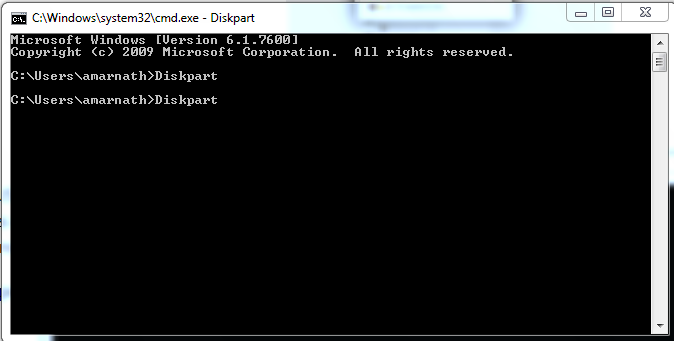 Step 2. Type list disk.
Step 3. Type select disk 1 and this will select your Sdcard/USB Pendrive.
Step 4. Now type "attributes disk clear readonly" and press enter.
Now exit from cmd and format your Sdcard/USB Pendrive. This will remove write protection from your SD card or Pendrive.
Also Read: How To Remove Computer Viruses Using CMD
#6 Method: Using Registry Editor
In this method, we will edit some registry values of computer as when they are overwritten by some reason, our media can show error message of Write Protection
Step 1. Open Run -> type Regedit -> click on Registry Editor.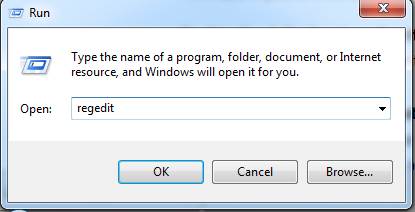 Step 2. Now follow up this path in Registry Editor
HKEY_LOCAL_MACHINE/SYSTEM/CurrentConrolSet/Control/StorageDevicePolicy
Step 3. There you will find write protection option just click on it and set its value to 0.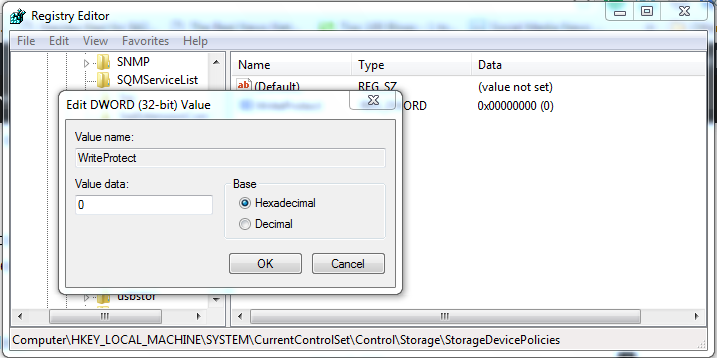 That's it! you are done. By this, the default value of write protection register will be changed and the write protection will permanently get removed from that media device.
What If You didn't Find StorageDevicePolicies?
If you can't find StorageDevicePolicies in Registry Editor then you can create a key For that you need to head over Registry Editor and follow this path
HKEY_LOCAL_MACHINE>System>CurrentControlSet>Control
Here you need to right click on the white space in the control folder and choose New>Key and carefully enter the name "StorageDevicePolicies"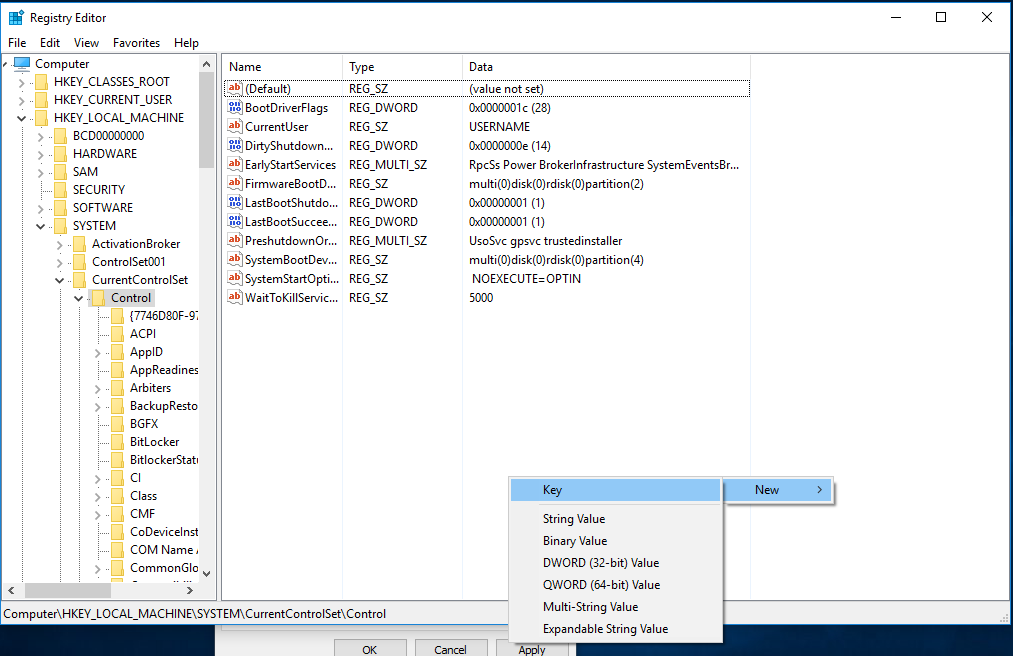 Now double click on the newly created folder and right click and then choose New>DWORD and name it WriteProtect and set its value to 0. Click OK, exit Regedit and make sure to restart your computer.
Also Read: How To Make Your Computer Shutdown At Given Particular Time
So above are the Best four methods for How To Remove Write Protection. You can use any method from the listings and comfortably remove write protection from the Pendrive or SD card. If any of the methods doesn't work on the computer then try any other method from the above four and it will definitely remove the protection and you will be easily able to format your media device and also can Cut, Copy and Paste anything in it. Don't forget to share this post. Leave a comment below if you face any problem at any step.
AUTHOR