There are hundreds of web browsers available for Windows, macOS, Linux, Android, and iOS. Each of the operating systems has its browsers, like Apple has Safari, Windows has Edge browser, etc., that allow users to experience the internet on all Apple devices.
Safari web browser brings robust customization options, powerful privacy protections, and many other web browsing-related features. Safari is designed to be used only on Apple devices, and it's the default web browser for all Apple devices.
Apple Safari for Windows
Although Google Chrome is the best web browser right now, many users want to use Safari on Windows 10. So, the main question is, can you install the Safari browser on Windows 10? You can technically download & install the Safari web browser on Windows, but you need to adjust to an outdated version.
Apple no longer offers Safari updates for Windows, which means that the Safari web browser's latest version is not made for the Windows operating system. You can run the older version of Safari that was released a few years ago.
If you want to download & install Safari on Windows, you must install the older Safari version 5.1.7. The older version of the Safari web browser is fully compatible with Windows 10, and it runs on both 32-bit and 64-bit systems.
Also Read: How to Download & Install Android 11 on Windows 10 PC
Download & Install Safari Browser on Windows
In this article, we will share a step-by-step guide on how to download and install the Safari web browser on Windows 10 computer. Let's check out.
1. First of all, click on this link to download Safari Browser on your computer.
2. Once downloaded, double-click on the installer file to install the browser.
3. On the main page, click on the Next button and follow the on-screen instructions.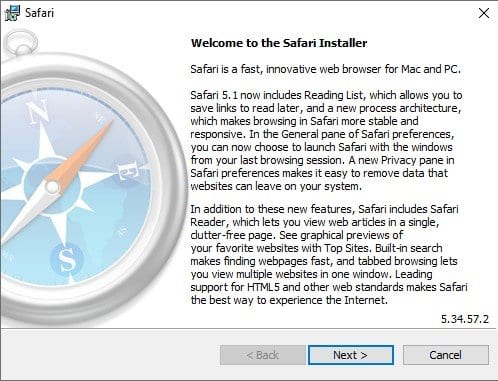 4. Wait until the web browser installs on your system.
5. Once installed, open the Safari web browser and use it.
6. You can now use the Safari web browser on Windows to access your favorite sites.
That's it! You are done. This is how you can download & install the Safari web browser on Windows.
This article is all about how to download & install the Safari web browser on Windows. I hope this article helped you! Please share it with your friends also. If you have any doubts about this, let us know in the comment box below.