The much-awaited Samsung Galaxy S22 series isn't under the rocks anymore! Samsung is always one of the first brands to unveil their flagship smartphones every year – without keeping anyone guessing.
This series will be launched in and around a similar timeframe with the Samsung S21 series launch dates. That is, most probably during the second week of February 2022! So far, we expect the Galaxy Unpacked event to be held on 8th February.
The Samsung Galaxy S22 series will be launched at the event. It is further claimed that the pre-bookings will begin from around 18th February. And of course, the phones will be available in both online as well as offline markets.
Samsung Galaxy S22 Series to Launch in February 2022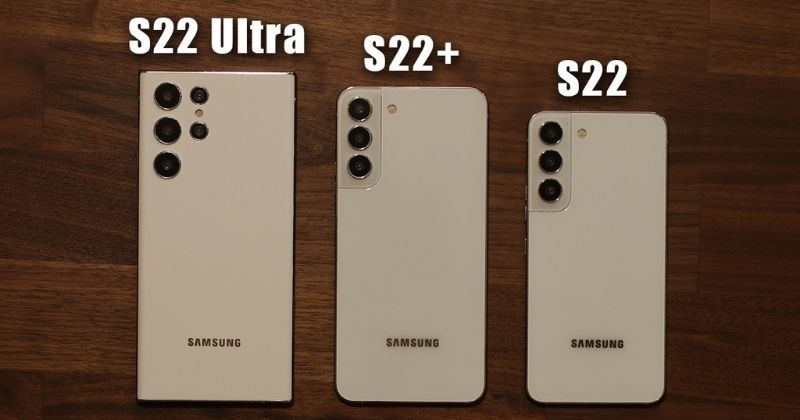 Talking about the features, a lot of rumors – real as well as over-the-top ones have been circulating on the internet for quite a while now. We are finally here to clear the rumored air for you. Speaking of the display, the Samsung Galaxy S22 will come in three variants – the standard S22, S22 Plus, and S22 Ultra.
Design
The plus variant is expected to have a quite similar outlook with the last year's S21 plus, which is 157.4 x 75.8 x 7.6mm, whereas the standard model will be the smallest in line with a 146 x 70.5 x 7.6mm dimension. As expected, the Ultra will be the biggest and best model of the line, being a much higher-end phone. 
Processor
Along with a boxy design, these phones will come with a Snapdragon 898 processor. Like last year, the Samsung Galaxy S22 will come with an Exynos counterpart, the Exynos 2200.
Camera
The camera system would be similar to last year's lineup. A quad-camera setup with three 12 MP cameras and a 108 MP rear camera. The periscopic lens, which is also the key feature of the Samsung S20 and further models, will provide an even better zooming power.
Battery
Samsung might re-introduce the 65W fast charging with Galaxy S22 series. However, it might not be true as the latest listing related to Galaxy S22 seen on China's 3C website, has the phone set to 25W charging.
But there are rumors that the Samsung Galaxy S22 Ultra might have 45W charging.
Pricing
According to the leaked details, all three models range will increase by $100. The price of Galaxy S22 starts at $899, S22 Plus at $1,099, and Galaxy S21 Ultra at $1,299.
These specifications are all that are known yet. But we just can't keep our patience until the grand unpacking event! If you want to be among the first ones to know everything about the new Samsung Galaxy S22 series on launch, make sure to keep visiting TechViral!