Samsung's flagship smartphone S8 is a big hit in terms of revenue and shipments for the company. Now, the South Korean giant Samsung will soon introduce foldable smartphones and not only that even the alleged Galaxy X gets new certification as well.
Samsung Galaxy X Foldable Smartphone Gets Leaked Again
It is known that the South Korean company Samsung is working on a flexible device capable of adopting a form of smartphone and tablet according to needs, in a project that could see light in a reduced way in 2019 for already a general output for 2019.
Earlier we saw how a new unknown Samsung phone has just passed certification in the WiFi Alliance with model number SM-G888N0, where 'N0' refers to its being put up for sale only for the South Korean market. What is most surprising is that we talk about a phone that, according to said certification, has installed Android 6.0 Marshmallow, an old operating system, something that would not make sense for a new phone of this firm.
This week, a new Samsung smartphone has received the certification of the radio authorization of South Korea.
The model number of the device is SM-G888N0 and precisely this number has been associated many times with the Galaxy X, the expected foldable Samsung smartphone. This suggests that the Galaxy X could be very close to being announced.
It is not the first time we see the SM-G88N0 in a certification process. In April we saw him pass through the Wi-Fi Alliance and, later, in July, through the Bluetooth SIG. The difference is that the certification just passed is one of the last to be exceeded and, therefore, is the most indicative that the device is about to be released as we hinted earlier.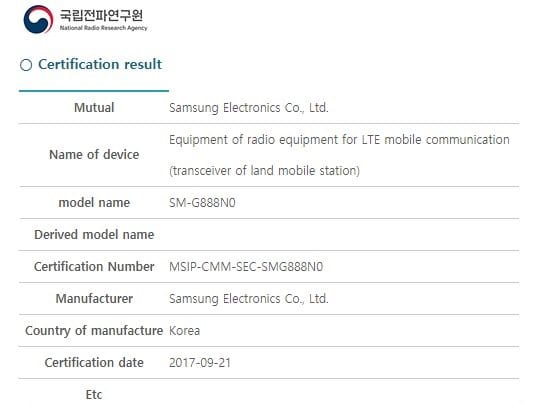 Unfortunately, none of these certifications provide additional information on what the Galaxy X will look like, nor does it give clues as to when it will hit the market outside of South Korea. In fact, it could happen that this phone was rather an experiment that does not see the light outside of South Korea.
So, what do you think about this? Simply share your views and thoughts in the comment section below.