Samsung unveils its upcoming edition of Pokémon ball-themed Galaxy Buds 2 with a kind case cover & stickers that make you feel like a Pokémon trainer.
Previously, Some leaks about the upcoming Samsung Galaxy Z Fold 4 suggest major camera upgrades, mainly to its mono of 12 Mega-Pixels with the capability of 3x zoom.
It seems excellent that Korean-tech giant Samsung is attentive on a fan service edition of its accessories.
Pokémon Themed Galaxy Buds 2 Coming Soon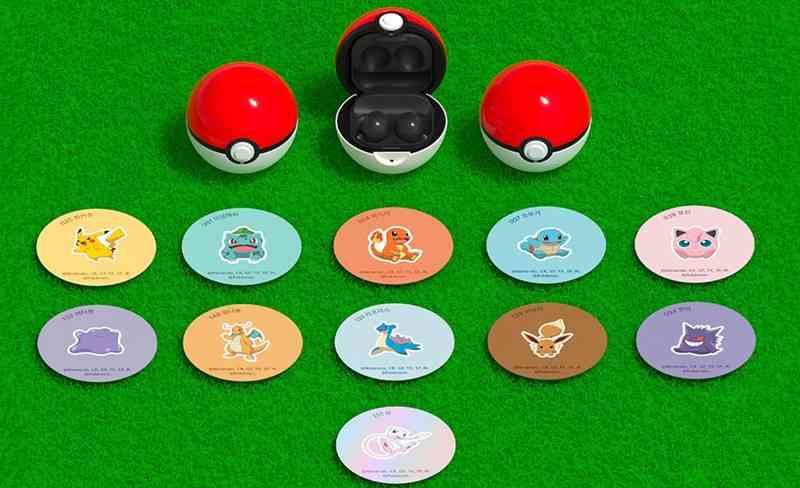 According to Samsung officials, This Pokémon bundle contains the Galaxy Buds 2 in five color options. The classic designed Pokémon ball in red-white case covers and stickers featuring popular Pokémon characters.
You can easily place your Galaxy Buds 2 in this case cover. Also, like the Pokémon ball, it has a button on the front head that performs opening the case.
Ten standard premium quality stickers contain famous characters like Pikachu, Squirtle, Jigglypuff, etc. Let me clarify one thing you can see eleven stickers in the image, and there is one rare sticker out of the ten, the hologram Mewtwo.
And the buyer will get only one sticker with random distribution, or if you're lucky, you'll also get the rare one.
There are no specific changes in Galaxy Buds 2, and its specification is the same as last year's launch. It's a limited-edition package, but its pricing is more reasonable than the originals.
Currently, it is listed on Samsung's online store in Korea only, and accordingly, this is in the preparing phase, so no exact launch date is revealed. Also, there is no information about its launch in other regions.
But, on the website, the Galaxy Buds 2 Pokemon bundle price is set at 134,000 Won ($105), which seems fair for those buds.
I think Pokémon is getting popular again; maybe it's because Nintendo's also putting effort into reviving games and series. There is also rumored it's a new game is coming to Nintendo Switch.