When it comes to navigation, we usually trust and rely on Google Maps. Google Maps allows you to navigate your world faster and easier. It covers over 220 countries, hundreds of millions of businesses, and places on the map. What's more interesting is that it even allows you to mark your favorite places right on the map.
Let's admit; there are few places that we need to visit very often. If you rely on Google Maps to get the direction of that places, it best to mark them as favorite. In this way, you can save time by directly opening them on Google Maps for Android.
Apart from marking places as 'Favorites,' Google Maps also allows you to mark them as 'Starred,' or you can add your favorite lists. The feature could be handy to those who use Google Maps regularly.
Also Read: 10 Secret Google Maps Location That is Not Visible
Steps to Save Your Favorite Places in Google Maps for Android
This article will share a step-by-step guide on how to save favorite places on Google Maps for Android. Also, we will tell you how to create your own list of locations on Google Maps. Let's check out.
Step 1. First of all, head to the Google Play Store and search for Google Maps. If any update is available, update the app.
Step 2. Now open Google Maps on your Android smartphone and open the location information card.
Step 3. On the card, tap on the 'Save' button as shown below.
Step 4. Now you will find all available lists. If you want to set it as 'Favourites,' check the checkbox behind Favourites and tap on the 'Done' button.
Step 5. If you want to create a new list, tap on the 'New List' button.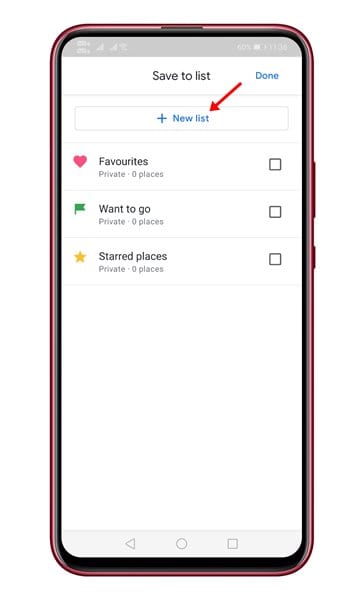 Step 6. Next, fill in the name, description, and list type. Once done, tap on the 'Create' button.
Step 7. You can add as many places you want to the lists.
Step 8. To access the saved places, tap on the 'Saved' button located at the bottom of the screen.
Step 9. Scroll down to find your saved lists. You can open the location directly from the lists.
That's it! You are done. This is how you can save your favorite places in Google Maps for Android.
So, this article is all about how to save your favorite places in Google Maps for Android. I hope this article helped you! Please share it with your friends also. If you doubt this, let us know in the comment box below.