Let's know how to secure your computer from all critical bots or some spying practice by blocking dangerous IP automatically in your computer.
[dropcap]I[/dropcap]n this cyber world security is always the first priority in any region. Thus, securing the computer is always the reliable option to stay away from cyber crimes. Mostly user thinks that they are protected across the internet by simply installing the latest antivirus or antimalware. However, that's a misunderstanding as today there are many spy agencies that keep track on users. So, it becomes necessary to ensure your privacy by securing your computer. And in this article, I am going to discuss the technique to secure your computer from dangerous IP addresses. So have a look on complete guide discussed below to proceed.
Also Read: How to Block Particular Websites On Your Computer
How To Secure Your Computer By Automatically Blocking Dangerous IP's

The method we are going to show is very easy and depends on a tool that will work similarly like the firewall on your PC, but it will block all dangerous IP address that resembles spyware or any data theft programs. And this will secure your computer to a high extent. Follow the below guide to proceed.
Also Read: Top 10 Best VPN For Google Chrome To Access Blocked Sites
Bot Revolt
Bot Revolt monitors all inbound communication to your computer. The software scans automatically every .002 seconds looking for any suspicious or unauthorized communication.
Features Of Bot Revolt:
Monitors program installation, registry and file changes, keyboard and mouse code control, and other potentially dangerous behaviors.
Monitors all inbound communication to your computer.
Bot Revolt shows you who and shows you where they are coming from!
Bot Revolt updates itself each day automatically so you are protected from NEW threats.
Also Read: How To Detect Keylogger & Remove It From Computer
Steps To  Block Ip Addresses In Computer Using Bot Revolt Tool:
Step 1. First of all download and install the tool Bot Revolt in your windows PC. You have to enter your name and your email address to get this software for free.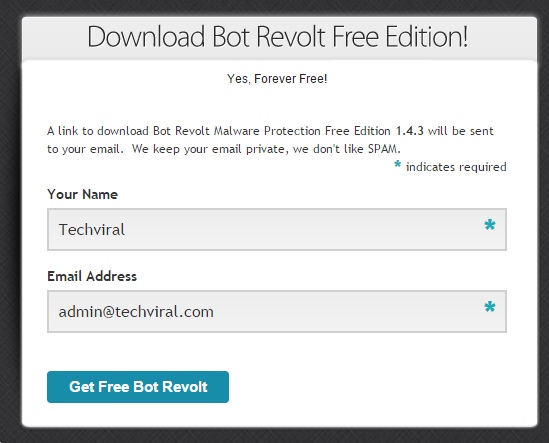 Step 2. Now you will get the downloading link in your email address visit the link and download the tool to your PC. Now after installing it launch the tool and it will start updating its packages which will take a very short while depending upon your internet speed.
Step 3. After that tool will start and will keep on track on packages received from every package and their IP's and will automatically block the IP's that are suspicious or say dangerous.
Step 4. You can also use the incognito feature of this tool which requires the upgrade version that is paid.
That's it your computer system is now protected from all the malicious IP's and no one will now harm your data and all your credentials will be secure with you on your PC.
Also Read: How to Automatically Shut Down Your Computer at a Specified Time
So above is all about How to Secure Your Computer By Automatically Blocking Dangerous IP's. With this method, you can easily secure from spyware's that may be in a form of freeware tools by blocking their respective IP's on your system using this cool tool that we had discussed right above. Hope you like this cool post, do share with others too. Leave a comment below if you have any related queries with this.