As of now, there are hundreds of photo-sharing apps out there; however, out of all, Instagram seems to be the best one. Instagram is a free photo & video sharing app owned by Facebook.
As of now, the site has over 1 billion active monthly users. Besides photo and video sharing, Instagram offers other unique features like IGTV, Stories, Reels, and more.
In 2020, Instagram introduced a new feature that lets you send disappearing photos and videos to group or individual chats. Disappearing photos and videos are much like Disappearing messages seen on WhatsApp and many other instant messaging apps.
So, Instagram lets you send disappearing photos or videos. After someone opens the disappearing photo or video you've sent, the message is no longer visible in their inbox unless you've permitted them to replay it.
Send Disappearing Photo/Video on Instagram
So, in this article, we will share a step-by-step guide on how to send a disappearing photo or video to someone on Instagram. Let's check out.
Note: You can't send Disappearing photos & videos via the Instagram web. You need to use the mobile app to use this feature.
1. First of all, open the Instagram app on your smartphone. Here we have taken Android as an example.
2. Next, click on the Message icon located in the top-right of the screen.
3. Now tap on the Camera icon placed behind the contact name.
4. Now select the photo that you want to send. Then, select the View Once option on the bottom of the screen, as shown below.
5. Once done, tap on the Send button as shown below.
6. If you want to allow others to replay the photo/videos, select the Allow Replay option and tap on the Send button.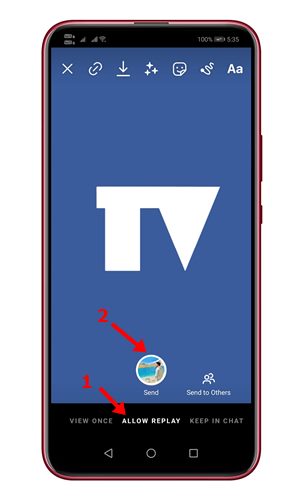 7. The disappearing photo/video will appear on the chatbox.
That's it! You are done. Now whenever the other person opens the photo, it will be immediately removed from the chat.
So, this guide is all about sending disappearing photos/videos on Instagram. I hope this article helped you! Please share it with your friends also. If you have any doubts about this, let us know in the comment box below.