Gmail is the best email service right now. The free email service allows you to send emails, send file attachments with emails, etc. However, do you know that you can also send voice recordings in Gmail? Gmail doesn't officially support the voice messages feature, but you can rely on a few Chrome extensions to record and send voice notes.
Even if you don't want to use an extension, you can upload your voice message as a file attachment on Gmail. Voice Messages or recordings could help you personalize your emails and increase engagement.
5 Best  Extensions to Send Voice Messages in Gmail
If you send voice messages in email, the receiver can hear your voice messages, download them, or even forward them to others. It will also help you save time; since recording a voice takes less time than typing a text. Hence, in this article, we will share a few best Chrome extensions to help you send voice messages in Gmail. Let's check out the extensions.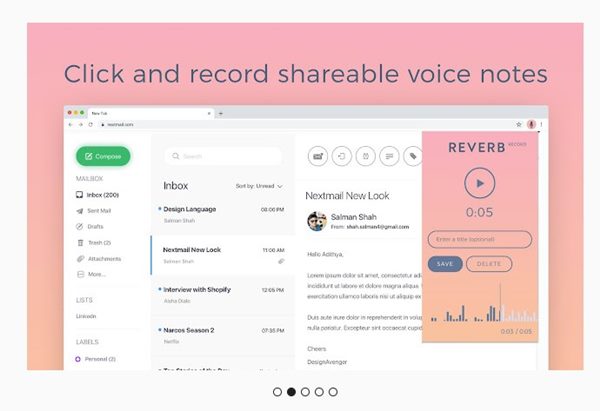 Reverb Record is a Chrome extension that lets you record and shares voice notes, memos, and responses without creating an account. You need to install the extension, tap on the Reverb Record icon and record your voice.
Once recorded, Reverb Record will automatically create a shareable link. You need to grab that link and paste it into the Gmail message. You can even embed the links on your website so that your visitors can hear voice notes & recordings.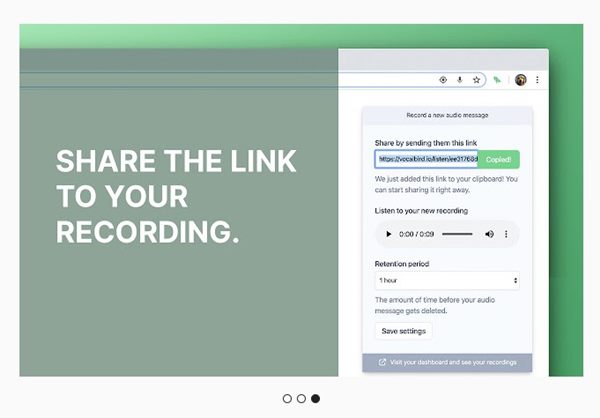 VocalBird is very similar to the Reverb Record extension listed just above. With VocalBird, you can record and share audio messages from any page. The Chrome extension is free to download & use, but you can only record 100 voice recordings in a month.
VocalBird is less popular than Reverb Record, but it still gets its job done. It also has a premium version that removes the limitation and unlocks a few extra features. Overall, VocalBird is a great Chrome extension to send voice notes in Gmail.
telbee voice messaging is not as popular as the above two, but it's still used by many users and allows you to record voice notes.
After installing the telbee voice messaging on the Chrome browser, you need to record your voice messages with the extension icon and get a link to share. After getting a link, you can share it on your social media accounts, emails, webpages, and more.
However, telbee voice messaging has some restrictions on the free plan. The free plan only allows you to send and receive up to 60 minutes of voice messages each month.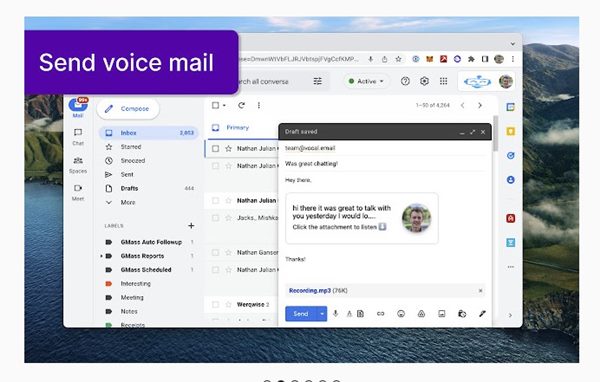 Vocal is a Chrome extension designed solely for sending voice messages in Gmail. Once you install the Vocal extension, a microphone icon is added to the toolbar of your compose email window in Gmail.
Every time you need to send a voice message in Gmail, click on the microphone icon and record your voice. Once recorded, Vocal provides you an option to review the recording or attach it to the email.
The free version of Vocal only allows you to attach 60 seconds of voice recording, but you can purchase the premium version to remove the limitation.
Mote is another excellent extension on the list which allows you to add voice comments or audio recordings to documents, assignments, emails, and forms. The good thing about Mote is that it automatically integrates with Gmail, allowing you to record and share voice recordings directly from the email compose window.
Like the Vocal, the Mote icon also sits beside the Send button in your Gmail's email compose window. You need to click on the Mote icon and start recording your voice message. Once recorded, click on the Stop button, review the recording and attach it to the email.
So, these are some of the best Chrome extensions that allow you to send voice messages in Gmail. Almost all extensions we have listed were available for free and can be used for recording voice notes. If you know of any other such extensions for Chrome, let us know in the comment box below.