Over the years, smartphones have gotten larger and smarter. With HD Screens and better processors, we can now watch HD or even Ultra HD movies on our smartphones. We prefer to watch movies & videos on smartphones rather than on computers or laptops.
If you are a true movie buff like me, you might know the importance of subtitles. Many people choose to turn on the subtitles while watching TV Shows or movies, even if they are native speakers of the original language. Subtitles significantly improve comprehension.
The movies you download from torrent or movie download websites don't usually have a subtitle track. That means you need to download the subtitle file manually and then load it into the media player app. In this article, we have decided to share a list of the best websites to download subtitles for Movies and TV Shows.
Also Read: How to Download Subtitles Automatically In VLC Media Player
List of 10 Best Sites To Download Subtitles For Movies & TV Shows
Most of the sites listed in the article offer subtitles in a different language. So, let's check out the best sites to download subtitles.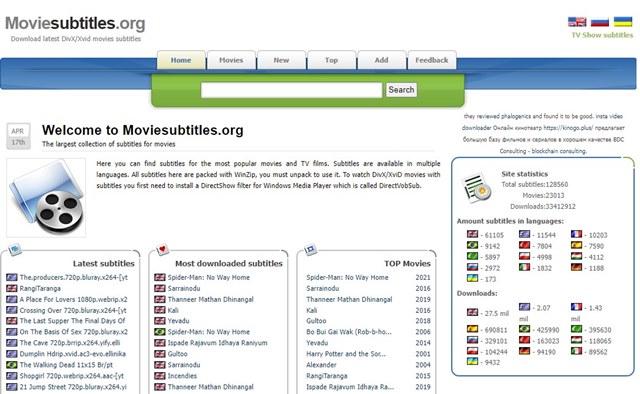 Moviesubtitles is a great site to find subtitles for movies and TV Shows. The good thing about Moviesubtitles is that it lists subtitles in multiple languages, and all subtitles were packed with WinZip.
The site has a pretty clean user interface, and it has subtitles for every popular Movie & TV Show you can think of. Also, the size organizes the video titles alphabetically, making it easier to browse through the catalog.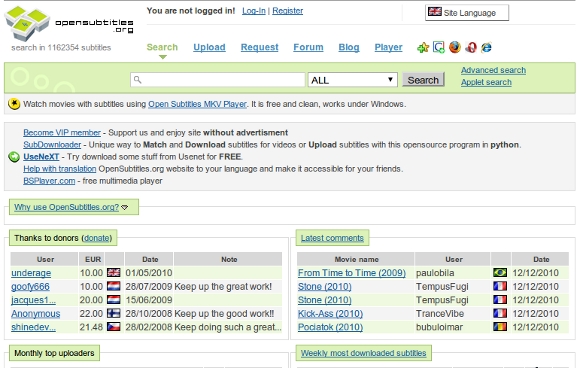 With over 800,000+ subtitles, OpenSubtitles is undoubtedly one of the best sites to download subtitles for Movies and TV Shows. It's also one of the oldest subtitle sites on the internet that offers free subtitles.
The great thing about OpenSubtitles is that it hosts subtitles in many languages. The unique search tool of OpenSubtitles lets you filter your searches by years, type/genre, season/episode, country, and language. Overall, OpenSubtitles is a great site to download subtitles for Movies & TV Shows.
Compared to OpenSubtitles, Subscene is a more active site. Thanks to the active uploaders and visitors, the site gets updated with new subtitles almost every other day. The site's user interface looks outdated, but it gets the job done.
There's a massive search bar at the top that can be used to browse any particular subtitle. The site offers subtitles in various languages, and you can even upload your own subtitles. However, to upload your own subtitle file, you need to sign up with the website.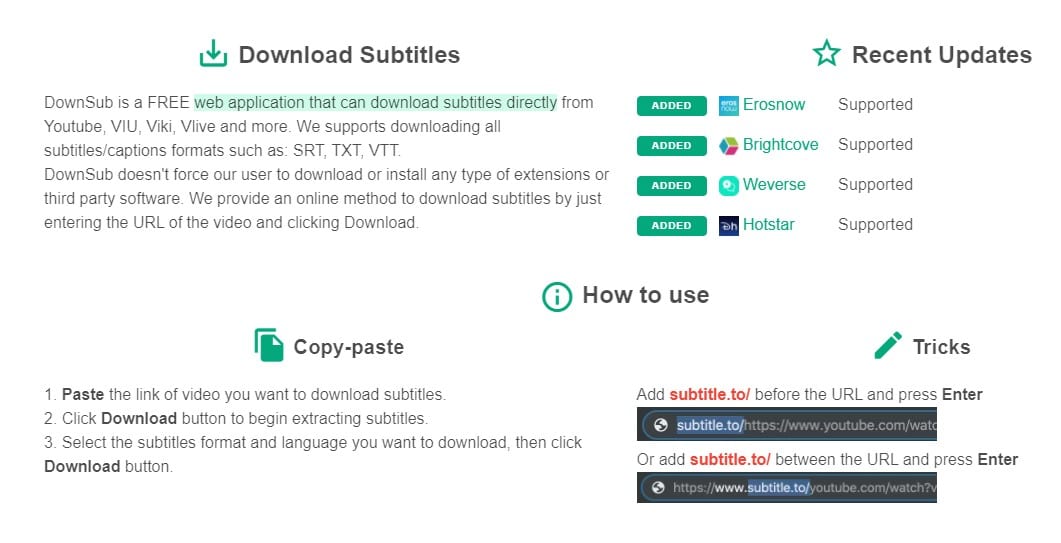 Although not very popular, Downsub is still one of the best subtitle download websites you can visit. What makes Downsub unique is that it lets you download subtitles for videos hosted on video streaming platforms like Dailymotion, Facebook, Hotstar, YouTube, RED, VK, Vimeo, Google Drive, and more.
The site allows you to download subtitles in either SRT or TXT format. Depending on your needs, you can download subtitles.
Unlike all other sites listed in the article, YIFY Subtitles focus only on movie subtitles. The user interface of YIFY Subtitles looks appealing, and it lists the most downloaded subtitles on the homepage.
The homepage section of YIFY Subtitles would help you discover new movie titles. Apart from that, it offers movie subtitles in multiple languages.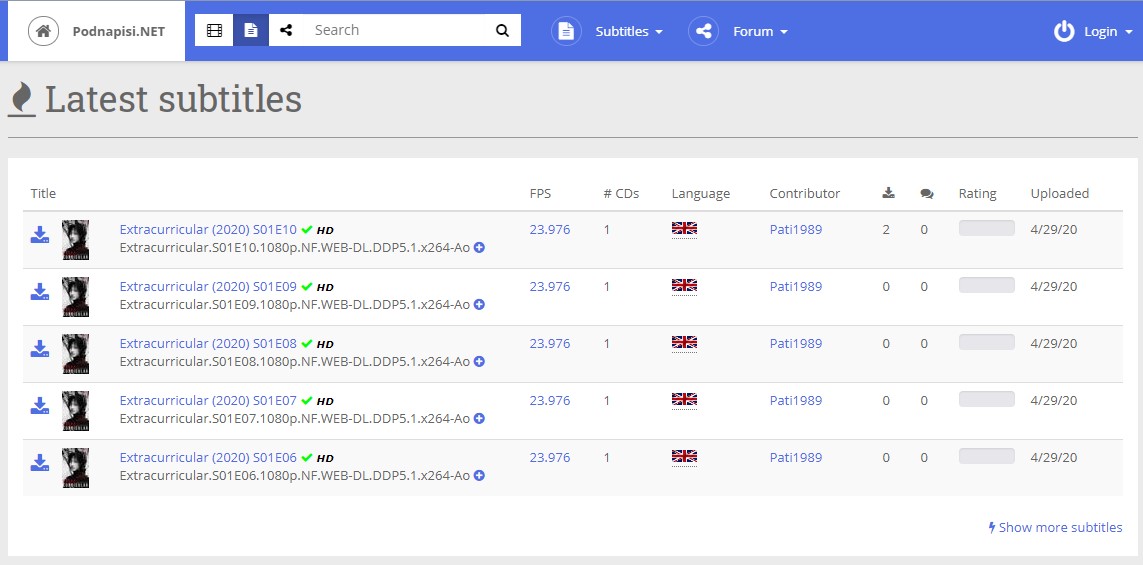 Well, it's one of the best and leading subtitle download sites on the list. The great thing about the site is that every subtitle was manually audited for validity and quality by the moderators before publishing.
Not only that, but Podnapisi also runs a community-driven translation project using a premium text translation tool to translate the subtitle into a different language.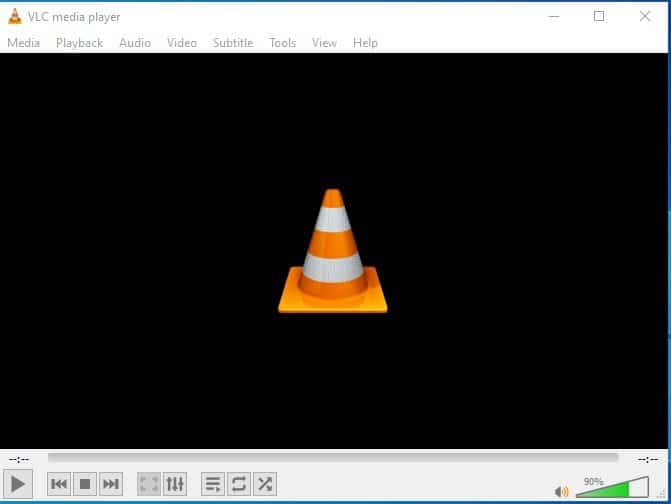 If you have been using the Windows operating system for a while, you might know about the VLC Media Player. VLC is one of the great media player apps available for Windows 10. Not many would know, but VLC does come with its subtitle store.
You can use a VLC to search and load subtitles on the media player directly. We have already shared a detailed guide on using a VLC media player to download subtitles; check out the article – How to Download Subtitles Automatically In VLC Media Player.
As the site's name says, English Subtitles is a site where you can download only English subtitles. The good thing is that it publishes the subtitles for most new releases.
The site is pretty easy to use and navigate, but it's less popular than the others listed in the article.
This site takes a unique approach to subtitle downloads. Instead of having its collection of subtitles, the site pulls subtitles from different websites.
That means the site acts as a Subtitle aggregator. The site collects subtitles from twenty different subtitle download sites and lists them in one place.
If you are searching for easy-to-use and simple sites to download subtitles, then OnSubs might be the best site for you.
The user interface of the site is clean and responsive. What's helpful is that the site has a live search option that lists the search results as you type in the movie name.
These are the ten best websites to download movies and TV shows subtitles. I hope this article helped you! Please share it with your friends also. If you know of any other such sites, let us know in the comment box below.