Learn how to Sniff URLs or Capture Network Packets on Android without Root that will help you to monitor every activity on your network. So have a look at complete guide discussed below to proceed.
[dropcap]U[/dropcap]RL sniffing is a kind of word that may relate to the extensive technical methods that require lots of knowledge. But in true essence, it is the easiest technique that may help you to recognize the type of data that is being shared from your device to the network. Actually, every smartphone user must be knowing about the Sniffing URLs as it helps to identify any excessive data loss by the different apps or functions. In some cases, it should be done preferably, like when you are viewing any sort of extra outrage about the data. The security related issues are also identified through the sniffing urls. The data leakage due to any cause can be stopped hence and the better performance of your internet, proper data consumption will be charged inside your device. More possibly the people are not familiar with the sniffing URL method, and there are no such direct options available on the smartphones for that. Some proper type of guidance is required which can help the users to perform this URL sniffing. Here in this article, we have written about the full way through which the URL's can be sniffed and hence the data leakage or any security issues would also be faded. Now if you wish to know about the method of sniffing URL's then just read out this whole article, every step of this method is described under there!
Also Read: Best Youtube Android App Tricks 2017
How to Sniff URLs or Capture Network Packets on Android without Root
Pre-requisites: Packet Capture App for Android which won't need the root access, the lock pattern or the PIN activated on the Android device. All these things are to be fulfilled before you can start with the method unless you cannot proceed.
Also Read: Best Android Apps For Downloading Free Music
Steps to Sniff URLs or Capture Network Packets on Android without Root:
#1 First of all, install the Packet Capture App for Android that you must have downloaded after reading the pre-requisites. While if you have not done it yet then please search for this app on the internet and download it then install it. The same app can also be installed through the Google Play Store. Once after installing this app on your device, you need to open it so just do it up.
#2 On the very first time when you will open the app you will be asked or prompted to install the SSL certificate. Proceed to the installation by clicking on the Install Certificate button from the prompt message. Further, proceed to the main app by naming your certificate. After these few steps, you will step to the main app inside which we will be working so as to sniff URLs.
#3 On landing inside the main app you will see that there is some option on the above bar, and there will be one Triangle (green) icon placed there. Your work is to click on this Triangle (green) icon. This starts up the data packet capturing on device and runs to recognize and imprint every packet transferred through your device. By this way it will be capturing the apps data, functions processing data etc all. Each and every possible data transfer information will encode after the clicking of Triangle (green) icon. This is a running function so you need to let it remain activated for some time so that the well-defined data packet transfer information can be known.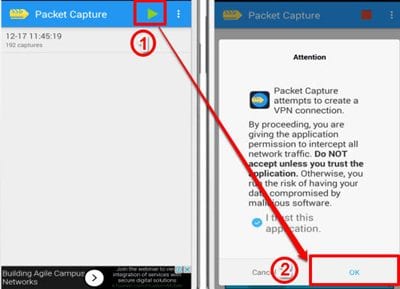 #4 Finally to grasp the whole details about the survey taken by the data packet capturing which was ongoing, just tap on the Red block icon in the place of Triangle (green) icon. This is all like you have started the recording and now you are to stop it. On clicking the red icon you will see that some kind of file would be saved and shown on the main screen. This is the file that contains each and every information regarding the data usage by any apps or functions inside the device. You can then access it by clicking on it. There will be numerous options inside the file, just access any of it to know about the data usage by some particular app.
#5 This method will help you understand the total data usage of your Android device which means that you can easily identify any heavy data consuming apps. Hover over the data usage of any apps and hence know which apps are demanding more data supply. This process will also let you know if anything different or awkward is happening with your device like whether if your device is being tracked or hacked etc.
Note: There are a limitless number of apps of the same category which could be easily found on the internet but we used the Packet Capture App because it is far more reliable and doesn't require the Root access too.
Also Read: Best Multitasking and Shortcut apps for Android 2017
So here in this article, we have described you about the whole method of sniffing URLs, and probably you might have got to know about the whole of its working and its real essence in the protection of data loss and security. We have written this article with a full motive to provide you most about the sniffing and indeed we do have presented it all to you. You can also learn more about the sniffing and its benefits, but you shall only require the above method so as to boost your smartphone (Android) device internet performance. At last, we hope that you have liked this article, please try to share