Learn how to Stop Facebook Messenger Videos From Autoplaying using the simple trick that will help you to easily stop the autoplay to avoid some annoying moment. So have a look at complete guide discussed below to proceed.
[dropcap]F[/dropcap]acebook Messenger is one of the best social media's available on the internet and it is being developed and manifested with new features too. Implementing of new features could be a great option but sometimes the new features are not better. The users have always shown that the number of features is not what they actually want but they require only best features. Now we are talking about all these things because in this article we are going to discuss the new feature of Facebook messenger that is most probably not accepted well enough by the users. The all new feature is the auto-playing of videos in Facebook messenger. Nobody wants the videos to start playing automatically whenever the screen is scrolled over, and so only all users will like to disable this function. Here in this article, we have written about the method through which this auto-playing video function can be stopped totally inside the Messenger. In case if you are also looking for this method then you can know about that by reading the whole post below!
Also Read: Best Chrome Extensions to Transform 'New Tab' Page
How to Stop Facebook Messenger Videos From Autoplaying
The method is quite simple and easy and there will be no need to use any third party app to implement this, just simple inbuilt feature. So follow up the below steps to proceed.
Also Read: How To Make Google Chrome Faster For Web Browsing
Steps to Stop Facebook Messenger Videos From Autoplaying:
#1 Starting with the method just open up your Facebook messenger account by entering your credentials. You know that how to perform this as you are quite familiar with it if you are using this messenger or using the internet from time. After opening the facebook messenger you will see all your friends, the search bar above and your profile picture set aside to it.
#2 Press or click on your profile picture so as to proceed to the next screen where you will have to go to the Photos, Videos & Emojis. This is your profile page from where you can set all the options related to the behavior of the media content in your messenger. There you will find numerous options for the same purpose.
#3 Now on the presiding screen you will see a number of features but we just need to go to the Auto-Play Videos options. Tap on it and then set it to Never Auto-Play Videos. That's all, and from then onwards you will never ever see your facebook messenger videos auto-playing on the screen scroll over.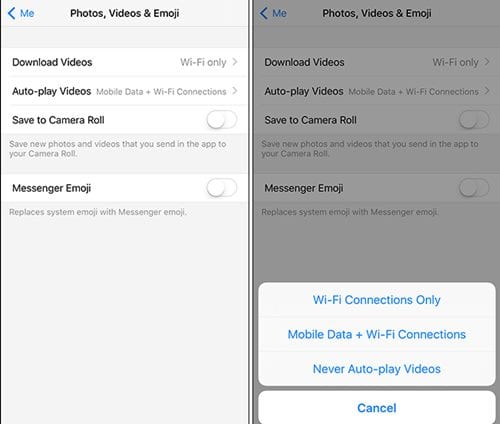 Every other social media is trying to enhance the user experience through including most number of features, and following this trend, only the Facebook Messenger has introduced Video Autoplaying. While it is good that they are working to enhance quality, but the social media developers should know one thing that over a number of features could also exploit the overall visuality and handiness. Overall, ending to this post we just hope that all those looking for the way to stop the facebook messenger from auto-playing would have got benefitted. Please like this article and also try to share it more, also tell us your opinions regarding the article through comments sections!