There are certain types of websites that we love to visit again and again. Websites like Facebook, Instagram, Twitter, Reddit, etc., all come under a similar category. These websites never fail to impress users with their mind-blowing content. However, such addictive web content also has few drawbacks.
We are pretty sure that almost everyone reading this article might have experienced this situation – You sit down at your computer for work purposes like composing an email, scheduling a Facebook post, etc. Then, you open the web browser to grab little information, and before you know it, you have wasted hours watching Youtube videos, reading subreddits, etc.
It's important to note that we are humans, and we have limited willpower. So, we can't just ignore sites that never fail to impress and entertain us. So, in that case, it's always best to have a chrome extension to limit visits to time-wasting websites.
Limit Visits to Time-Wasting Web Sites In Google Chrome
In this article, we will share the two best methods that would help you limit visits to time-wasting websites in the Google Chrome browser. In addition, we have used two chrome extensions that will significantly boost your productivity.
Step 1.  First of all, launch Google Chrome on your PC, and then download and install one extension that is Strict Workflow.
Step 2. Click on the button Add To Chrome to get this extension in your browser.
Step 3.  Now you will see the apple-shaped icon at the top right corner that belongs to this extension. Now you need to right-click on it and choose the options from the list.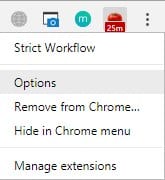 Step 4. Now you will lot of settings that you can customize or change according to your wish like you can add some sites or remove some sites according to your wish.
Step 5. Now the extension will start working. Now, whenever you visit those blocked sites, you will get an error message.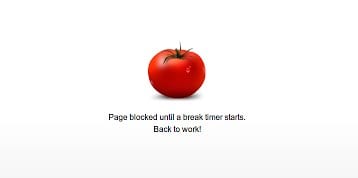 How To Strictly Limit Visits to Time-Wasting Web Sites In Google Chrome
Using StayFocusd
StayFocusd is another best Chrome extension on the list which increases your productivity by limiting the time you spend on time-wasting websites. In this method, we will use StayFocusd to limit the amount of time that we spend on time-wasting sites.
Step 1. First of all, download & install the StayFocusd Chrome extension on your web browser.
Step 2. Now visit the website which you want to block and then click on the StayFocusd extension. You will now get the option to block the site.
Step 3. If you want to set the maximum time allowed per day to spend on a site, open the settings page and set the 'Max time Allowed' section.
Step 4. Similarly, you can also set 'Active Days.' This option allows users to set the days during which StayFocusd will restrict the browsing activity.
Step 5. You can even set 'Active Hours' to select hours during which StayFocusd would restrict your browsing activity.
That's it, you are done! This is how you can use StayFocusd to limit visits to time-wasting websites in the Google Chrome web browser.
Other Chrome Extensions
Just like the above two, you can use other Chrome extensions as well to block distracting websites. Here are the best Chrome extensions to block websites.
Well, BlockSite is a chrome extension that's meant to improve productivity. With this extension, you can easily block any website that you find distracting. It also has a focus mode timer that allows you to break down your tasks into intervals. Overall, BlockSite is a great extension to block time-consuming websites.
Otto is an extension that blocks websites for you. However, this extension is based on the Pondomoro technique, which requires taking breaks in short intervals.
The extension introduces a point-based reward system to make work a bit more fun. Overall, Otto is a great extension to improve productivity.
Well, if you are looking for a simple to use website blocker extension for Chrome, then Time Snatch might be the best pick for you. With Time Snatch, you can easily block websites, control your browsing patterns, and beat procrastination.
The extension allows you to limit the amount of time you spend on distracting websites by setting up a timer.
So the above guide was all about how to limit visits to time-wasting websites in Chrome. I hope you like the guide, share it with your friends also. If you have any doubts, let us know in the comment box below.