Apple has sent the rewards and WWDC 2022 gears to Apple's Swift Student Challenge Winners, and they received them & showed every WWDC 2022 gear so let's have a look at them.
Recently, Apple unveiled last year's App Store Fraud Prevention report showing that it prevented 1.6 Million risky apps on App Store and stopped nearly $1.5 billion in fraudulent transactions.
Apple Swift Student Challenge Winners Get WWDC Swag Rewards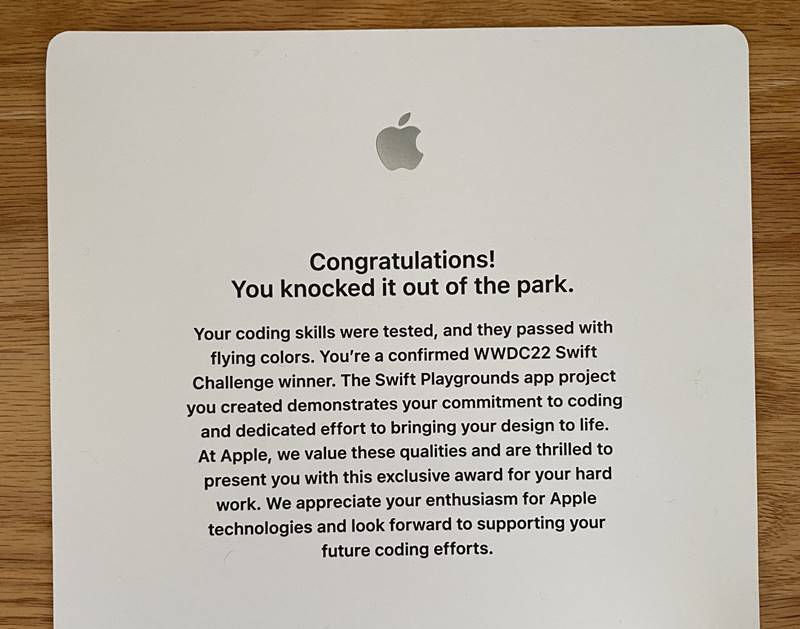 Apple announced the Swift Student challenge for the developers with the Global WWDC 2022 event reveal date. It also stated that winners would get a one-year membership in Apple Developer Program.
For those unfamiliar with it, the Swift Student Challenge is a coding challenge that gives tasks to participants that they have to create a Swift Playgrounds project on their chosen topic.
And it also notes the AirPods Pro for the winners. Besides, Apple promotes this challenge every year, but rewards are got a gain for this year.
As we talked earlier that Apple has started sending gifts to the winners. Some developers have just received their prizes for besting this year's Swift Student Challenge and shared them on Twitter.
It's finally here! 🎉 #WWDC22 #SwiftStudenChallenge pic.twitter.com/Tjax5il45L

— Vedant (@vedantapps) June 2, 2022
On 24 May, Vedant tweeted that he was one of the Apple Swift Student Challenge winners and showed Apple a congratulation email screenshot.
Today, He received the prize package, which has a card of honor from Apple and the Airpods Pro beside an exclusive sweatshirt in grey color with WWDC branding and a black beanie with the Apple logo in yellow.
He also gets a WWDC 2022 event-themed stickers bundle. A one-year membership in Apple Developer Program, as I mentioned above.
Apple's WWDC 2022 event will take place on 6 June, which means only 3 days left for it, and it will run till 10 June; we can expect many new changes and products announcement from this event.
While this year, Apple also announced a special day in-person event on 6 June, in which registrations have already been selected, and you can check more details here.