Today we are going to share the easiest method out there to create a photo with blurred background. So read this post to discover how to take lens blur photo with your Android camera.
[dropcap]Y[/dropcap]ou know about the Google camera app right? It is officially available on Google Play store. It is not limited to Nexus models, but it is available on all Android smartphones. Of course, we all want to add the DSLR type of touch in our photos. But, we don't have enough option rather than buying an expensive camera equipment or a precious phone. However, here we will be sharing a method that will help you to click lens blur photo using your phone's camera.
Also Read: How To Activate Android's Camera Flash As Incoming Call Notification
How to Take Lens Blur Photo With Your Android Camera
Google Camera app comes up with a cool new feature called the focus effect. It seeks to make a simulation of the effect bokeh DSLR cameras (cameras with interchangeable lens). With the new function, the photographer chooses a point of focus and the background is blurred. This effect is somewhat unstable. At times, main image pieces are also out of focus and the edges of the object and the background are a bit strange. But somehow, we can make things done with a few settings. So today I am going you to share the easiest and simplest trick to click lens blur photo in Android devices.
Also Read: 3 Applications That Will Transform Your Android Into A Professional Camera
How to Take Lens Blur Photo In Your Android With The Help Of Google Camera.
Step 1. Download Google camera app from Google play store. You can download Google camera from the link mentioned above.
Step 2. Install Google Camera App on your Android smartphone, once installed, Open the app: As you open the app, you will be asked: "Remember photo location?" You need to enable this feature and click "Next"
Step 3. Swipe to left and select the option of "Lens Blur"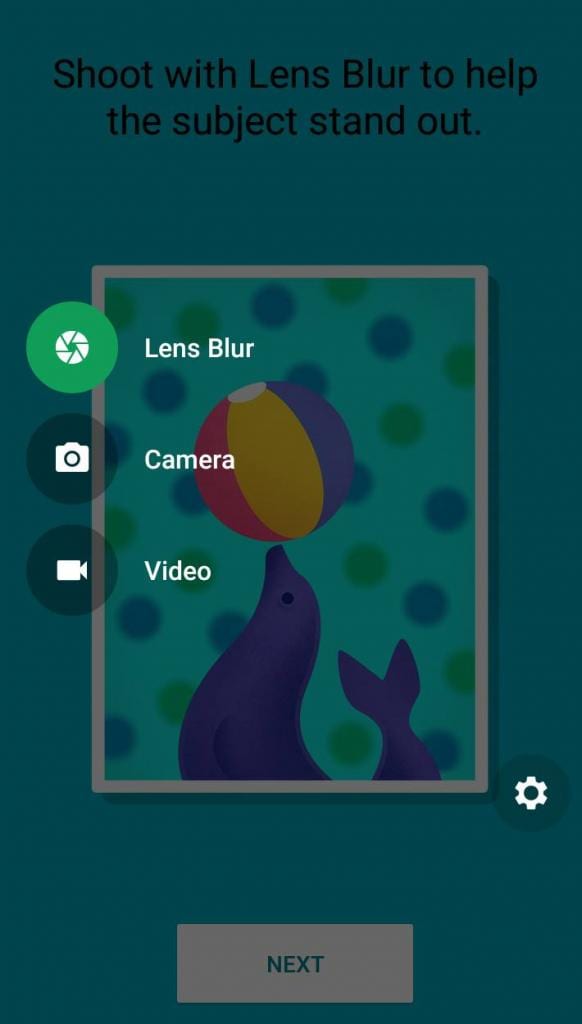 Step 4. Now it will give you the tutorial on how to click images using "Lens Blur" feature to blur the background of any photo naturally.
Step 5. Now you will be redirected to Google camera, Chose the object to focus on once focused click the image and slowly raise your device keeping the object centered.
Step 6. Now you have successfully created the photo with blurred background. You can refocus according to your need.
Also Read: How To Convert Your Android Device Into A Portable Scanner
With AfterFocus, you can create DSLR-style background blurred photo by simply selecting focus area. Also, various filter effects offer you to create the most natural and realistic photo. It allows users to add blur to either an existing Photo or gives the option to click a new photo with an existing Camera app on the device.
Step 1. First of all, download and install AfterFocus on your Android smartphone. Then open the app and select your default camera.
Step 2. Now you can choose your photo or can click one with your Phone's camera and then click on "Smart Focus". Then you will see the screen like below. Here you need to click on the icon as shown in the screenshot. As you selected the "Smart Focus" option you just need to draw the area that you don't want to focus.
Step 3. Now you need to choose the soft focus option as shown in the screenshot below. Here you need to select the area where you want to apply soft blur effect.
Step 4. Now you need to choose the option of Hard blur as shown in the screenshot below. Here you need to select the area where you want to apply hard blur effect.
Step 5. Now click on next and you can select your Blur effect and all other things and can save the image.
That's it! You are done this is how you can create lens blur photos using your smartphone's camera.
Apps For Adding Lens Blur Effect in Images:
Focus Effect
With Focus Effect, you can select an area you wanna focus in your photos, then "Focus Effect" will blur the background and do all the work for you. By using this app, you can become a photographer even without a good camera. It also has a built-in photo editor which provides useful features like photo filters, brightness & contrast adjustment and much more.
Also Read: How To Automatically Back Up Photos & Videos With Google Plus
Photo Editor by Aviary
Aviary is a powerful photo editor which can help you to easily edit your photos on the go with no fuss. It has a powerful blur feature which will enhance your photo. Some of the popular features also include like Color balance, Focus, Memes creator etc.
PicsArt Photo Studio
It is an ultimate photo editing apps you can have on your Android device. This can be an ultimate replacement for some other better photo editing apps on your device. You can add blur effect and can choose amongst five option which includes Normal, Smart, Motion, Focal and radial blur.
ASUS PixelMaster
With ASUS PixelMaster Camera at your fingertips, there's no need to worry about fiddly options or settings to capture great photos. Their unique scene detection technology analyses your surroundings instantly, suggesting the best mode for your shot. It also has an advanced blur feature inbuilt on it.
Also Read: How To Activate Android's Camera Flash As Incoming Call Notification
Blur Image
This is not a camera app, but it's a photo editing app which lets you selectively blur or un-blur the parts of your pictures so that you can manually focus on the subject properly. Also, it's super easy to use and very small in size. No need of spending your hard earned money on high priced cameras when you can get the exact same effect on your mobile phone camera pictures by using this app.
Blur
This is another best Android app which let you add background blur effect like the professional photographer. With Blur Android app, you can blur some part of your photo image. This is one of the very simple and convenient photo editing apps that you can have on your Android smartphone.
If you are using Google Camera then you might find it bit difficult to adjust the speed while moving your phone in Lens blur option. You need a little practice to speed to get used to because of even useless too late or too early to move, but I think that it soon gets used to! You can also use some similar type of apps listed above to edit the photos and add lens blur effect on your images. Hope you like the post! Share it with your friends too.